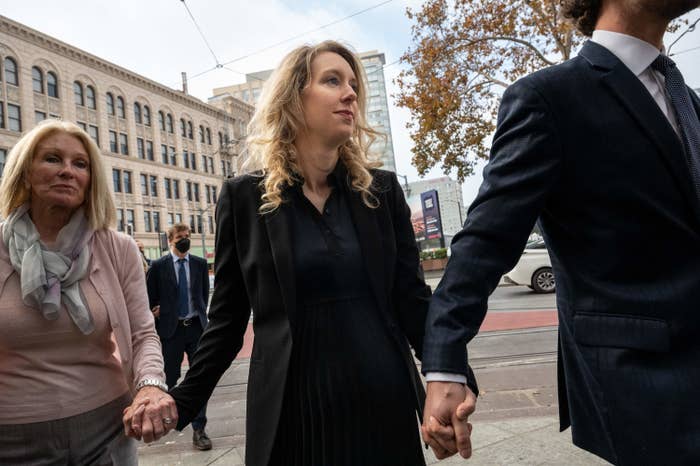 Less than three weeks after she was convicted in January 2022 of defrauding investors about her blood-testing technology, Elizabeth Holmes was readying herself to board a one-way flight to Mexico — that is, until federal prosecutors found out about the trip and demanded to her defense attorneys that she cancel it.
News of the plane ticket, which Holmes canceled upon the prosecutors' request, was revealed Thursday in a new filing from the government. Holmes has been seeking to remain out of prison pending the conclusion of her appeals against her conviction and prison sentence of more than 11 years, but prosecutors say she is a flight risk.
"The incentive to flee has never been higher and [Holmes] has the means to act on that incentive," prosecutors wrote in their filing.
As evidence of what they described as her "attempt to flee the country shortly after she was convicted," prosecutors highlighted the plane ticket Holmes had booked for Jan. 26, 2022, without any scheduled return date.
They complained to her defense team that she hadn't notified them or the court about the trip, which violated her bail conditions, and suggested they might raise the trip with the judge to revoke her bail altogether.
In an email exchange that was submitted as evidence, Holmes's defense attorney Lance Wade said the trip had been booked prior to her conviction, but that the team would make her cancel the flight.
"The hope was that the verdict would be different and Ms. Holmes would be able to make this trip to attend the wedding of close friends in Mexico," Wade wrote in the email. "Given the verdict, she does not plan to take the trip — and therefore did not provide notice, seek permission, or request access to her passport (which the government has) for the trip."
Prosecutors said Holmes's husband, Billy Evans, still went on the trip, didn't return to the US for roughly six weeks, and did so from South Africa, not Mexico.
"The government anticipates [Holmes] will note in reply that she did not in fact leave the country as scheduled—but it is difficult to know with certainty what [Holmes] would have done had the government not intervened," prosecutors wrote.
Holmes, who is pregnant, is not set to report to prison until April 27. Her attorneys didn't immediately respond to a request for comment on Friday.
Correction: Holmes's husband is Billy Evans. A previous version of this story misstated his last name.