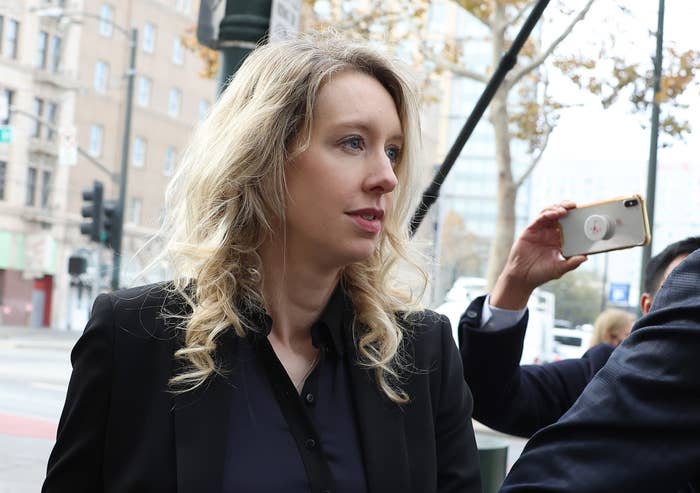 Convicted fraudster Elizabeth Holmes has hit back at claims from federal prosecutors that she tried to flee to Mexico with a one-way plane ticket after she was found guilty.
"The government's newfound claim that Ms. Holmes attempted to flee is baseless," Holmes's attorneys wrote in a motion filed Monday in the US District Court for the Northern District of California.
In a filing on Thursday, prosecutors alleged that Holmes had made an "attempt to flee the country shortly after she was convicted" in January 2022 because they discovered she had planned the Mexico trip but not told them or the court about it.
When they contacted her defense team to alert them of their discovery, Holmes's lawyers replied via email that the trip had been booked before the verdict with the hope she would be found not guilty and be able to attend a wedding. But they assured the prosecution that she would not be trying to go on the trip now she had been convicted.
Prosecutors also said that Holmes's husband, Billy Evans, still went on the trip and didn't return to the US for roughly six weeks, and did so from South Africa, not Mexico.
But in the new defense filing on Monday, Holmes's attorneys sought to have the court strike out several sections of the prosecution's filing that she said "present incomplete and provably inaccurate statements of fact" regarding her supposed flight risk.
They noted that Holmes's passport had been taken from her at the time and that her husband made the bookings on a commercial airline, not a private jet. "None of these are markers of someone trying to make an escape," they said.
The defense also presented evidence of an additional email exchange between her attorneys and a prosecutor who, upon being provided more information about the trip and an assurance that it was being canceled, had said he did not believe it warranted further discussion and was satisfied with the explanation.
"The government never mentioned the incident again," Holmes's attorneys wrote. "The government never suggested it believed Ms. Holmes was attempting to flee."
They also said that Evans was not out of the US for six weeks, as the government alleged, and had returned to the US via a land border crossing at Tijuana four days after flying to Mexico. They noted that he then traveled to South Africa in February, a separate trip he later returned from.
A representative with the Department of Justice told BuzzFeed News they had no comment.
In December, Holmes was sentenced to more than 11 years in prison for defrauding investors about her blood-testing company Theranos.
Holmes, who is pregnant, is not required to report to prison until April 27.
She has subsequently filed an appeal against her conviction and sentence, and is seeking to remain out of prison until her appeals are exhausted.