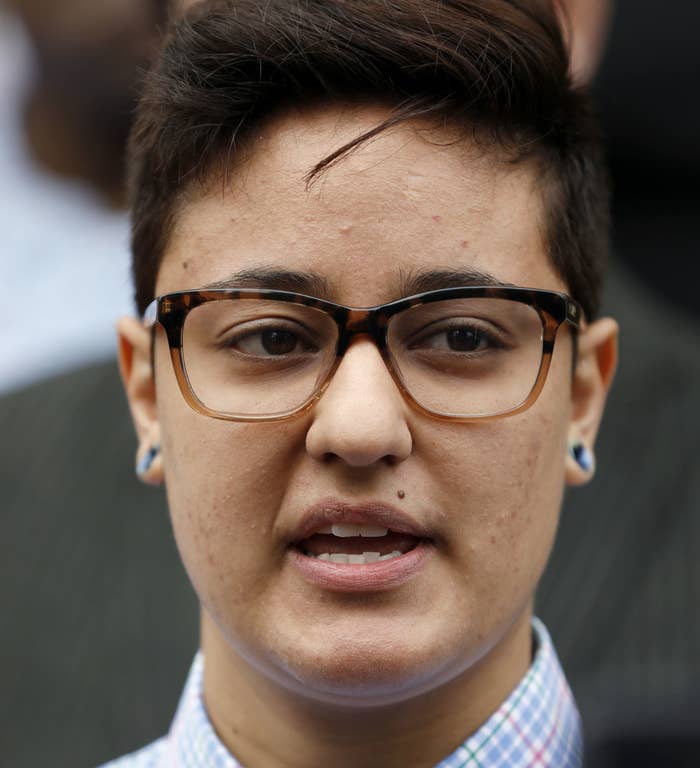 An undocumented immigrant who was pulled over and detained by immigration officials shortly after speaking at a news conference earlier this month was released Friday, her attorneys said.
Daniela Vargas, 22, spoke to reporters at the press conference in Jackson, Mississippi, on March 1, sharing her fears of being deported following the arrests of her brother and father.
Shortly after, her friend was pulled over by US Immigration and Customs Enforcement (ICE) and Vargas was detained.
"Disturbing that ICE may have followed her from an immigration press conference," Sen. Dick Durbin of Illinois, a Democrat, said of Vargas's detention.
After a week and a half in detention, during which her lawyers called to have her released and news outlets picked up on her story, Vargas was informed early Friday that she was being freed.
"It was a discretionary decision [by ICE] based largely on the tremendous amount of pressure in this case and the attention that it's received," immigration attorney Abigail Peterson said of the sudden release.
"She was very surprised this morning when this all happened, and very relieved," Peterson told reporters on a conference call. "She was told to get her things and was given about five minutes to get out — and she took it!"
Vargas was brought to the US by her family from their native Argentina when she was just 7, Peterson previously told BuzzFeed News.
She had filed in February to renew her Deferred Action for Childhood Arrivals status, which gives her protection from deportation, on Feb. 10 — five days before her brother and father were arrested in a raid by ICE agents on their home. (Vargas was not detained because of her pending DACA approval.)

Her lawyers said Friday they believe she was detained by ICE as retribution for "speaking out" at the March 1 news conference.
"She did what any American wants to do and exercised her First Amendment rights," Karen Tumlin, legal director for the National Immigration Law Center, told reporters. "For that action, she was picked up and put into detention."
"They didn't arrest her when they first encountered her [at her home]," attorney Nathan Elmore added. "They only arrested her after she spoke out on March 1."
Vargas's legal troubles are not over yet, however.
She has been released on an order of supervision, her lawyers said, meaning she could be detained again until her DACA status is approved.
Her lawyers have filed a writ of habeas corpus in federal court to have the order removed.
"Until that's granted, I'm not going to feel secure about her release," Peterson said.