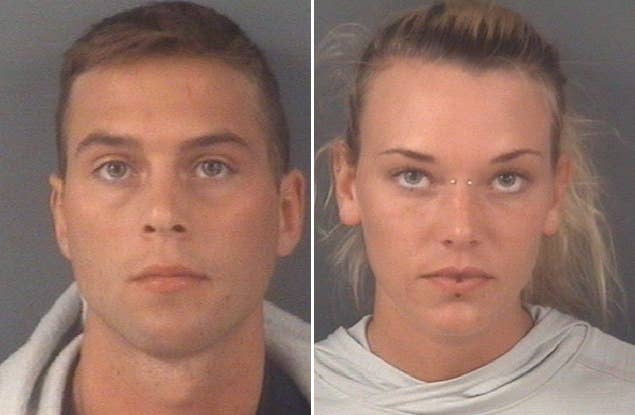 A veteran and her soldier boyfriend have been arrested and charged with animal cruelty in North Carolina after allegedly filming themselves tying her service dog to a tree, shooting it to death, and then uploading the footage to Facebook.
Marinna Rollins, 23, and Jerren Heng, 25, of Fayetteville, appeared in court on Wednesday in connection with the death of their male pit bull mix, "Cumboui," on April 16.
Photos shared on Facebook appear to show the pair posing with the dog, which is tied to a tree, prior to his death.
"Get him!" Heng can be heard telling his partner in the video, before she fires five shots at the animal.

"Let me hit him. Let me hit him once!" Heng says.
Before Heng then fires multiple shots at the animal, its legs briefly shake. "Oh shit, that's his nerves going," Rollins says.
She then drags the dog into a nearby shallow grave. "It's been real, Cummy. I love you," Rollins says. "You're my puppy. You're a good puppy but—"
"Kind of put him a little bit deeper in there," Heng says.
The footage was then uploaded to Rollins' Facebook page, according to the Cumberland County Sheriff's Office.
After Cumberland County Animal Control was alerted to the footage on April 19, an animal control officer interviewed Rollins, who said she didn't know where her dog was, according to the sheriff's office.
"The officer confronted Rollins with video her and her boyfriend, Jerren Heng, filmed while they shot the dog... Rollins then had several excuses as to why they shot the dog," the sheriff's office said in a statement.
The matter was then turned over to sheriff's officials for investigation.
"Prior to shooting Cumboui Rollins posted on her Facebook page that she was sad that her dog had to go to a happier place along with a picture of Cumboui," the sheriff's office said. "It was also learned during the course of the investigation that Cumboui was a service dog to help Rollins cope with PTSD issues."
Heng turned himself into authorities on Monday, while Rollins was arrested on Tuesday. Both have been charged with felony animal cruelty.
Following their first court appearance on Wednesday, the pair was held in the Cumberland County Jail on $25,000 bond awaiting trial.
Messages left at numbers listed for Rollins and Heng were not immediately returned.
The dog was adopted from the Cumberland County Animal Shelter last year, when it was named Huey.
"This has been one of the worst days for us," the shelter posted on Facebook.
UPDATE:
UPDATE: On Sunday, May 7, Rollins was found dead in her apartment in North Carolina. Fayetteville Police Lt. Todd Joyce told BuzzFeed News that police are investigating her death as a possible suicide.