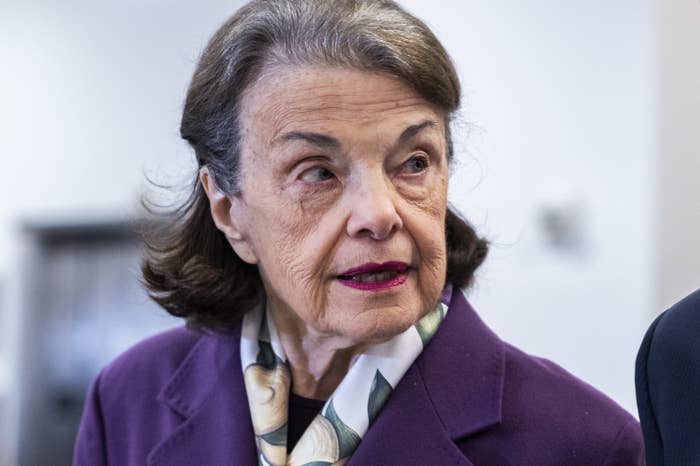 Under pressure to resign the seat she has held for more than 30 years, Sen. Dianne Feinstein announced Thursday that she wants to temporarily step away from an important Senate committee because of continued ill health.
The 89-year-old California Democrat, who is the oldest member of Congress, has been away from the Senate since February because of a shingles diagnosis, missing some 58 votes.
The senator's spokesperson told the San Francisco Chronicle this week that she had been working at home while she recovers from the virus.
But with the Senate set to reconvene on Monday after a two-week recess, there had been fears that her continued absence would halt work in the Judiciary Committee of which she is a member.
After narrowly losing control of the House of Representatives to Republicans in last year's midterm elections, President Joe Biden has been under pressure to continue to use the Democrats' Senate majority to continue confirming as many federal judges as possible.
Given the Democrats' slim majority, the committee hasn't voted on any new nominees to the federal bench since Feb. 16. Under current rules, a tied vote in committee means a nominee can't advance to a vote in the full Senate.
Sen. Dick Durbin, the Illinois Democrat who became chair of the Judiciary Committee when Feinstein relinquished the role after criticism from activists, told Politico last month that he was "anxious" because they could not move new nominees forward without Feinstein returning.
In a statement late Wednesday, Feinstein said she had expected to return to work by the end of March, but that "continued complications" had prevented her.
"I intend to return as soon as possible once my medical team advises that it's safe for me to travel," she said in the statement. "In the meantime, I remain committed to the job and will continue to work from home in San Francisco."
Acknowledging that her absence was complicating things for her colleagues, Feinstein said that she had asked Senate Majority Leader Chuck Schumer to appoint another Democrat to the committee temporarily.
Schumer's office told media that he would ask the Senate next week for a temporary replacement, but that is no guarantee given it would need either the unanimous consent of all members or the support of at least nine Republicans to break any filibuster.
Feinstein's statement came just hours after two members of Congress publicly called for her to resign altogether.
"It's time for @SenFeinstein to resign," tweeted Rep. Ro Khanna, another California Democrat. "We need to put the country ahead of personal loyalty. While she has had a lifetime of public service, it is obvious she can no longer fulfill her duties. Not speaking out undermines our credibility as elected representatives of the people."
Rep. Dean Phillips, a Democrat from Minnesota, also said Feinstein should go.
Progressive former Barack Obama speechwriter Jon Lovett, cohost of the influential Pod Save America podcast, also told listeners this week that it was time for Feinstein to retire.
Amid concerns over her age and reports that colleagues worried about what they believed was her declining mental fitness, Feinstein has faced many calls to relinquish the seat.
In February, she announced she would step down when her current term ends in 2025.
That has prompted three California members of Congress to begin campaigns for her Senate seat: Reps. Adam Schiff, Katie Porter, and Barbara Lee, whom Khanna has endorsed.