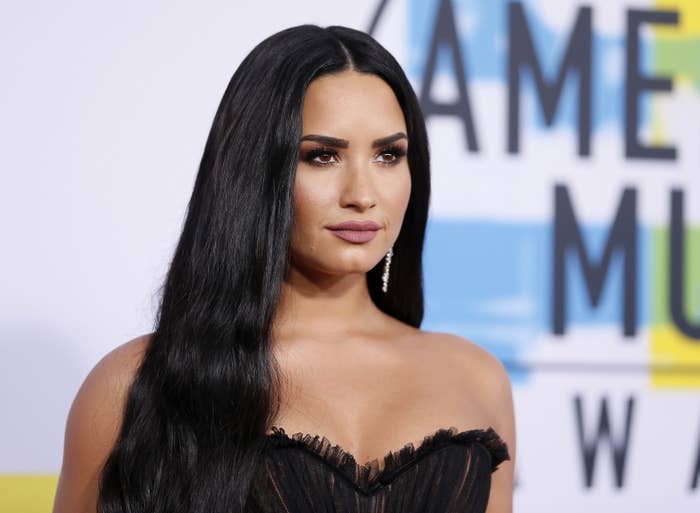 Singer Demi Lovato was awake and alert with family after being taken to a hospital in Los Angeles on Tuesday.
"Demi is awake and with her family, who want to express thanks to everyone for the love, prayers, and support," Lovato's representatives said in a statement to BuzzFeed News.

Her family also noted that some initial reports on the circumstances of Lovato's hospitalization were incorrect, and they asked the public not to speculate.
"They respectfully ask for privacy and not speculation as her health and recovery is the most important thing right now," the statement added.
Representatives for the singer did not immediately respond to BuzzFeed News' requests for comment.
Lovato, 25, has been public in the past about her addiction to drugs and alcohol.
When asked if they had any information about Lovato, a Los Angeles Fire Department spokesperson told BuzzFeed News emergency services responded to a medical call on a block that matches Lovato's address and "transferred a 25-year-old female patient to a local hospital."
Unnamed law enforcement officials told TMZ and Variety the person hospitalized was Lovato.
She was said to be stable, alert, and breathing in Cedars Sinai Medical Center, according to multiple outlets.
In March, the singer celebrated six years of sobriety. "So grateful for another year of joy, health and happiness," she tweeted. "It IS possible."

But in a single released last month titled "Sober," Lovato said she had relapsed.
"To the ones who never left me / We've been down this road before / I'm so sorry, I'm not sober anymore," sang Lovato.

She subsequently broke down during her first live performance of the song at the Rock in Rio festival as she spoke of disappointing her fans.
"And I'm sorry for the fans I lost / Who watched me fall again / I want to be a role model / But I'm only human," she said, her voice wavering.
During a performance of the song on Sunday, she forgot the words.
Last year, Lovato told Billboard that she was "not the poster child for recovery."
"Sometimes it is a struggle, and sometimes I still deal with issues that I have suffered from in the past. It's a challenge to maintain recovery," she said.
After news of the hospitalization emerged, Ariana Grande and other celebrities paid tribute to Lovato on Twitter.
A previously taped episode of the game show Beat Shazam was scheduled to air on Tuesday with a guest appearance from Lovato. A Fox spokesperson said it would be replaced with another unaired episode.
"Our thoughts go out to Demi and her family," the spokesperson said.