The family of a Muslim woman who was verbally harassed while wearing a hijab on board a Delta flight is complaining about the way the airline's staff handled the situation.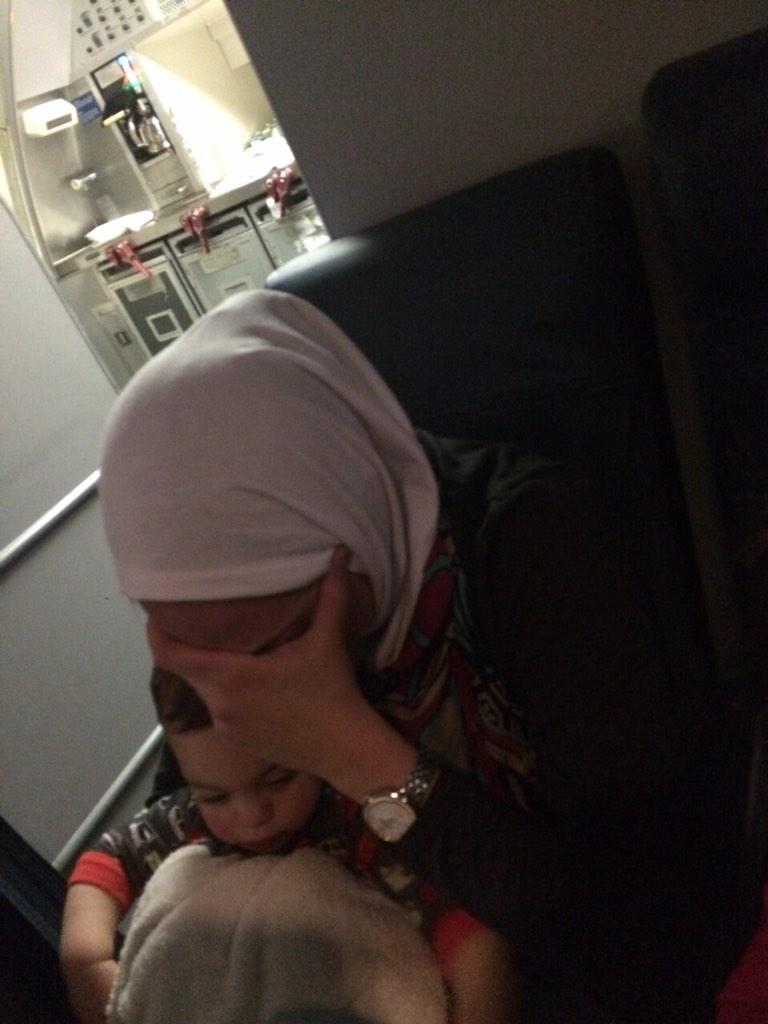 Darlene Hider was traveling with her husband and four children on Delta Flight 1576 from Fort Lauderdale, Florida, to Detroit on Monday afternoon. As passengers boarded the aircraft, a woman sitting in front of the family complained that Hider's children were being disruptive.
Hider told BuzzFeed News that her 9-month-old was sick at the time and was crying. Hider's husband told their children that they were not in trouble, to which the woman is said to have responded, "Is that how you raise your children?" The passenger allegedly told the family that she wouldn't fly with young children because "this is America."
"I felt as if she was attacking me because she said it in such a mean way," Hider said. "What am I not American because I'm wearing a scarf? You automatically assume I'm not American because I'm not wearing a scarf?"
"I felt as if I wanted to defend myself but I couldn't because of the Islamophobia going on. It's enough that I wear a scarf. We have to prove ourselves every day to people and it gets tiring. I'm not a terrorist. I'm American. I was born and raised here. I have American friends, Jewish friends, Christian friends," she said.
A Delta employee on board the flight then tried to "defuse the situation" by moving Hider and her children to the back of the plane, Hider said, which caused her husband and other passengers to spring to her defense. The Delta employee threatened to have these people removed from the flight, Hider said.
Hider said that as she was moved to the back of the plane she felt as if she had been stripped of her rights, but was touched by other passengers coming to console her.
"As bad as that moment was, I did feel a lot of unity," she said. "Whether it was Arabs or Americans or black people or white people, these people were consoling me and saying it was OK. It was a very emotional time for me."
Hider said airline representatives met her upon landing in Detroit to apologize for how she was treated.
A spokesperson for Delta Airlines told BuzzFeed News the airline is investigating the incident and does not condone discrimination in any fashion.
But Hider says she wants more than a simple apology: "I want justice," she said tearfully. "I want justice for every woman who wears a scarf and who's Muslim and doesn't have to worry about being on a plane or in a restaurant or a mall, or walking down the street."
"I made the choice to wear this scarf," she said. "It wasn't forced upon me. I feel at this moment people need to know we are not oppressed. That is what I'm standing up for and I will not be quiet."
Hider's brother Abed Ayoub, who works for the American-Arab Anti-Discrimination Committee, told BuzzFeed News the incident struck close to home.
"That's the reality of discrimination," Ayoub said. "It impacts us all and can hit close to home."
"It may not sound like much at first glance, being told to move from your seat, but it fits into a pattern of discrimination against Arab Americans," he said. "This happens to our community on planes. It happens to our community while we're flying."
"These women are mothers. These women are sisters. These women are wives. They are women whose lives are going to be impacted by what you're saying to them. You don't have a right to treat them that way."