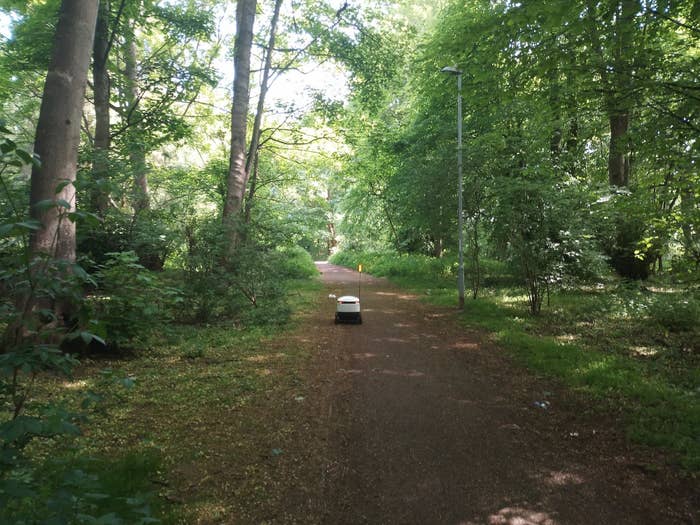 At the start of the 19th century, poet William Wordsworth went for a stroll in England's Lake District, saw some golden daffodils, and had a quasi spiritual experience of self-discovery in nature.
Almost 220 years later, a delivery robot has done the same.
Matthew McCormack, a history professor at the University of Northampton in England, was riding his bicycle on Sunday morning when he crossed through Lings Wood Nature Reserve, a quiet and leafy spot in the city's northeast.
But he wasn't alone.
Also enjoying the scenery was a white self-driving delivery robot, its lights flashing and its antenna in the air as it slowly made its way down the dusty path under the canopy of trees.
The juxtaposition stopped McCormack in his tracks.
There, in this quiet corner of England, it was just McCormack and a futuristic delivery robot worth thousands of dollars alone together for one brief moment enjoying the blissful sounds of nature.
"It's kind of a bit sci-fi, you know?" McCormack told BuzzFeed News. "It was like kind of R2-D2 or something just wandering along."

McCormack found the moment so quirky he snapped a photo and posted it to his Twitter account, where he normally shares thoughts on 18th-century history.

Well, the robot took off, so to speak.
His tweet has since been retweeted more than 18,000 times and garnered more than 220,000 favorites.
McCormack said the replies he's seen have been overwhelmingly positive, with people captivated by the little robot's journey.
"The reaction to it has been uniformly sweet," he said. "Everyone's saying, 'Oh, you know, Pixar should make a film,' or that it's kind of like WALL-E or something," said McCormack, referring to the robot hero of the 2008 film who was able to find beauty — and love — in a troubled world.
Indeed, the little robot's journey seems to have captivated people around the world.

"People are really kind of empathizing with this robot," McCormack said, "and saying that it's making a bid for freedom or something like that."
But, as the saying goes, not all robots who wander are lost.
McCormack admitted he had taken a bit of artistic license by referring to the robot as being "lost in the woods."
The nature reserve is surrounded by houses. McCormack suspected the robot was just taking a scenic shortcut to finish a delivery.
Since November 2020, robots belonging to the company Starship Technologies have been in Northampton, where they make grocery deliveries for the Co-op chain of supermarkets.
Indeed, Henry Harris-Burland, vice president of marketing for Starship, confirmed to BuzzFeed News that the robot was simply going about its job.
"We appreciate everyone's concern about our delivery robots but this robot isn't lost, it's on a delivery to a customer," Harris-Burland said in an email. "Our robots can traverse a variety of terrain and take the safest and most efficient route possible on every one of the 10,000–15,000 autonomous deliveries they complete daily. In this case, that route happened to be a paved path through a wooded area in Northampton, UK."
So, perhaps amid a pandemic and the endless crush of our modern existence, we were all projecting just a little onto the robot.
Perhaps we were jealous or just inspired by the idea of breaking free from our tiring jobs and returning to nature.
Perhaps we just wanted to live — to feel truly alive.
And while the robot is, well, not living, that doesn't mean we can't learn from its example.
Because, as Starship Technologies responded to McCormack's tweet, every day can be an adventure.