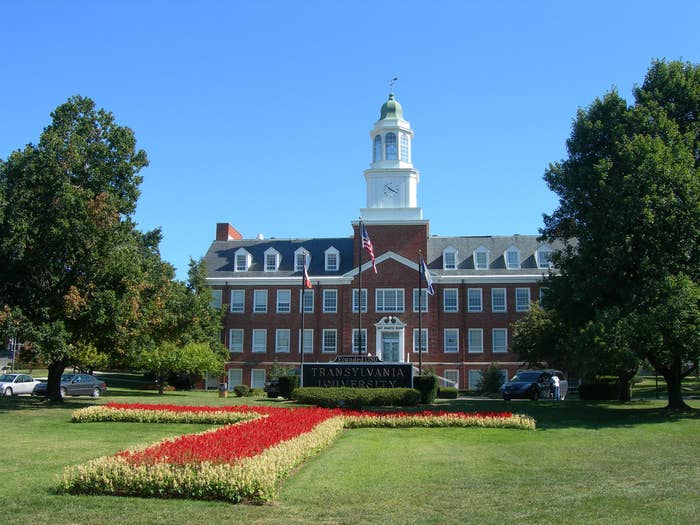 A Kentucky college student is no longer enrolled at his university after he wrote a Facebook post urging people to report an undocumented classmate, officials said Wednesday.
Paola Garcia, a 21-year-old student at Transylvania University in Lexington who received immigration protection under President Obama's DACA program — which is being rescinded by President Trump — complained to her school when the classmate put a post in a far-right Facebook group urging for her to be reported to officials.

"Everyone go report this illegal at my school bragging about breaking the law," Taylor Ragg wrote on Facebook. (He has since deleted his account.)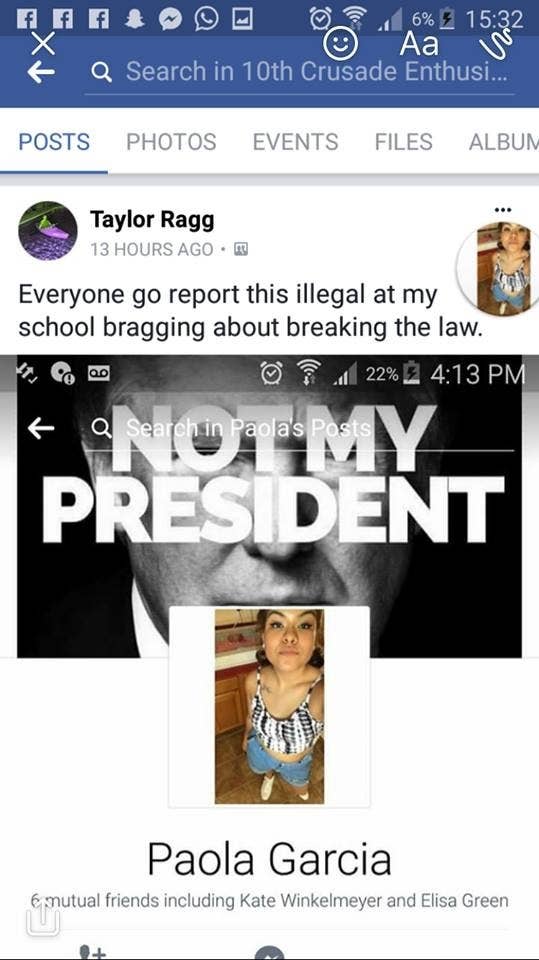 In an emotional video uploaded to YouTube, Garcia said she began receiving vitriolic messages from people, including a picture of someone filling out a tip form reporting her to Homeland Security.
According to Garcia, one message read, "Hope you enjoyed your visit. Back to them dirt floors of your homeland, stinky ass."

Garcia said she was brought to the US when she was 2 years old. As a DACA recipient, or "Dreamer," she enjoys legal protections from deportation because she was brought to the US as a child.
"I've dealt with racism, discrimination, threats, name-calling — just blatant ignorance. And I usually suck it up, bite my tongue, let it go," she said in her tearful video.
When she complained to the school that Ragg was violating Transylvania's nondiscrimination policy, Garcia said officials declined to take action.
Reached via email on Wednesday afternoon, Garcia told BuzzFeed News she had "recently been advised by legal counsel to withhold on any further commentary until after tomorrow."
But she earlier told the Lexington Herald-Leader newspaper that President Seamus Carey believed Ragg was simply making a recommendation to his followers as to how to respond to her profile.
"It just doesn't make sense to me how that was their conclusion," she said in her video.
She wants Ragg expelled for "inciting [far-right Facebook users] to harass and report me."
"He's still here and I have to see his face every day. It's such a small campus," she said.
Michele Gaither Sparks, the university's vice president for marketing and communications, told BuzzFeed News she couldn't comment on the specifics of the incident for privacy reasons, but said the matter was still under review.

"Investigations can be lengthy," she said. "We are reviewing the matter."
But just hours after BuzzFeed News first published this story, Gaither Sparks sent an email to students informing them that "Taylor Ragg is no longer enrolled at Transylvania University."

"Per University policy and federal laws, we cannot offer any further details into the matter," she wrote.

Reached by phone on Wednesday afternoon, Gaither Sparks said she could not say whether Ragg was expelled or had left voluntarily.
Earlier, Gaither Sparks had noted Carey had sent a message to students after Trump's DACA decision, saying the school would "honor our commitment to educate, support, and counsel every Transylvania student to the very best of our ability."
"We absolutely stand by our DACA students," Gaither Sparks had said. "We are firmly against any form of harassment or bullying against any one of our students."
A BuzzFeed News investigation in July found at least 81 incidents of white students using President Trump's words to bully minority classmates.
Transylvania University made headlines in April when a Trump-supporting former student allegedly stormed a campus café with a machete and a bag of knives, quizzed students on their political affiliations, and injured two women.

Ragg did not immediately respond to a request for comment.
When reached by the Herald-Leader, he declined to comment, writing, "Lexington Herald Leader is Fake News."
UPDATE
This story was updated with the news that Taylor Ragg is no longer a student of Transylvania University.