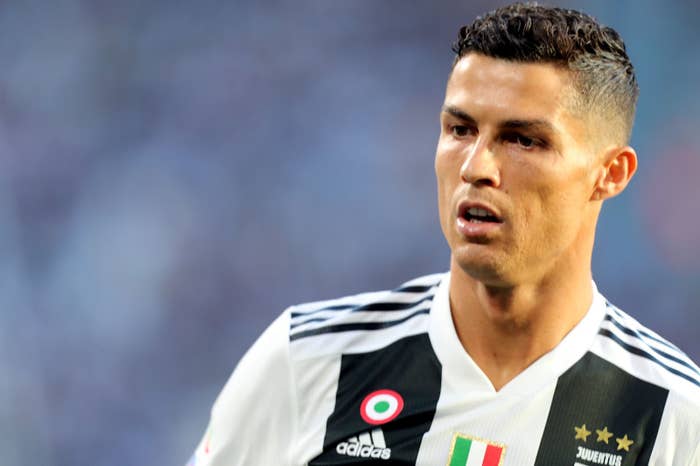 Las Vegas Metropolitan police say they've reopened an investigation of an alleged 2009 sexual assault after a German magazine published an interview with a woman who said soccer star Cristiano Ronaldo raped her.
Ronaldo has dismissed as "fake news" allegations from Kathryn Mayorga, who came forward publicly to say he raped her in a Las Vegas hotel room in 2009.

"What they said today? Fake, fake news," the Portuguese player said in an Instagram video. "They want to promote [themselves by using] my name. It's normal. They want to be famous to say my name, but it is part of the job. I am a happy man and all good."
His comments come after German magazine Der Spiegel published an interview with Mayorga in which she publicly identified herself as the woman making the allegation. The same magazine last year published a report stating Ronaldo had reached a $375,000 settlement with an unnamed woman in 2010. Her lawyer told Der Spiegel they are now seeking to nullify that agreement.
"I've had like these serious breakdowns," Mayorga told Der Spiegel. "And again, blaming of the rape. And I blame him, and I blame myself for signing that thing."
On Monday, Las Vegas police said they reopened their criminal investigation after receiving new information. When police originally responded to a report of sexual assault on June 13, 2009, the woman did not provide a description of the alleged suspect or where the incident took place. A medical exam took place at that time, police said.
"As of September 2018, the case has been reopened and our detectives are following up on information being provided by the victim," a police statement said. "This is an ongoing investigation and no further details will be released at this time."
In a statement provided to BuzzFeed News from Ronaldo's agent Gestifute, the Juventus player's lawyer, Christian Schertz, said they would sue the German magazine, calling the report "blatantly illegal":
The reporting in SPIEGEL is blatantly illegal. It violates the personal rights of our client Cristiano Ronaldo in an exceptionally serious way. This is an inadmissible reporting of suspicions in the area of privacy. It would therefore already be unlawful to reproduce this reporting. We have been instructed to immediately assert all existing claims under press law against SPIEGEL, in particular compensation for moral damages in an amount corresponding to the gravity of the infringement, which is probably one of the most serious violations of personal rights in recent years.
Alfred Weinzierl, deputy editor-in-chief of Der Spiegel, told Reuters they reached out to Ronaldo's representatives prior to publishing but received no response.

"Nobody sued us in connection with earlier Ronaldo reports," he said.