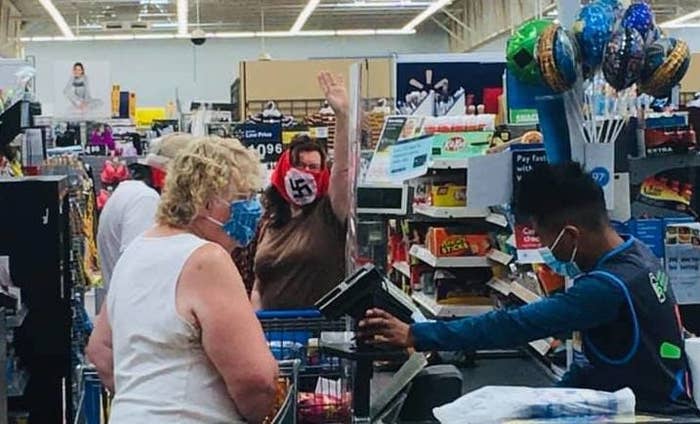 BuzzFeed News has reporters around the world bringing you trustworthy stories about the impact of the coronavirus. To help keep this news free, become a member.
A couple has been banned from Walmart after wearing Nazi flags as face masks to one of the company's Minnesota stores.
The incident was captured by shocked onlookers shopping at the Walmart in Marshall in the state's southwest on Saturday, the first day that people in the state were ordered by the governor to wear masks in indoor businesses. (Customers shopping in Walmart stores nationwide had been required to wear masks since Monday.)
Raphaela Mueller, 24, and Benjamin Ruesch, 29, who filmed the couple wearing swastikas, told BuzzFeed News in a phone interview Sunday, that they couldn't believe what they were seeing.
"My first thought was, Is this for real? You've got to be kidding me," Ruesch said.
"I was speechless. I couldn't believe my eyes," added Mueller. "It was just disbelief that something like that would happen."
In the video filmed by Ruesch and uploaded by Mueller to Facebook, which has since gone viral, the young couple can be heard confronting the older pair wearing the Nazi symbols.
"You're sick. You have an illness," says Ruesch. "You can't be American and wear that mask. You cannot. We literally had a war about this."
"I'm not a Nazi. I'm trying to show you what's going to happen in America," the unidentified woman responds. "If you vote for [Joe] Biden you're gonna be in Nazi Germany. That's what it's going to like."
Her male companion then says, "We're living under a socialist state."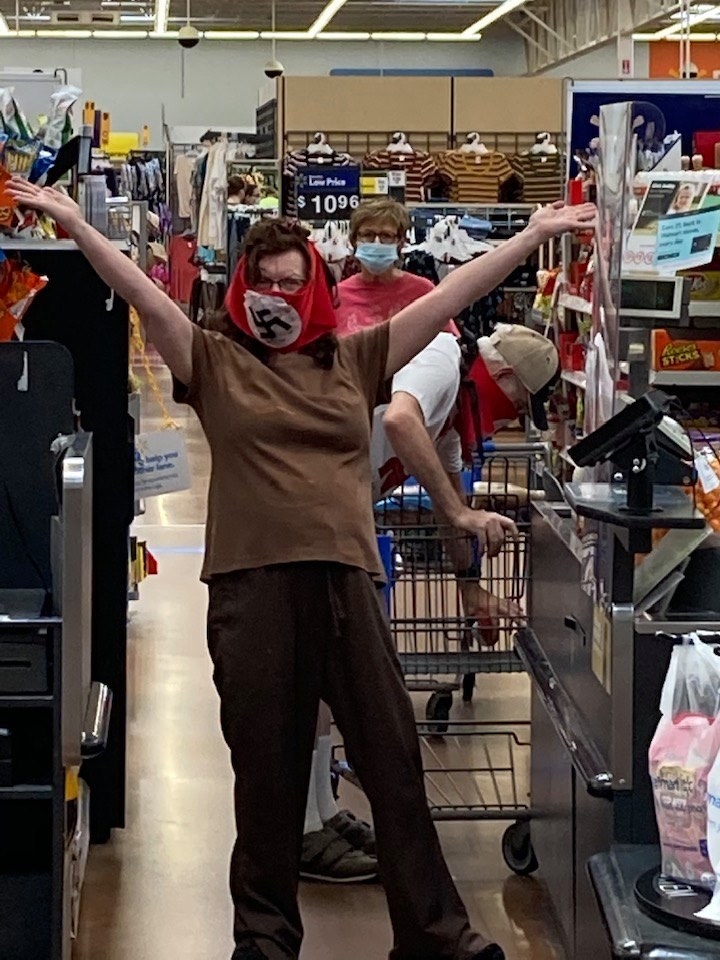 Other shoppers can also be heard confronting the pair.

Ruesch said he believed the pair were trolling for a response, but he felt he couldn't stay silent.

"I'm still in disbelief because I never thought I of all people would end up in that situation but this is the reality we're living," said Ruesch. "Boy, am I awake now."
The couple were offered alternative disposable face masks but refused to take off their Nazi coverings.
They then became belligerent when they were asked to leave by store managers, prompting local police to be called.
They were subsequently issued trespass notices and banned from Walmart facilities nationwide for at least one year.
"What happened at our store in Marshall, Minnesota, is unacceptable," Walmart spokesperson Delia Garcia said in a statement provided to BuzzFeed News. "We strive to provide a safe and comfortable shopping environment for all our customers and will not tolerate any form of discrimination or harassment in any aspect of our business."
Garcia said Walmart was asking customers to ensure the safety of all people in the stores.
"It's unfortunate that some individuals have taken this pandemic as an opportunity to create a distressing situation for customers and associates in our store," she said.
Mask-wearing has emerged as a cultural and political flashpoint in recent months despite guidance from top health officials that it is needed to reduce transmission of the coronavirus. After he spent months disparaging masks, President Trump last week shifted position and called for all Americans to wear masks. Polls show most Americans support mask requirements in order to fight the coronavirus.
Mueller, who shared the video on Facebook and who was originally born in Germany, said that seeing the couple's Nazi face cloths made her think of her great-grandmother, who she said lived in Berlin during World War II and worked to undermine Adolf Hitler's regime.
"There's a lot of pain involved because I know what my great-grandmother fought for and the sacrifices she made," said Mueller, who is training to be a Lutheran minister. "There was this mix of deep disappointment, pain, and anger."
Ruesch, a musician, said he hoped other people will confront anyone they see wearing hate symbols as masks.
"Any American who was watching the video or reading this article, this is the time to wake up and speak out if you see something like this happening," he said. "Don't be silent. Think of those who cannot or will not speak. Be the kind of person to say this is wrong."
Correction: The man in the video was wearing a shirt that read "True to the Red, White, and Blue." A previous version of this story incorrectly said his shirt referenced President Trump.