A Georgia police officer has been fired after he ran over a fleeing suspect using his squad car.
Officer Taylor Saulters and his partner, Officer Hunter Blackmon, were on patrol in Athens-Clarke County on Friday evening when Blackmon spotted a man he knew had a felony probation warrant out for his arrest, police said in a statement.

After confirming the validity of the warrant, Blackmon pursued the suspect, Timmy Patmon, on foot, while Saulters followed in the patrol car.
"On Saulter's second attempt to block Patmon's path with his patrol car, and during the maneuvering of the patrol car Patmon impacted the right front quarter panel of Saulters' car as Saulters was attempting to accelerate past Patmon," police said.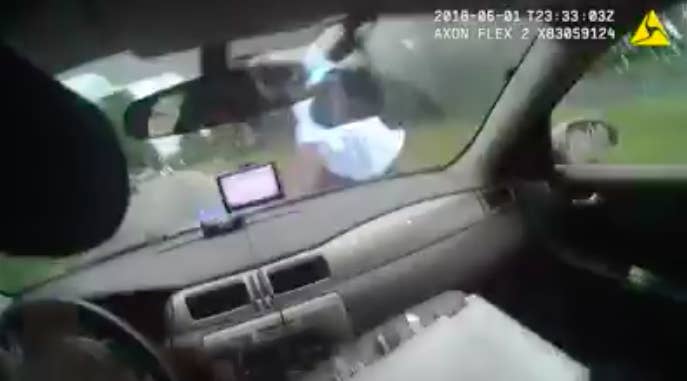 Footage from the squad car and a body camera released by authorities show Saulters driving behind Patmon as he runs down a street.
Saulters can then be seen turning his steering wheel to the right as the car strikes Patmon and he slides onto the windscreen then onto the road.
"We got him," says Saulters as his partner handcuffs the suspect.
As Saulters returns to the squad car to turn off the sirens, stunned onlookers converge on the scene.
"Why did you hit that man with that car like that?" one woman can be heard yelling.
"We're going to need units for crowd control," Saulters can be heard saying into his radio.
"I got him with my car. That's what they're yelling about," he says.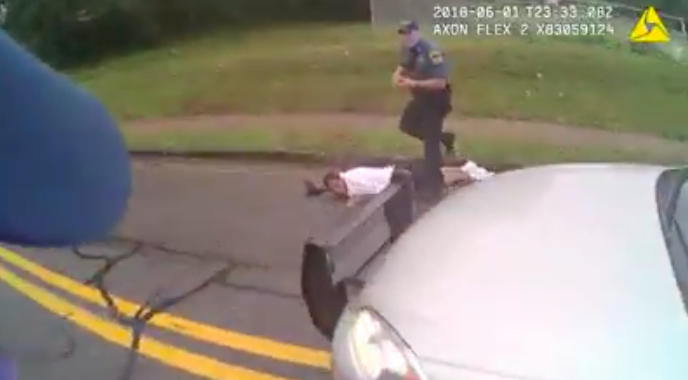 Patmon was taken to a hospital for evaluation, where he was treated for scrapes and bruises and then released for arrest, police said.
In the bodycam footage, Saulters can be heard asking Patmon where he is injured. "From when you hit the ground?" he asks.
"You know, man. You hit me with your car!" Patmon responds.
"Oh, I know. I know. I know what I did. Why did you run?" the officer says.
Patmon was subsequently charged with violating his probation and obstructing a law enforcement officer.
Chief Scott Freeman initially placed Saulters on administrative leave and initiated an internal affairs investigation, noting on Facebook that "there have been some concerns, brought to us by the community, over the actions of our officers during this incident."

Several hours later, after reviewing the footage, Chief Freeman fired Saulters.
"The Georgia Bureau of Investigation has been called in to do a separate investigation," Epifanio Rodriguez, public information officer for Athens-Clarke County, told BuzzFeed News. "They will be the ones to determine whether or not charges will be filed."
Saulters did not immediately respond to a request for comment.