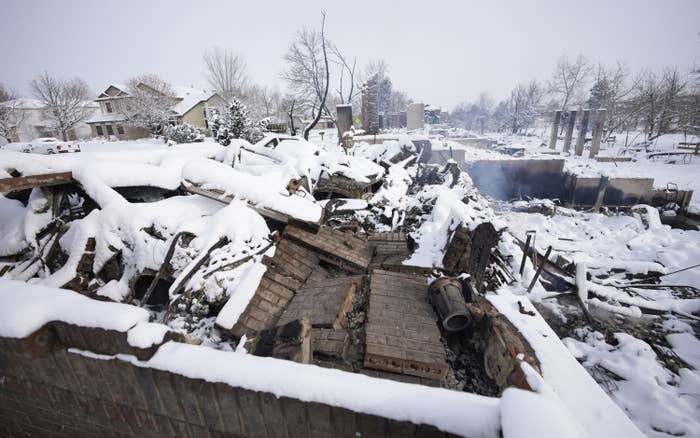 At least two people are still missing, presumed dead, and almost 1,000 homes and other structures were destroyed after a fast-moving wildfire swept through suburban areas northwest of Denver, Colorado officials said Sunday.

The blazes sparked on Thursday destroyed some 991 structures and damaged 127 others in the town of Superior and city of Louisville, as well as unincorporated Boulder County.
Entire neighborhoods were burned to the ground, with federal officials touring the area Sunday to see the damage for themselves, including scores of burned-out vehicles, some abandoned in the middle of the road by people fleeing. "The pictures that I was seeing on the television before today don't even come close to what you see when you look at it in person — the amount of devastation," FEMA Administrator Deanne Criswell told reporters at a press briefing.
The fires burned more than 6,000 acres, whipped by wind gusts of over 105 mph that propelled them through abnormally dry conditions in the area.
But in surreal scenes that reflected the wild environmental conditions, 8 inches of snow began falling in the area Friday, ultimately helping to extinguish the blazes.
"The snow is an awesome thing for fire behavior," Boulder County Sheriff Joe Pelle said Saturday, "and it's a hard thing for crime scene and recovery efforts and damage assessments and all those things. So it's a mixed blessing."
"In a few places, there's still smoldering debris and smoke partially covered by snow," Gov. Jared Polis said Sunday. "It's really an odd and disturbing juxtaposition."
There had been no fatalities reported in the immediate aftermath of the fires, but officials now say at least two people whose homes were destroyed are missing. A third person who had been missing Saturday has since been accounted for.
"We're very fortunate that we don't have a list of 100 people missing," Pelle said.
Officials were set to use cadaver dogs to try to locate the individuals' bodies, but the conditions were still extremely dangerous for recovery workers.
"The debris is hot, it's all fallen in, and it's now covered with 8 inches of snow, so search and recovery efforts are hampered substantially," Pelle said.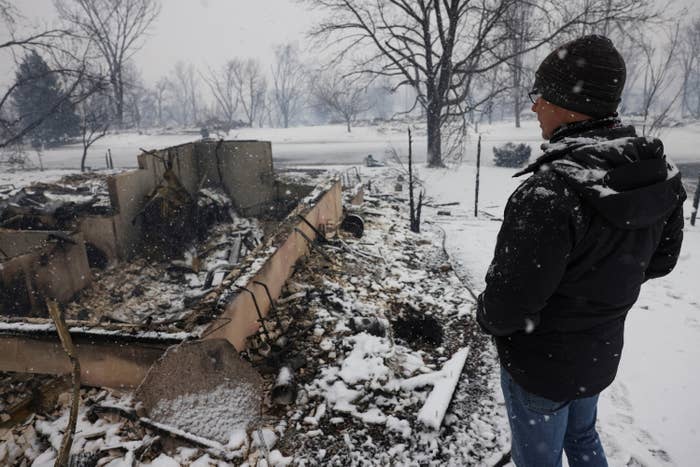 Local officials originally suspected downed power lines had sparked the blazes, but that, too, has changed, according to Pelle.
Investigators have not found any credible evidence of any such downed lines. Instead, they have mounted what Pelle described as a "very active investigation" into other possible causes.
Acting on a tip, authorities executed a search warrant on one property, but the sheriff declined at this stage to identify it.
However, he did say that a viral video of what appeared to be a barn on fire was part of the investigation.
Jennifer Balch, a fire scientist at the University of Colorado, Boulder, told the Denver Post the fires were exacerbated by a climate change–related dry spell that had turned grassland into highly flammable kindling.
"Climate change is definitely a part of this story in that fire seasons are longer," Balch said. "We don't have a season any longer. We are now looking at yearlong fires."
Weather disasters are inextricably linked to human-induced climate change. The planet has already warmed 2.1 degrees Fahrenheit since 1880, according to NASA, and that's making disasters worse. Wildfire seasons are getting longer. Hurricanes are getting wetter and more dangerous. Heat waves are getting hotter, more frequent, and longer-lasting. Heavier rainfall across the US is triggering more inland flooding. And the cost of climate disasters is soaring. Stopping this vicious circle will require drastically reducing our reliance on climate-polluting fossil fuels.
Local, state, and federal officials are on the ground in Colorado to assist people in finding housing and dealing with insurance companies, but Polis said many residents are still in shock.
"For many, it seems like a surreal experience," he said. "Just a few days ago, you were celebrating Christmas at home and hanging your stockings, and now home and hearth have been destroyed, and it's a shock. The reality, I know, hasn't even set in for so many folks who've lost everything."