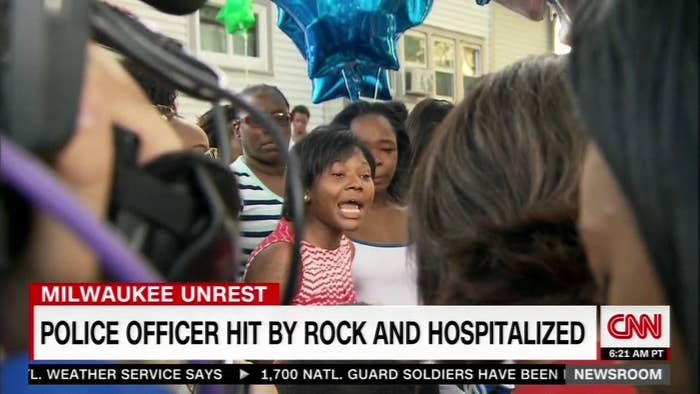 CNN issued an on-air apology on Wednesday morning for editing remarks made by the sister of a man shot dead by Milwaukee police in which she called for violence in "the suburbs."
Sylville Smith, 23, was shot by an officer on Saturday afternoon, triggering destructive riots in the city. Officials said police body camera footage shows Smith turning towards an officer while holding a gun, prompting the officer to open fire.
On Sunday, Smith's sister, Sherelle, addressed media, condemning the destruction in her community.
"Don't bring the violence here and the ignorance here," she said.
"Burning down shit ain't going to help nothing!" she continued. "Y'all burning down shit we need in our community. Take that shit to the suburbs. Burn that shit down! We need our shit! We need our weaves. I don't wear it. But we need it."
In a CNN report which aired Monday morning, journalist Ana Cabrera only aired the first part of Smith's quote and said she was "calling for peace."
Cabrera tweeted a correction on Tuesday, acknowledging the quote had been "shorthanded."
"Unintentionally gave the impression she was calling for peace everywhere," Cabrera wrote.
On Wednesday, anchor Carol Costello issued a rare on-air apology for the editing of the clip.
"I want to take a moment to clarify something from Monday," she said. "We had a report that inadvertently and wrongly characterized the plea from a Milwaukee woman whose brother was killed by police.
"As our viewers saw, she demanded the violence stop in her community, but in fact, she also said that protesters should instead take their violence to the suburbs.
"I regret that second part of her statement was not included," Costello said.
Watch the apology here: