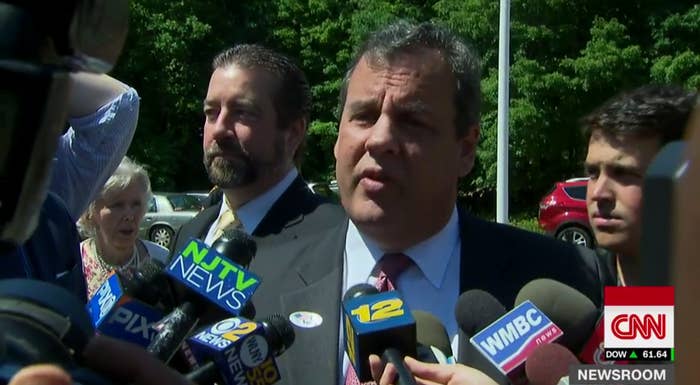 New Jersey Gov. Chris Christie cast his ballot for Donald Trump on Tuesday in his state's Republican primary contest, telling reporters the presumptive GOP nominee was not a racist despite his comments against an American-born judge of Mexican descent.
"I know Donald Trump, I've known him for 14 years, and Donald Trump is not a racist," Christie said. "The allegations that he is are absolutely contrary to every experience I've had with him over the past 14 years."
Trump's assertion that Judge Gonzalo Curiel cannot remain impartial in hearing a case against the now-defunct Trump University because he is of "Mexican" decent (Curiel is the son of Mexican parents, but was born and raised in Indiana) has drawn scorn from Democrats and Republicans alike. On Sunday, he went further and said no Muslim judge could hear a case involving Trump because of his proposal to temporarily ban all foreign Muslims from entering the United States.
Earlier on Tuesday, House Speaker Paul Ryan said Trump's remarks were the "textbook definition of a racist comment."
"I think that should be absolutely disavowed. It's absolutely unacceptable," Ryan said, although he declined to withdraw his endorsement of Trump.
Christie told reporters in Mendham Township that Ryan was "entitled to his opinion."
"I am sure, if I sat back and thought about, that there would be times I would think that there would be things that he said that he shouldn't have said," Christie said. "Quite frankly, he's admitted that over time there were things that he's said that he shouldn't have said."
"But that happens to anybody in politics who speaks their mind. If you have this many microphones and cameras in front of you on a regular basis and you're not a pre-programmed, robotic politician you're going to make some statements at times you'll wish you could take back."
The governor said he found it refreshing that Trump was "not reading from a script."
Christie endorsed Trump in February after dropping out of the Republican race.
"If we've got questions other than the judge kerfuffle, I'm happy to answer them, otherwise I'm moving on," Christie said.
Contacted repeatedly over the weekend by BuzzFeed News, the New Jersey governor declined to comment on the Trump University case. A Christie spokesman subsequently told BuzzFeed News to no longer email the governor's personal address.