Charlie Hebdo's Response To The Paris Attacks Is Incredibly Powerful
The latest cover from the newspaper, which itself came under attack in January, is a tribute to France's defiance.
Last week's terrorist attacks in Paris are, of course, the second time this year the city has been left reeling from a massacre.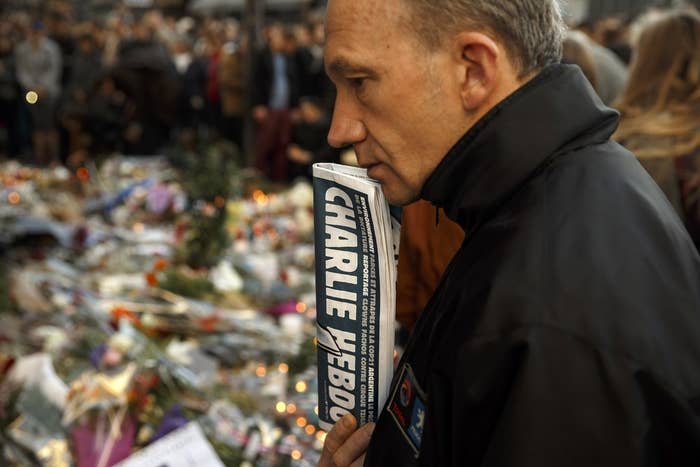 In January, Islamist gunmen stormed the offices of Charlie Hebdo in Paris, killing 12 people, in retaliation against the magazine's depictions of the Prophet Muhammad.
Its first cover after the attacks was an image of the Muslim prophet, crying while holding a sign that read, "Je suis Charlie." The words "All is forgiven" also appeared on the cover.
Now, Charlie Hebdo has unveiled the cover of its latest issue — the first to be published since 129 people were slaughtered by terrorists in Paris. It reads, "They have weapons... Fuck them, we have champagne!"
Speaking at the United Nations Educational, Scientific and Cultural Organization (UNESCO) headquarters in Paris on Tuesday, President François Hollande said France would be defiant against the attacks in Paris which he said sought to target young people enjoying music, sport, and cuisine.
"We will not give into terrorism by suspending our way of life," he said.