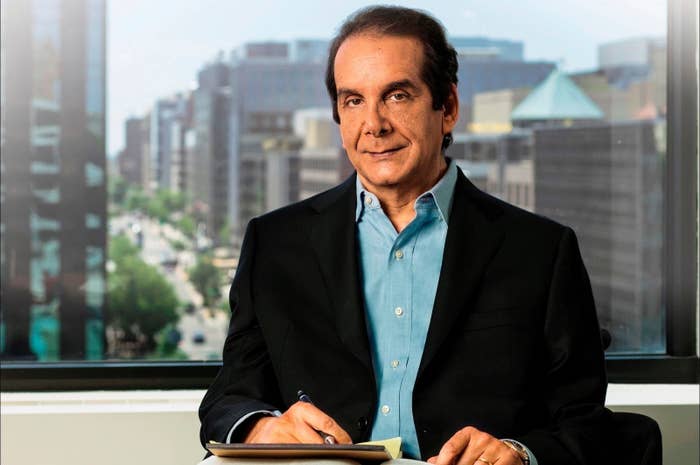 Charles Krauthammer, an influential public commentator who helped steer conservative thinking for decades through his books, newspaper columns, and frequent television appearances, died Thursday. He was 68.
His death was announced by the Washington Post, which published his weekly columns, and Fox News, where he frequently appeared on air.
"We are deeply saddened by the loss of our colleague and friend, Charles Krauthammer," Fox News CEO Suzanne Scott said in a statement. "A gifted doctor and brilliant political commentator, Charles was a guiding voice throughout his time with FOX News and we were incredibly fortunate to showcase his extraordinary talent on our programs."
Krauthammer revealed June 8 that he'd been diagnosed with cancer, having had a tumor removed from his abdomen last year. Yet the cancer returned, "aggressive and spreading rapidly," he said, with his doctors informing him he had just weeks to live.
"This is the final verdict," he said. "My fight is over."
Krauthammer was familiar to many Americans as a frequent panelist on Fox News' Special Report With Bret Baier, but he also penned a weekly column for the Post that was syndicated to hundreds of newspapers.
"R.I.P. good friend," Baier tweeted Thursday. "I am sure you will be owning the panel discussion in heaven as well. And we'll make sure your wise words and thoughts — your legacy — will live on here @krauthammer."
Krauthammer first joined the Post in 1984 and was honored with a Pulitzer Prize for criticism just three years later for "his witty and insightful columns on national issues." (He was also a Pulitzer finalist in 1986 "for his gracefully written and clear commentary on a variety of issues.")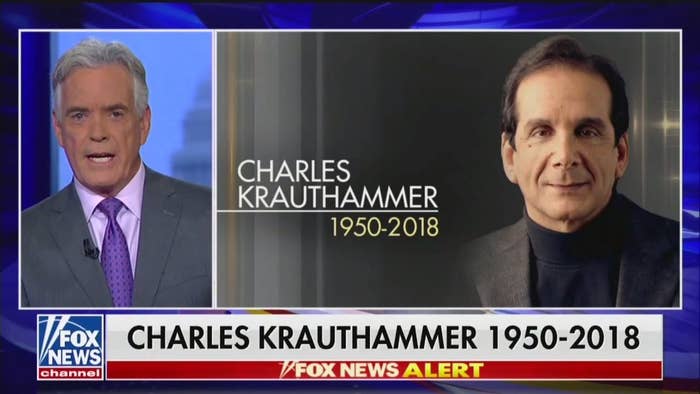 Born in New York but raised in Montreal, Krauthammer earned degrees from some of the most prestigious universities in the world: McGill, Oxford, and Harvard Medical School.
In his first year of medical school, he became paralyzed from the waist down when he dove into a swimming pool and broke his spinal cord. He used a wheelchair for the rest of his life.
"The first week, I thought, the terrible thing is that people are going to judge me now by a different standard. If I can just muddle through life, they'll say it was a great achievement, given this," he said in 1984. "I thought that would be the worst, that would be the greatest defeat in my life — if I allowed that. I decided if I could make people judge me by the old standard, that would be a triumph and that's what I try to do. It seemed to me the only way to live."
A trained psychiatrist, he worked as a chief resident at Massachusetts General Hospital and advised the Jimmy Carter administration on psychiatric research policy. He also worked as a speechwriter to Walter Mondale, Carter's vice president.
"I'm often asked: 'How do you go from Walter Mondale to Fox News?' he wrote in his 2013 book, Things That Matter. "To which the short answer is: 'I was young once.'"
Krauthammer said he began feeling estranged from the Democratic Party during the Reagan administration, accusing the party of drifting left and opposing security policies that ultimately prevailed in the Cold War.
"On foreign policy, as the cliché goes, I didn't leave the Democratic Party. It left me," he said.
"Not so on domestic policy. The Democratic Party remained true to itself. I changed."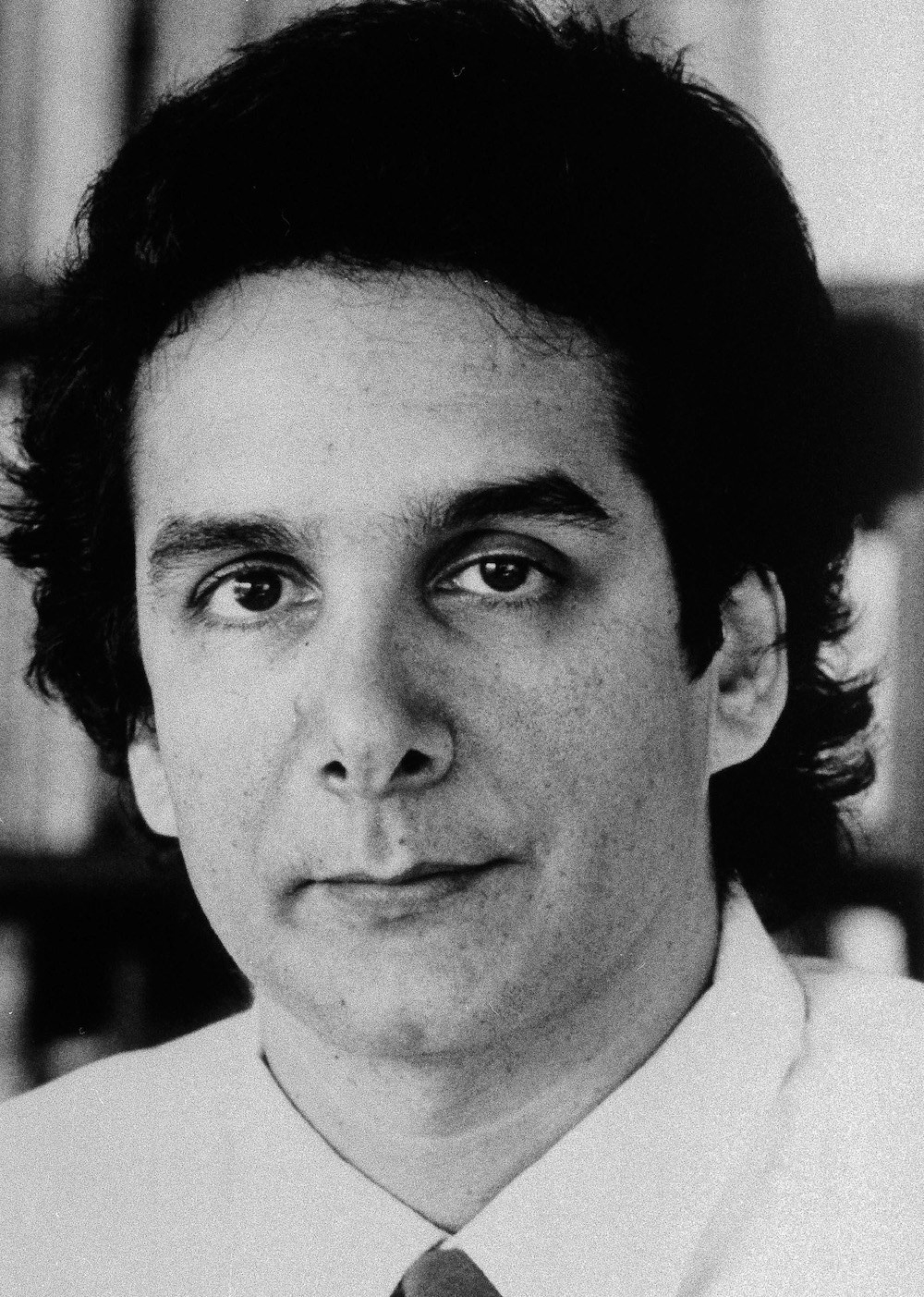 He began writing for the New Republic in 1981, winning the National Magazine Award for Essays and Criticism three years later.

In 2006, the Financial Times declared Krauthammer, then mostly supportive of president George W. Bush's neoconservative policies, the most influential commentator in the United States.
His public profile only grew during the Obama administration, thanks in part to his nightly appearances on Fox News.
"Obama is a man of first-class intellect and first-class temperament. But his character remains highly suspect," Krauthammer once said.
Yet he also advocated positions that may have surprised some readers, supporting federal funding for embryonic stem cell research (with limits) and declaring himself a "person for the ethical treatment of animals," albeit not a member of the PETA organization.
In the 2016 election, he opposed both Hillary Clinton and Donald Trump, telling readers he planned to write in either Speaker Paul Ryan or Sen. Ben Sasse. During the campaign, he was particularly critical of the way Trump spoke about rule of law. "The prize for the winner is temporary accession to limited political power, not the satisfaction of vendettas," Krauthammer wrote. "It takes decades, centuries, to develop ingrained norms of political restraint and self-control. But they can be undone in short order by a demagogue feeding a vengeful populism."
In one of his final columns for the Washington Post, published in August 2017 before he underwent surgery for cancer, he dubbed President Trump a "cocksure sycophant," but argued that democratic safeguards were holding him back. "Trump is a systemic stress test," he wrote. "The results are good, thus far."
After he revealed his cancer diagnosis to readers, the Washington Post editorial board celebrated his frequent contributions and said he could not be replaced.
"His unsparing judgments were cheered by some readers while angering others," the Post said. "But few could disagree that he wrote a column of breathtaking range and intelligence and integrity."
Krauthammer thanked his readers and colleagues, saying he was "grateful to have played a small role in the conversations that have helped guide this extraordinary nation's destiny."
"I leave this life with no regrets," he said. "It was a wonderful life — full and complete with the great loves and great endeavors that make it worth living. I am sad to leave, but I leave with the knowledge that I lived the life that I intended."
He is survived by his wife, Robyn, and his son, Daniel.