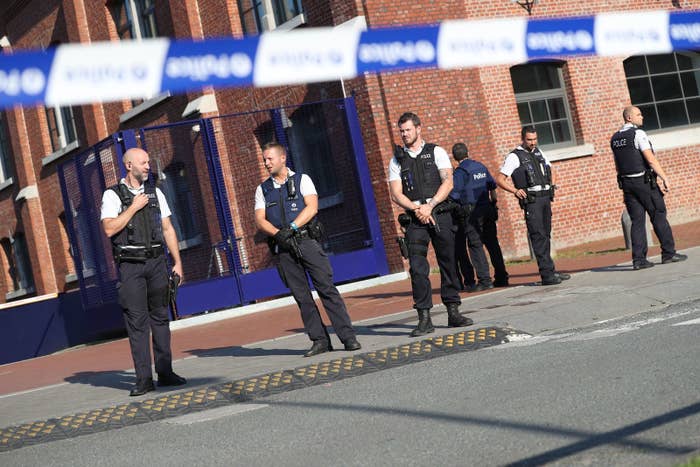 ISIS on Sunday claimed responsibility for a weekend machete attack in Belgium that wounded two policewomen.
The 33-year-old Algerian man who carried out the attack outside the main police station in Charleroi in the Hainaut province was fatally shot by a third officer on Saturday as he slashed at the officers.

Police said on Twitter that the man shouted "Allahu Akbar," or "God is Great" in Arabic, during the assault.
In a statement carried by the ISIS-affiliated Aamaq News Agency on Sunday, the militant group said the attack was in response to the "Crusader coalition's" military campaign.

The attacker had a criminal history but was not known for possible terror-related activities, authorities said. A rucksack he was carrying at the time of the attack was not found to hold any weapons or explosives.
The officers were injured in the face and neck, the prosecutors office said in a statement on Sunday:
Since there are indications that the attack may have been inspired by a terrorist motive, the federal prosecutor's office decided to take over the investigation from the district prosecutor's office of Charleroi, the statement said.


An Investigating judge specialized in terrorism cases, was appointed. The assailant has been identified as K.B., a 33-year-old Algerian national, who resided in Belgium since 2012.

He is known to police for criminal facts, not for terrorism. During the night already two house searches have been conducted in the district of Charleroi. Currently no further details can be given.
Like neighboring France, Belgium has been battered by terrorism in recent months, culminating in attacks on Brussels' airport and a metro station in March that left 32 people dead.
The assaults have left Belgian authorities scrambling to investigate any leads that might prevent any further attacks.
Police also said in January that some of the men involved in the Nov. 13 Paris attacks used an apartment in Charleroi to plot their assaults.
"I condemn the attack in Charleroi with force," Belgian Prime Minister Charles Michel wrote on Twitter on Saturday. "Thoughts go to the victims, their relatives, and police. We are following the situation closely."