The civil partner of the French police officer killed during a terrorist attack on the Champs-Élysées in Paris last week delivered an emotional eulogy for his slain partner on Tuesday, vowing to never give into hatred.
Paris police on Friday identified Xavier Jugelé, 37, as the officer shot dead when a gunman opened fire at a squad car on the famed French boulevard.

Two of the officer's colleagues, as well as a bystander, were injured in the incident, which was claimed by ISIS militants. The attacker, Karim Cheurfi, was shot dead by police.
"When I first got messages saying something had happened on the Champs-Élysées, and that a policeman had died, a little voice told me it was you," Etienne Cardiles said at a gathering of dignitaries and mourners at the Paris police headquarters on Tuesday. "It brought me back to that generous and healing phrase: 'You will not have my hatred.'"
"I don't feel hatred, Xavier, because it is not like you, because it does not correspond to anything that made your heart beat, nor why you entered the police force," Cardiles said.
Jugelé has been remembered as a proud defender of LGBT rights and as a patriot.
He was a proud member of the LGBT police group Flag, according to the organization's president, Mickaël Bucheron.
"He was a simple man who loved his job, and he was really committed to the LGBT cause," Bucheron told the New York Times. "He joined the association a few years ago, and he protested with us when there was the homosexual propaganda ban at the Sochi Olympic Games."
Jugelé had served as a volunteer with the Gendarmerie, a national police force, for five years before heading to the police academy in 2010 to officially join the Police Nationale, according to Libération.

"He was the epitome of a cop who loved his job," Yves Lefebvre, with the police union Unité-SGP, told the French outlet.
In the aftermath of the deadly terrorist attack on the Bataclan in Paris in November 2015, which killed 90 people attending a rock concert, Jugelé was one of the police officers who guarded the venue.
One year later, Jugelé was among those who attended a Sting concert for the venue's reopening.
"I'm happy to be here. Glad the Bataclan is reopening. It's symbolic," he told People magazine at the time. "We're here tonight as witnesses. Here to defend our civic values. This concert's to celebrate life. To say no to terrorists.
"It doesn't feel strange, it feels important. Symbolic."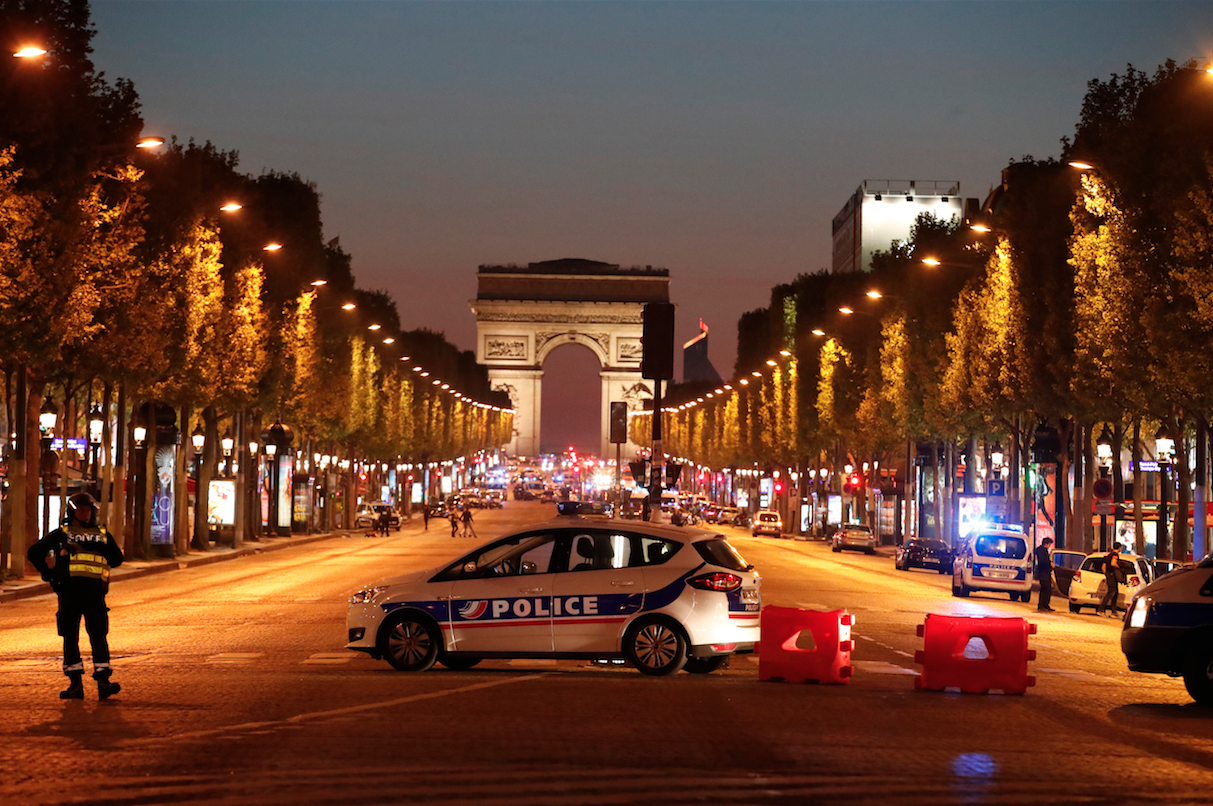 Tuesday's remembrance ceremony was also attended by President François Hollande, as well as Emmanuel Macron and Marine Le Pen, the two candidates vowing to be the next French leader.
Cardiles remembered his partner as a fun-loving cinephile who was looking forward to an overseas vacation the pair had been planning.

"A life of joy and laughter, in which love and tolerance were your uncontested masters," Cardiles said. "You lived like a star, you leave like a star."
UPDATE: This post has been updated to clarify that Jugelé and Cardiles were civil partners, but not married.