Suspect Dead After Two Canadian Mounted Police Officers Shot In Alberta
The two uniformed officers have been significantly injured, according to police. Update: police have located the body of their suspect, who is now deceased.
Two uniformed members of the Royal Canadian Mounted Police received "significant injuries" after being shot early Saturday near Edmonton, Alberta, authorities said.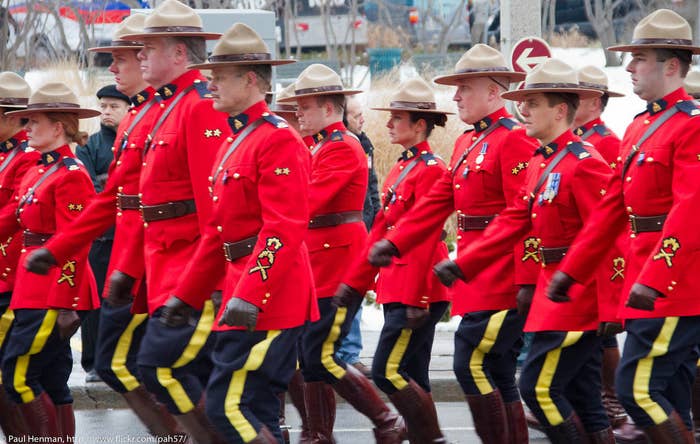 The two officers were shot by a white man, aged 25-35, in St. Albert, just outside Edmonton.
"The officers, who have endured significant injuries, were struck by gunfire and are now being treated in hospital," police said in a statement.
Two two officers were shot around 3 a.m. local time while confronting the suspect about a stolen vehicle, RCMP Assistant Commissioner Martin Degrend told reporters.
Police launched a search for the suspect, whose name was not released.
But in a statement on Saturday afternoon, police said they had "located" the suspect, who was deceased.
"The RCMP can now confirm that the suspect, who shot two RCMP officers earlier this morning in St. Albert, was located deceased in an unoccupied private residence in a rural area," police said.
"At no time during police efforts to arrest the suspect at this residence, did officers speak with the suspect or fire their weapons," the statement said." However, this incident is considered an in custody death, because police had established containment of the scene where the suspect was found deceased."
The injured officers have since been identified as Constable David Matthew Wynn, 42, and Auxiliary Constable Derek Walter Bond, 49. Wynn is said to be in a "grave condition," while Bond is in a serious but stable condition.
"Any time our members have been shot and are in hospital we consider it serious," Inspector Gibson Glavin told CBC.
Alberta's Justice Minister Jonathan Denis told CBC his thoughts were with the officers' families.
"This incident stands as yet another reminder to us all of the real and present dangers our police officers and peace officers face every single day as they work to keep our communities safe," Denis said.