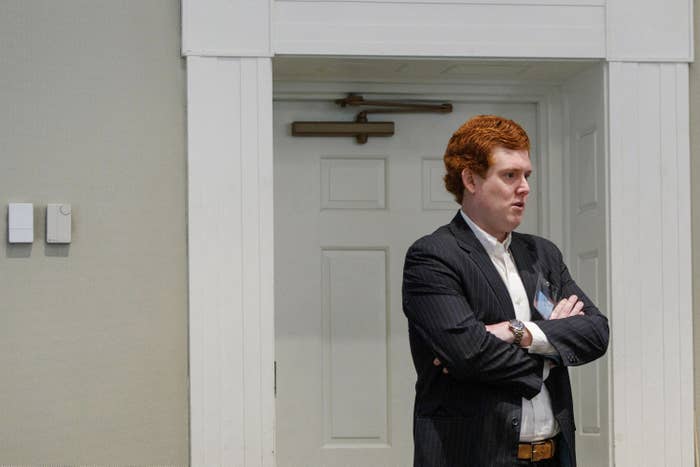 In his first public statement since his father Alex Murdaugh was convicted of murdering his mother and brother, Buster Murdaugh has hit back at the "vicious rumors" tying him to the 2015 death of a high school classmate.
Buster vehemently denied any involvement in the death of 19-year-old Stephen Smith, whose death investigation was reopened by detectives investigating the 2021 murders of Paul and Maggie Murdaugh, in a statement to media on Monday.
"I have tried my best to ignore the vicious rumors about my involvement in Stephen Smith's tragic death that continue to be published in the media as I grieve over the brutal murders of my mother and brother. I love them so much and miss them terribly," Buster said.
"I haven't spoken up until now because I want to live in private while I cope with their deaths and my father's incarceration," he added. "Before, during and since my father's trial, I have been targeted and harassed by the media and followers of this story. This has gone on far too long."
Smith was found dead of blunt force trauma in the middle of a rural road in Hampton County, South Carolina, on July 8, 2015. While authorities initially suspected Smith died in a hit-and-run, there was little evidence of a crash, fueling suspicions his body had been dumped there.
Prior to his death, Smith, an openly gay nursing student, had told his sister that he'd been quietly seeing another young man whose identity would shock many people in the conservative area.
After he died, the Murdaugh name was frequently brought up to investigators, but Buster has now denied any involvement.
"These baseless rumors of my involvement with Stephen and his death are false," Buster said in his statement. "I unequivocally deny any involvement in his death, and my heart goes out to the Smith family.
"I am requesting that the media immediately stop publishing these defamatory comments and rumors about me," Buster said.
Last week, Smith's mother, Sandy, announced she had raised $60,000 via GoFundMe to exhume his body and conduct an independent autopsy.
"Thank you for not allowing Stephen's story to be swept under a rug," she said.
As they investigated the Murdaugh murders, South Carolina Law Enforcement Division agents reopened probes "based on information gathered" into the death of Smith and the 2018 death of Gloria Satterfield, the Murdaugh's housekeeper who died after falling at the family's home.
Alex Murdaugh later admitted to stealing more than $4 million in insurance money that was owed to Satterfield's family.
Buster attended each day of his father's murder trial, sitting alongside his girlfriend and his uncle.
He testified in his father's defense on Feb. 21, recalling how his father had called him on June 7, 2021, to tell him his mother and brother had been shot dead.
"He was destroyed. He was heartbroken," Buster testified. "I walked in the door, saw him, gave him a hug — just broken down."
Buster also told the jury that he'd been aware of his father's addiction to painkillers but said he thought that Alex had "handled it" after a stint at a detox facility.