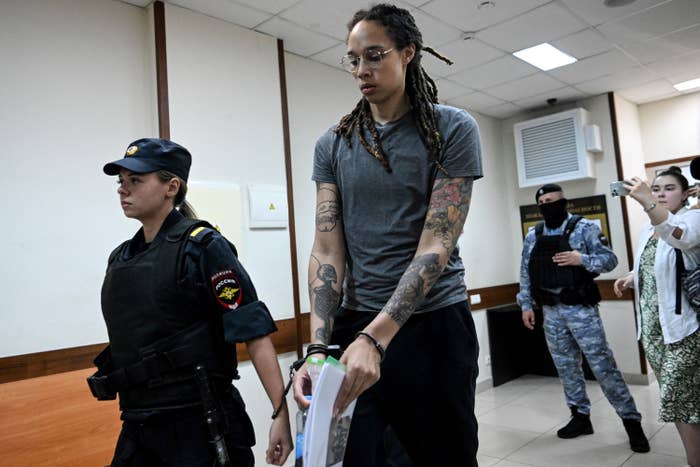 US basketball star Brittney Griner was sentenced to nine years in prison by a Russian court on Thursday on drug charges.
The judge found Griner guilty of attempting to smuggle illegal narcotics into Russia.
Griner sat inside a cage for defendants in the courtroom in Khimki, outside Moscow, and listened intently to a translator as the judge announced her verdict.
A conviction had been expected, with Griner's advocates and US officials insisting she was being wrongfully detained by Moscow in order to extract concessions from Washington amid the fallout from Russia's invasion of Ukraine.
"Today's sentencing of Brittney Griner was severe by Russian legal standards and goes to prove what we have known all along, that Brittney is being used as a political pawn," her agent Lindsay Colas said.
The WNBA player and two-time Olympic gold medalist, 31, has been held in detention since February when she was arrested at a Moscow airport with vape cartridges of hashish oil in her luggage.
Prosecutors had asked the judge on Thursday to impose a sentence of 9.5 years — just shy of the maximum sentence of 10 years.
US diplomats have proposed a prisoner swap with Russia to secure the release of the Phoenix Mercury player and Paul Whelan, who was arrested in 2018 and accused of being a spy. Washington has proposed exchanging convicted arms dealer Viktor Bout for the two Americans.
Griner pleaded guilty to the charges last month in a move that her defense attorneys hoped could grant her a more lenient sentence, but she contended that there was no criminal intent on her part.
Addressing the court on Thursday, an emotional Griner apologized for what she said was an "honest mistake." She pleaded for leniency, saying, "I hope that in your ruling, that it doesn't end my life here."
"I want to apologize to my teammates, my club, my fans, and the city of [Yekaterinburg] for my mistake that I made and the embarrassment that I brought on them," Griner said in her statement. "I want to also apologize to my parents, my siblings, the Phoenix Mercury organization back at home, the amazing women of the WNBA, and my amazing spouse back at home."

Responding to her sentence, President Joe Biden slammed Russia for "wrongfully detaining" Griner, saying he would "pursue every possible avenue" to bring her home.
"It's unacceptable, and I call on Russia to release her immediately so she can be with her wife, loved ones, friends, and teammates," Biden said in a statement. "My administration will continue to work tirelessly and pursue every possible avenue to bring Brittney and Paul Whelan home safely as soon as possible."
WNBA Commissioner Cathy Engelbert and NBA Commissioner Adam Silver also released a joint statement condemning the verdict.
"Today's verdict and sentencing is unjustified and unfortunate, but not unexpected and Brittney Griner remains wrongly detained," they said. "The WNBA and NBA's commitment to her safe return has not wavered and it is our hope that we are near the end of this process of finally bringing BG home to the United States."
Griner previously testified that she used cannabis oil prescribed by her doctor to treat pain from sports injuries, but had packed her bags in a hurry and did not mean to bring them to Russia, where she was playing in the WNBA offseason. "As they ended up in my bags by accident, I take responsibility, but I did not intend to smuggle or plan to smuggle [illegal substances] to Russia," she had testified on July 27.
Griner also complained that her rights were not read to her when she was first arrested and that she did not receive proper translation services during the investigation.
In a letter written to Biden last month, Griner said she was "terrified" she might be held in a Russian prison forever.
"I realize you are dealing with so much, but please don't forget about me and the other American Detainees," she said. "Please do all you can to bring us home."
Colas, Griner's agent, said they appreciated the Biden administration's efforts to bring basketball star and Whelan back to the US.
"Bringing Brittney and Paul home is the sole objective, and as such, we should use all available tools," Colas said. "We must remain focused and unified. This is a time for compassion and a shared understanding that getting a deal done to bring Americans home will be hard, but it is urgent and it is the right thing to do."