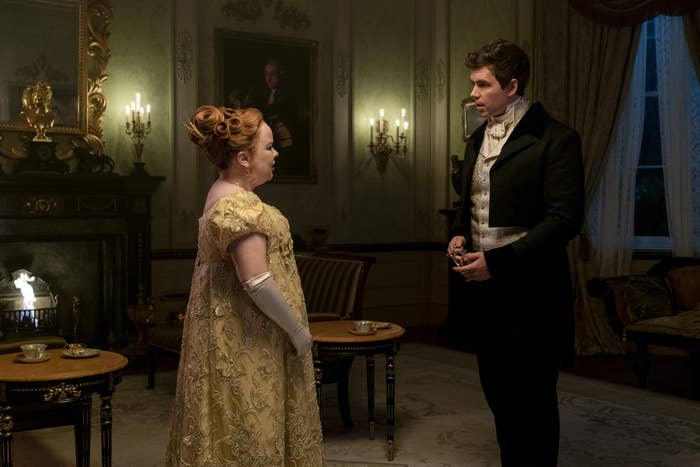 Dearest Readers: The next season of Bridgerton is trying something different.
The Netflix show's third installment will diverge from the order of author Julia Quinn's books and skip straight to the fourth novel.
That means viewers will follow the love story between Penelope Featherington (Nicola Coughlan) and the third-oldest Bridgerton brother, Colin (Luke Newton).
Coughlan revealed the news at a Netflix event on Sunday, but the streaming giant and Shonda Rhimes' production company confirmed the story on Monday.
Fans of the show know Penelope has pined for Colin for years, but the final episode of the second season saw her overhear him say he would never marry her.
"Season 3 will reveal how (or if...) Penelope and Colin go from friends to lovers!" Netflix tweeted.
Coughlan said on Instagram that she had been keeping the secret for a while.
It's likely that the story from the third book, which follows the love life of Benedict Bridgerton (Luke Thompson), will be pushed to a later date.

New showrunner Jess Brownell told Variety that Benedict would still be a "vital part" of Season 3, but that the main emphasis will be on "watching these two step into the sunshine and find each other."
"I really feel like it's Colin and Penelope's time. Because we've been watching both of these actors on our screens since Season 1, we've already invested in them a little bit. We know who they are as people," Bronwell said.
According to Bronwell, the aim was to lean into the tension between the characters, rather than defer it for another season.
"Instead of treading water on that dynamic, we wanted to push it into their season. It really felt like the perfect moment to tee it up," Bronwell said.
The news appeared to divide fans of the show, with many excited to follow Penelope and Colin, but others wanting Benedict to get his moment in the spotlight.
That's not the only change coming to Season 3.
Last week, Netflix announced they had recast the role of Francesca, the third-oldest Bridgerton daughter.
Actor Hannah Dodd will be replacing Ruby Stokes, who is moving on to another Netflix project: an adaptation of the British supernatural books Lockwood & Co.
The third season of Bridgerton will begin filming this summer, but a release date hasn't been set yet.
The second season was the most-watched English-language show in Netflix history, beating the first season.
UPDATE
This story has been updated with comments from showrunner Jess Brownell.