In Original NBC Report, Brian Williams Didn't Make Clear Which Helicopter Was Shot Down
BuzzFeed News obtained video of Williams' original report from March 26, 2003, in which he describes being on an air mission with the U.S. Army.
Brian Williams, the NBC Nightly News anchor, was suspended Tuesday following false claims that he was aboard a helicopter that was forced to land after being shot at during the Iraq war in 2003.
Williams has been telling the story for quite some time, but recanted and apologized for "misremembering" after several service members challenged the account to Stars and Stripes.
NBC is investigating several of Williams' claims, including some of his statements about his experiences covering Hurricane Katrina.
In the original 2003 report, obtained by BuzzFeed News from the Vanderbilt University Television News Archive, Williams' experience is described as "harrowing" by then-anchor Tom Brokaw.
In the report, which aired on NBC Nightly News on March 26, 2003, Williams said he and his crew were traveling with Army personnel aboard one of four helicopters on a "routine" air mission. He said that due to sudden rocket-propelled grenade and rifle fire the helicopters landed immediately and that a "grenade wound" was "clearly visible," but he does not say he was aboard the helicopter that was hit.
Williams, his crew, and the members of the military were then grounded for three days due to weather, he said.
The full transcript of the original report:
TOM BROKAW: For 48 hours we did not see NBC news' Brian Williams and that's because he and NBC News analyst Wayne Downing were hunkered down in the Iraqi desert, during a U.S. army helicopter mission that suddenly turned dangerous.

Tonight Brian and his crew are safely back in Kuwait City after a harrowing ordeal.

BRIAN WILLIAMS: Tom, we asked the U.S. army to take us along on air mission. They accepted. We discussed the danger, it was Iraqi airspace after all, we weren't cavalier about it, then things just started to happen.


BRIAN WILLIAMS (VOICE OVER): It was supposed to be a routine army aviation mission and it turned out to be, pone of the most dangerous missions they've launched here so far. Four giant Vietnam-era Chinook helicopters lifting giant sections of a steel bridge to be erected inside Iraq over the Euphrates river, a 17-thousand pile of steel dangling beneath us that made our small armada a low, lumbering, and inviting target. Down below the villages of the Iraqi countryside. Some but not all had been visited by American troops headed north towards Baghdad, Our lead chopper pilot remembers seeing a pick-up truck driver stop and wave, while another man pulled back a tarp, stood up in the back of the truck and fired an RPG, a rocket propelled grenade. Rifle-fire came from yet anther Iraqi.

SOUND BITE: We took fire on the way in.

BRIAN WILLIAMS (VOICE OVER): All four choppers dropped their load and landed immediately. The grenade wound clearly visible. In minutes the weather closed in and a round-trip one-day mission became a three-day stay.

Of all the places to ditch four choppers in the moon-like desert of Iraq this might have been the safest. The armored mechanized platoon of Lieutenant Eric Nigh quickly surrounded us with tanks and Bradleys. Infantrymen took up position protecting four vulnerable birds on a plot of land considered hot for the presence of armed Iraqis nearby.

Lieutenant Nye told us this was not yet the war he had been briefed on prior to the invasion. He estimated he had killed 65 Iraqis just a couple of miles from here, but they were hardly soldiers.

How would you describe the quality of the Iraqi soldiers you've encountered?

LIEUTENANT ERIC NYE: Guys in pick-up trucks with mounted machine guns and RPGS. Looks like they got together a group of civilians and said, "We're here to defend this field." With the M1s and this rolling in against those guys, it really wasn't a fight. It was more of a mop up.

BRIAN WILLIAMS (VOICE OVER):Life in this patch of Iraqi desert without a name became all about survival inside a hollow, grounded Chinook helicopter as a colossal sandstorm arrived like an orange wall in the sky, forcing the crew inside for a game. It lifted this morning, just long enough for us to get out.

Brian Williams, NBC News.
A decade later, when Williams told the story to David Letterman on March 26, 2013, he said that two helicopters had been hit by fire — and that he was riding in one of those which came under attack.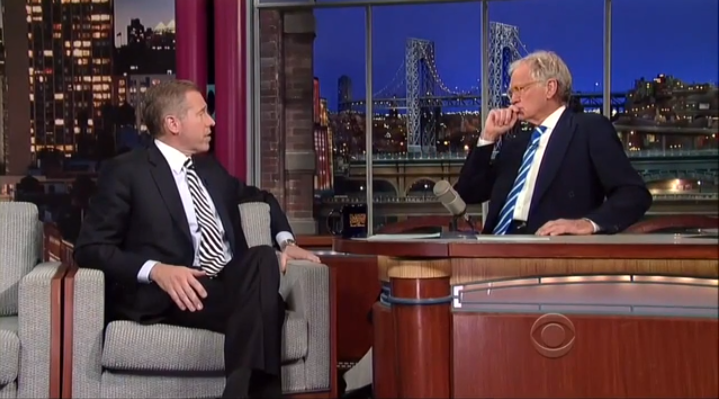 "Two of our four helicopters were hit by ground fire, including the one I was in. RPG and AK47," he said.
"No kidding?" Letterman replied.
"We were only at 100 feet doing 100-forward knots," he said. "We landed very quickly and hard and we put down and we were stuck, four birds in the middle of the desert and we were north out ahead of the other Americans."
"We got hit, we sat down, everyone was OK," he said. "Our captain took a purple heart injury to his ear in the cockpit, but we were alone. They started distributing weapons and we heard a noise. It was Bradley fighting vehicles and Abrams tanks coming. They happened to spot us. This was the invasion. The U.S invasion. They surrounded us for three days during the sandstorm that was so big that it suspended the war effort. It was called 'Orange Crush.' And they got us out of there alive."
"I have to treat you now with renewed respect," Letterman told Williams. "That's a tremendous story."
The anchor repeated the story on Jan. 30 during a piece about his reunion with one of the soldiers he said rescued the news team. However, this time Williams said only one helicopter was struck: his own.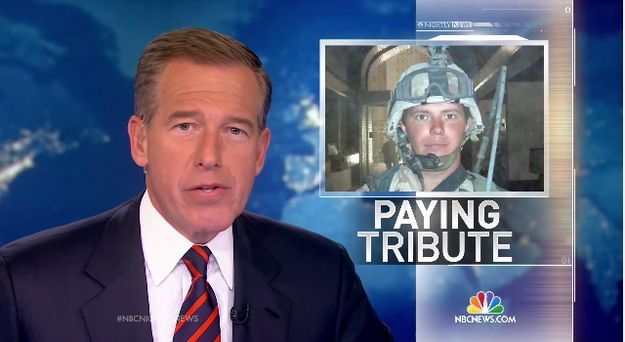 Describing it as a "terrible moment," Williams said, "the helicopter we were traveling in was forced down after being hit by an RPG," while images of a helicopter with a hole in its tail were broadcast.
"Our traveling NBC News team was rescued, surrounded, and kept alive by an armor mechanized platoon from the U.S. Army 3rd Infantry," Williams said.
When NBC posted the story to Facebook, a number of users who said they were servicemen on the same mission commented, claiming Williams had not even been part of the convoy that was forced down but arrived separately 30 to 60 minutes later.
In his Feb. 4 admission on Facebook, Williams responded directly to those commenting by writing, "You are absolutely right and I was wrong." He said he was "on the Chinook behind the bird that took the RPG in the tail."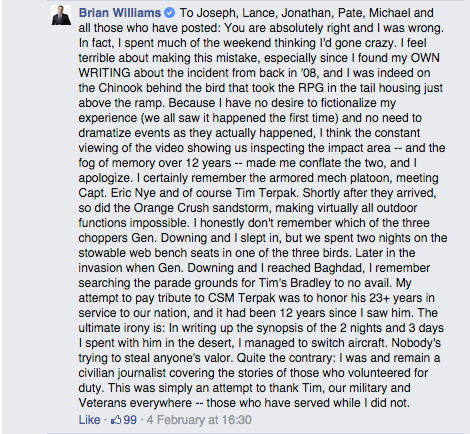 In an email to BuzzFeed News, Randy "Joe" Summerlin, a veteran who was aboard the helicopter that was struck down, said that Williams was not part of the convoy that came under fire:
"Brian on the other hand, showed up 30-45 minutes later. I remember him clearly. The first thing he did when he dismounted the aircraft was pull out a comb and fix his hair. I found it odd in such a desolate, dusty and dry environment, but I suppose reporters must always look their best.

The crew obviously had just been through a rough flight and we were still recoiling from the mess we were lucky to have survived. Brian approached us and bluntly started asking tons of questions without introducing himself. This really didn't sit well with any of us and I remember someone saying, "Give us fifteen minutes to gather our bearings and we will share our story with you." He and his crew began poking around the aircraft, staring at the holes and looking around. One of the crewmembers abruptly ran inside, started the APU and closed up the aircraft to not only keep the news crew out, but to also make sure they weren't recording anything considered "sensitive" (Army security protocols [things like aircraft countermeasure equipment]). Also, we had a box of grenades, some rocket launchers and loaded weapons that we felt needed to be secured for safety reasons.

As soon as we closed the ramp, Brian began taking pictures of the holes on the outside of the aircraft. About 10 minutes had gone by when he walked back to the crew of "his" aircraft and got in. They shortly departed without one question being asked of us. We figured either A) he had gotten his feelings hurt or B) he had enough information to make a story on his own. Later we saw his report and we completely shocked.

The worst part was that not only did his story effect us, but it devastated our families. The Army communication line about the crew of 099 had broken down between Iraq and Kuwait. Our radios were almost useless on the ground and the brave Bradley and Abrams crews were relaying information back, but it wasn't getting to our unit. The only information (for a short time) was that 099 was seen being hit by RPGs and small arms fire. We had lost communication, and because of the dust storm, the last aircraft in the flight only had that information to share with our command.

Then this "journalist" tells his "story" to the world with NO information about us. In my wife's mind her husband had just gone MIA. She reeled. She cried. She wondered if this was our aircraft and why there was no word about any of us. I cannot fathom how she felt, nor can I understand how this man can say that his mind was unclear about these events.

Getting into a firefight and especially the moments after are purifying clear. Nothing in my life has stuck with me and drilled a memory so deeply into my soul. We were lucky. We weren't heroes. We were not 1/1000th the stuff that makes a soldier like those that fought tooth and nail on the ground. Even so, Brian Williams wasn't even a grain of sand in that entire desert. Try harder Brian."
Responding to suggestions he was traveling well behind the convoy that came under attack, Williams said he did not recall being "in trail" by that far, during a Feb. 4 interview with Stars and Stripes.
"I could not see in front of us and I thought we were just in one flotilla, for lack of a better word. That's the first time I've heard that," he said.
The embattled newsman was suspended without pay for six months on Tuesday by NBC executives.
NBC News President Deborah Turness issued a memo to staff about the suspension, calling Williams' comments "wrong and completely inappropriate for someone in Brian's position."
Turness also wrote that Williams' "actions are inexcusable" but that he "deserves a second chance and we are rooting for him."
NBC News did not immediately respond to requests for comment on Williams' original 2003 report.