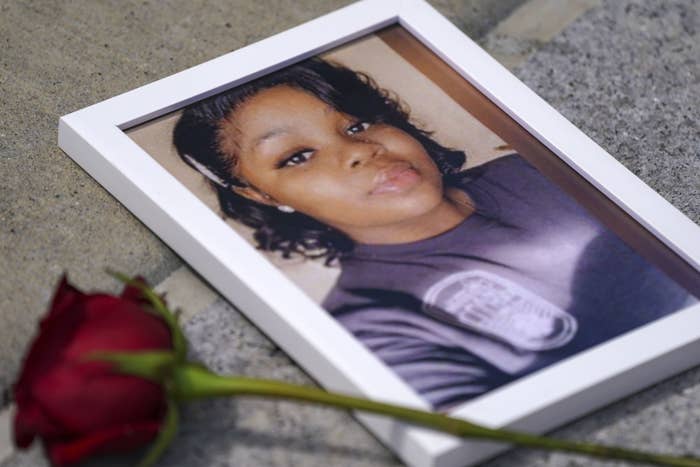 A former Louisville police detective pleaded guilty on Tuesday to falsifying the warrant affidavit used to search Breonna Taylor's home and then conspiring with other officers to cover up their lies, becoming the first officer to be convicted in connection with the deadly 2020 raid.
Kelly Goodlett, 35, reached a plea agreement with federal prosecutors in which she admitted that she knowingly lied about information authorities used to establish probable cause in order to get a judge to sign off on the no-knock warrant, which officers then executed in the middle of the night, prompting Taylor's boyfriend to open fire and police to then fatally shoot the unarmed 26-year-old EMT.
Earlier this month, Goodlett and three other former and current officers were charged in connection with the raid, but she is the first to plead guilty, suggesting she may be cooperating with investigators.
Goodlett, Joshua Jaynes, and Kyle Meany were accused of crimes in connection with the affidavit and conspiracy, while Brett Hankison was charged with using excessive force that violated the civil rights of Taylor, boyfriend Kenneth Walker, and their neighbors by firing indiscriminately during the raid.
Goodlett pleaded guilty before a judge in the US District Court for the Western District of Kentucky, but will be sentenced at a later date. Per the plea agreement, she could be imprisoned for up to five years and fined up to $250,000.
In the plea agreement, Goodlett admitted that as part of a police investigation into alleged drug dealing by Taylor's ex-boyfriend, Jamarcus Glover, she and others had sworn in the affidavit that they had verified he had still been receiving packages at her address, but that they knew that this was false.
Per the plea agreement, Goodlett said Jaynes had been the primary drafter of the affidavit, but she admitted to fact-checking and adding information to the document, including that they had "verified" that Glover was using Taylor's apartment as "his current address," when she knew this was not true.

She also knew that her fellow officers were seeking a warrant that would allow them to enter the apartment without knocking to avoid those inside destroying any evidence or fleeing.
"Det. Goodlett knew that this claim was false as it related to Taylor because the detectives had absolutely no reason to believe that Taylor was a drug trafficker, or that she had ever tried to destroy evidence or flee from law enforcement," the plea agreement states.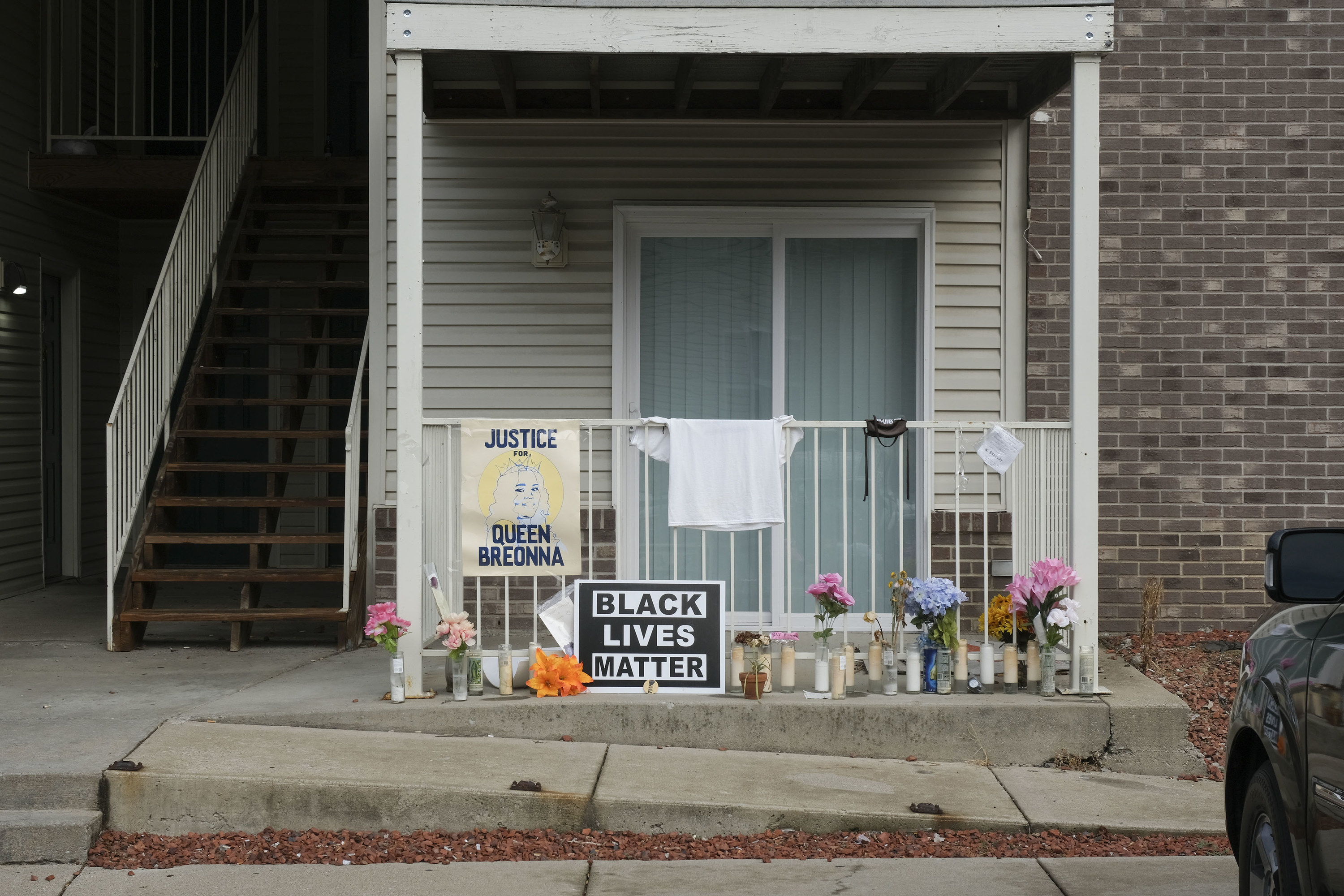 After the shooting had occurred, investigators asked Goodlett and Jaynes to submit a letter documenting their investigation, but the pair again repeated the same false information in this letter, per the plea agreement.
When new information came to light in media reporting that Glover was not receiving packages at Taylor's address, Goodlett said Jaynes had her meet her in his garage where he then pressured her to lie about the evidence they had been given regarding the packages. The pair then repeated this cover story to investigators.
Under the agreement, Goodlett indicated she was not aware that when Meany, her supervisor, had conducted surveillance at Taylor's apartment the night before the raid he had seen her new boyfriend Walker's car, as well as evidence that they were dating and that he had a concealed carry license.
This information was not included in the warrant because it undermined the false claims about Taylor and Glover still being linked, even though it potentially made the raid more dangerous given Walker could have been — and indeed was — armed.
When police ultimately rammed the door of Taylor's apartment, the pair inside were asleep. Thinking they were being robbed, Walker fired one shot that hit an officer in the leg. Police then fired 32 shots in response, six of which struck Taylor.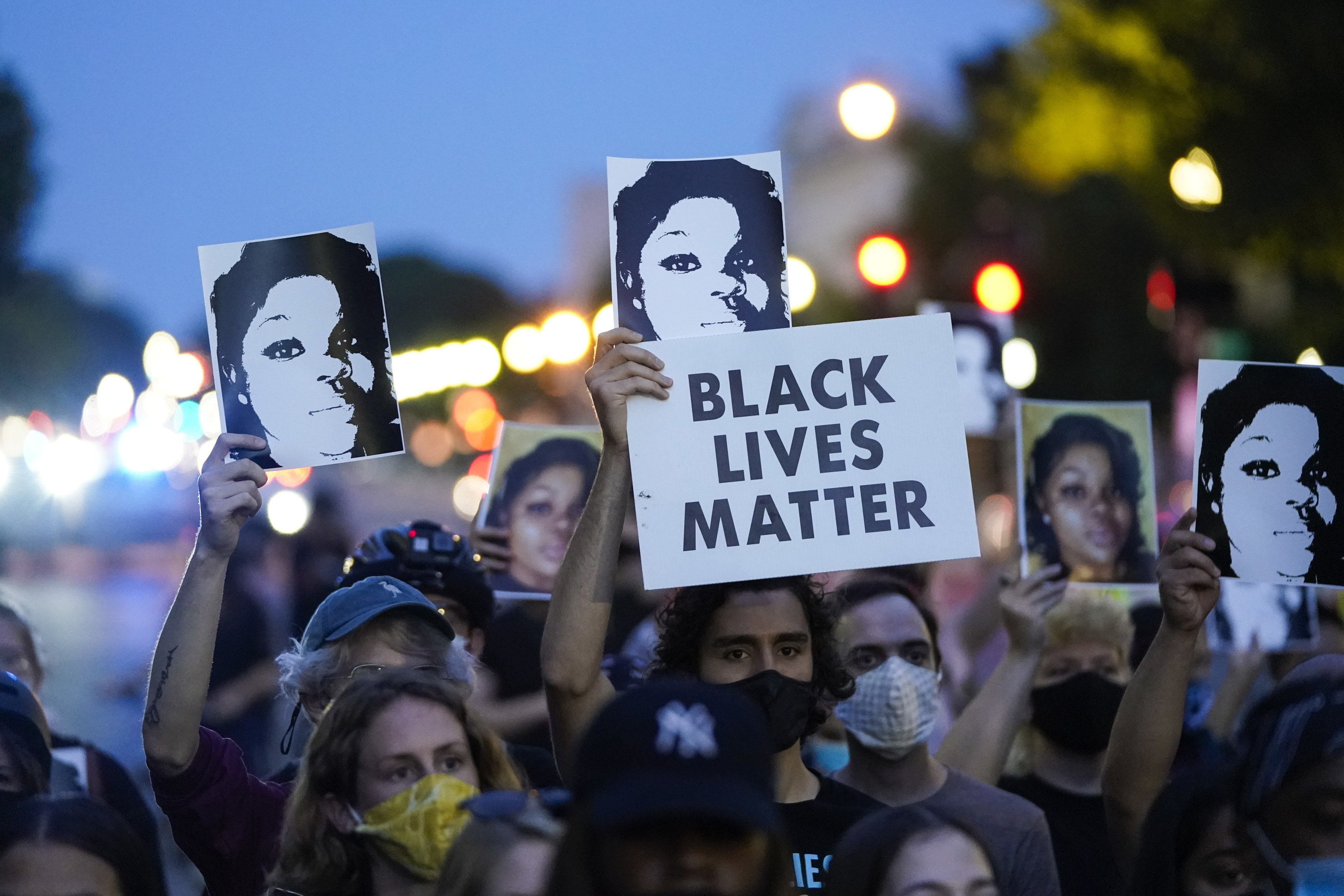 Goodlett and Jaynes "agreed to press forward with a search warrant for Ms. Taylor's home despite knowing that they lacked probable cause. They agreed to do this by falsifying the affidavit used to get the warrant," the plea agreement states.
The pair "thus conspired to violate Ms. Taylor's right to be free from unreasonable searches," the agreement continues. "When they conspired to violate Ms. Taylor's Fourth Amendment rights, they knew that the warrant would be executed, at night, by officers with firearms, and that it was foreseeable that a person in the home could be injured or killed."
In March, Hankison was found not guilty on state charges connected to the raid, with a jury taking only a few hours to acquit him on three charges of wanton endangerment.
That case against Hankison stemmed from his firing his weapon through Taylor's walls and into the neighboring apartment, where a pregnant woman, a man, and a child were sleeping.
His defense team successfully argued his actions were justified in that he was trying to protect his fellow officers from gunfire during the chaotic raid.