Missing Boy Found Behind Fake Wall Engineered His Own Escape
The 13-year-old boy and his mother have reunited. The boy's father is among five people arrested and charged with false imprisonment, child cruelty, and obstruction.
Update: Nov. 3, 1:30 p.m. ET —
The boy rescued by Georgia police last week from behind a false wall says he managed to engineer his own escape by using a smartphone.
Gregory Jean Jr. told reporters he had been given a cellphone with no signal from his father to stay in touch with friends, but he instead used it to download the MagicJack app to make an online call to his biological mother, Lisa Smith.
He says his mother had not known his location since he was allegedly abducted by his father, Gregory Jean Sr., and stepmother, Samantha Davis, after he visited them in 2010.
"She never knew my address. She never knew," Gregory Jean Jr. told WESH.
Smith has not explained why she reported her son missing to child services, but not to police.
Jean Sr. and Davis were both denied bail Monday.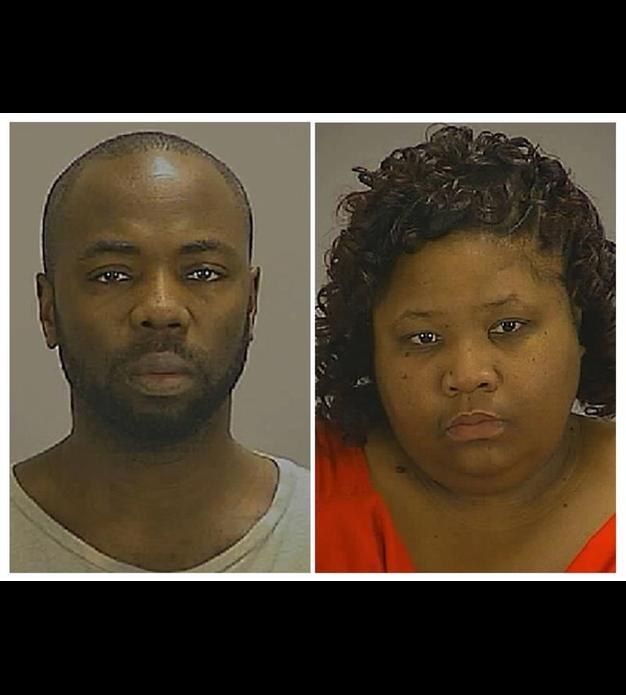 In a news conference, Clayton County Police congratulated the officers who found the boy in a hidden compartment between the garage and attic.
Gregory Jean Jr., pictured with the police officers who rescued him, Sgt. Joanne Southerland and Officer Daniel Day.
The 13-year-old was said to be distressed and have signs of physical abuse when the officers located him.
Clayton County Police Chief Gregory Porter would not elaborate on how regularly Jean Jr. was held in the hidden compartment, but told reporters it was "an area where no person should be living."
"When they came the second time-- they told me to get back in there," Jean Jr. told Fox Atlanta. "I was worried when [police] left the first time. When they came back, I was so happy."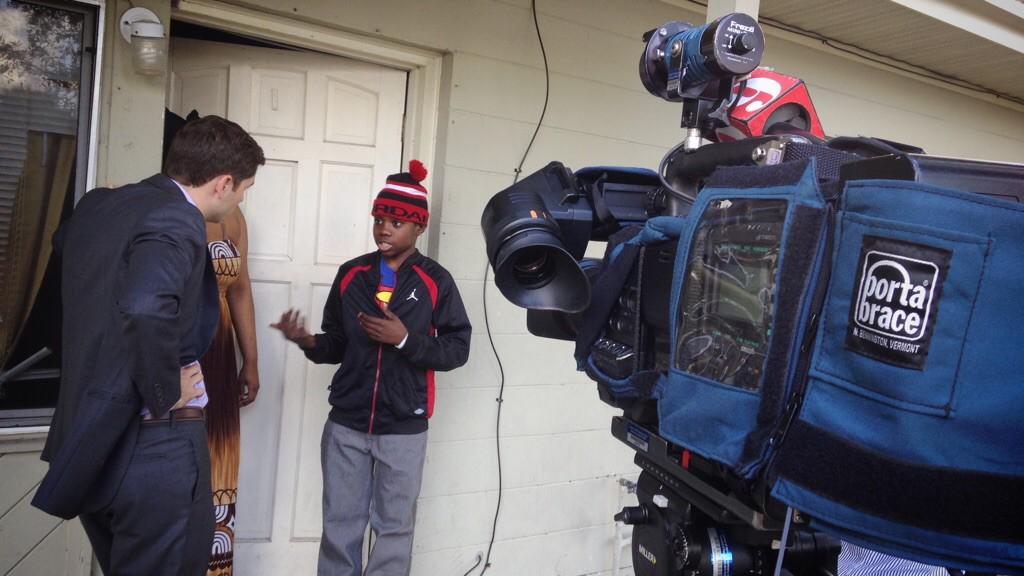 A boy reported missing by his mother four years ago has been found behind a "false wall" at a home in suburban Atlanta, Georgia, police have told BuzzFeed News.
The boy's father is among five people who have been arrested and charged with false imprisonment, cruelty to children, and obstruction.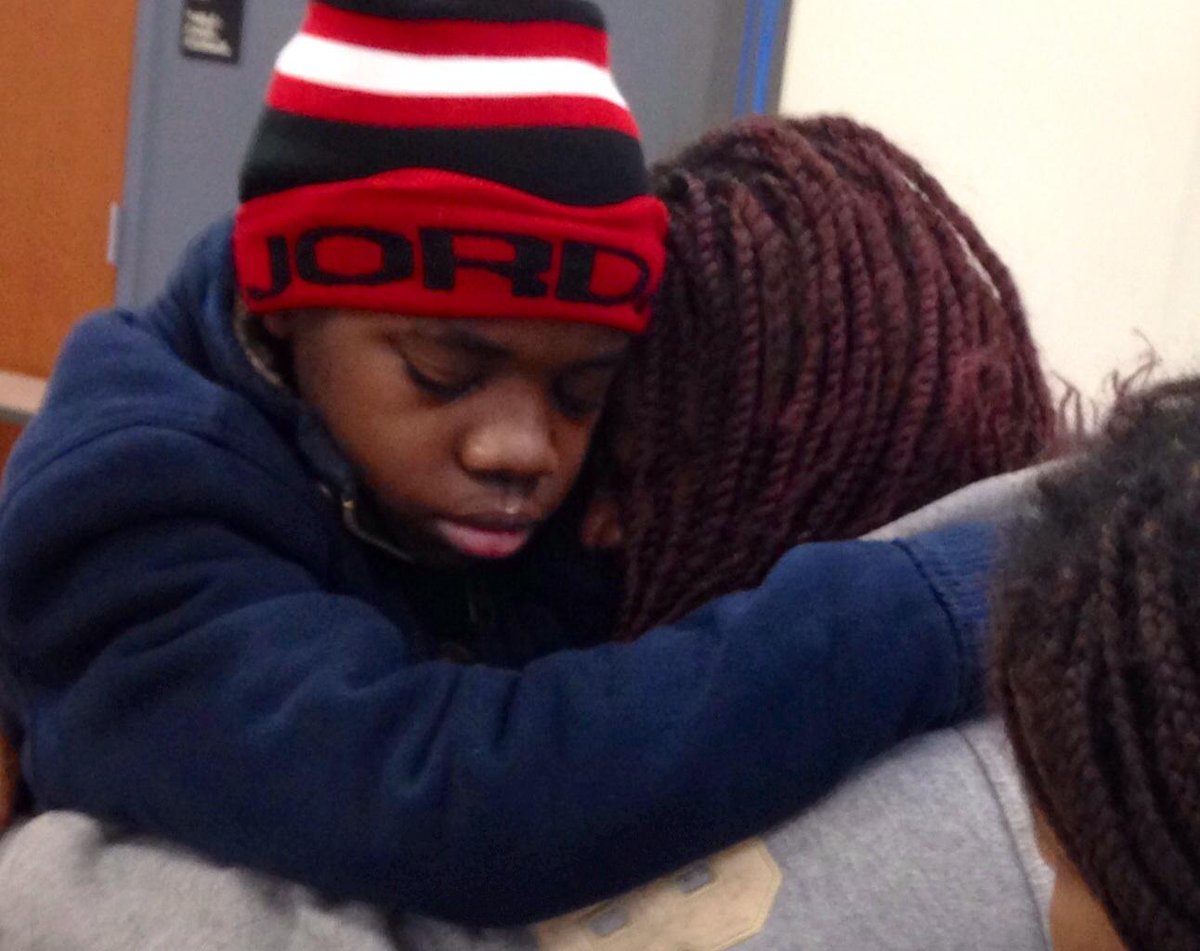 At around 11 p.m. ET Friday, Clayton County police said they were called to a house in Jonesboro on a tip that prompted them to conduct a child welfare check at the home.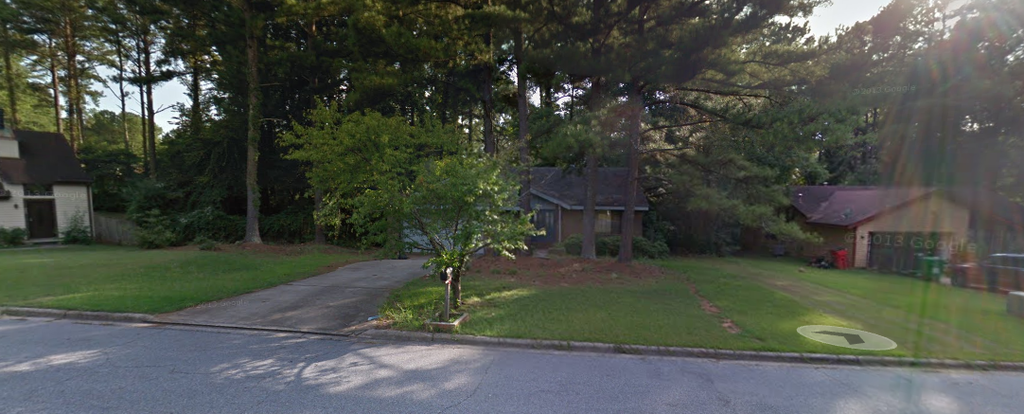 "Upon initial arrival, the responding officers made contact with several occupants at the location who denied having knowledge of any information concerning the victim," police said in a statement.
Police left the home after a brief search, but received another call from the boy's mother, who lives out of state, urging them to return to the house.
While police were searching the home again, the 13-year-old boy was somehow able to call his mother, who in turn relayed information to the officers on where the boy was being hidden.
Police say they were able to then find the boy behind a false wall. The wall was camouflaged by towels, according to Atlanta's 11Alive.
Local media reported that the boy's father had refused to return the child to his mother after a 2010 visit. Neighbors told 11Alive the man moved into the house six months ago.
Neighbors also reportedly spotted the boy playing outside and doing yard work on multiple occasions, but the Atlanta Journal-Constitution reported that the boy was only recently able to get in touch with his mother by phone.
The name of the boy has not been released, nor have details about how the boy was able to obtain or use a phone.
The boy's mother has now been reunited with her son.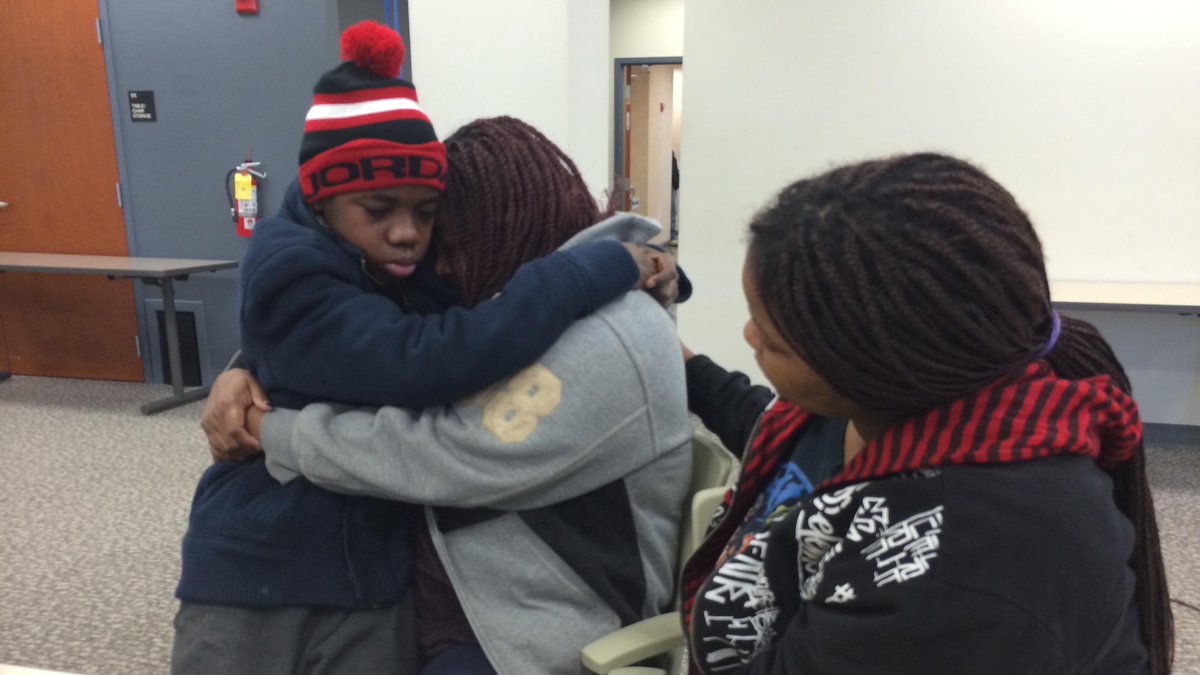 "It was very emotional," Sgt. Kevin Hughes of the Clayton County Police told BuzzFeed News. "She grabbed him and didn't let go him for a while, which is to be understood."
Sgt. Hughes could not clarify whether the boy spent frequent periods behind the wall, or was simply hidden there during the police search. However, he told journalists the boy appears to have spent time inside of the home, in the garage, or behind the false wall.
He told BuzzFeed News more details would emerge once the police conduct a proper interview with the boy.
The Clayton County Police's major felony unit will continue investigating the incident, and more charges are possible, police said.
Video of the emotional reunion can be seen here.
This is a developing story. Check back for updates.