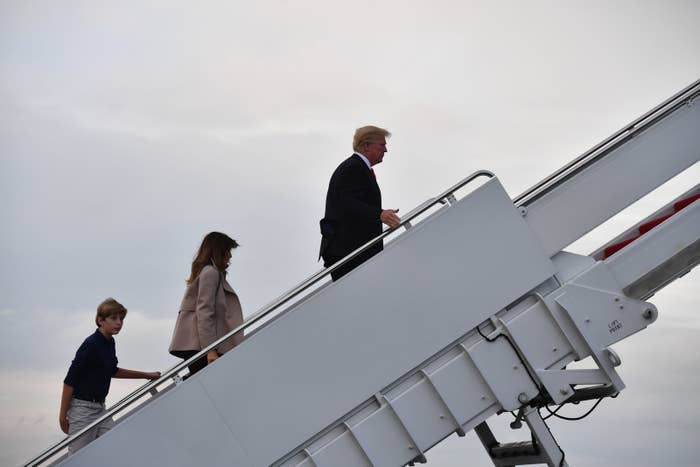 The school attended by President Trump's youngest son, Barron, is calling on the White House to enact gun control "with vigor, determination, and urgency, on behalf of our nation's children."

As an estimated nearly 1 million students and teachers around the country staged a walkout against gun violence on Wednesday, the head of St. Andrew's Episcopal School in Maryland, Robert Kosaky, was among more than 120 independent school leaders who signed an open letter calling for "common-sense legislation."

"We urge our President, our Congress, and our state leaders to enact specific, vigorous measures to reduce gun violence in our society, particularly in our schools," read the letter published in the Baltimore Sun newspaper.
Barron Trump, the president's 11-year-old son, began attending the elite St. Andrew's Episcopal School in Potomac, Maryland, in September.
According to the school's Instagram, St. Andrew's students also participated in the national day of protest and remembrance for the 17 people killed in last month's Parkland, Florida shooting.
"This student-led, student-designed, and student-initiated event was followed by Chapel, where students gathered in a vigil for all lives lost as a result of gun violence," the school wrote Instagram.
Stephanie Grisham, a spokesperson for the first lady, declined to comment on whether the young Trump participated.
"We never comment on Barron as he is a child who deserves privacy," she told BuzzFeed News.
In the open letter, Kosaky and other school leaders specifically denounced the idea of arming teachers in order to prevent shootings — an idea championed by the president.
"What we do not need is to arm our teachers with guns, which is dangerous and antithetical to our profession as educators," the heads of schools wrote.
Instead, they called for "common-sense legislation" to prevent "easy access to weapons, particularly those of military-style design."
"We need a robust system of registration and background checks, with a particular eye towards weapons capable of rapidly firing a vast number of deadly shots," the letter read. "We need stronger mental health services and more effective communication among agencies responsible for the well-being of children, adults, and families."
The educators said their schools spanned the political divide and were both secular and religious.
"As school leaders, we call upon everyone who cares about the education and the welfare of our children to urge our government to act," they wrote. "We need our teachers to be able to teach. We need our students to be able to learn. And we need everyone in every school around the country to feel safe."
Lori Alhadeff, the mother of Parkland victim Alyssa Alhadeff, told BuzzFeed News' AM to DM on Wednesday she "knows" the president will "do the right thing."

"President Trump," she said, directly addressing him, "like you want Barron safe, we want all of our kids safe and the kids safe of America, and I know you will do the right thing. Please help us."