While you were sleeping, Senate Republicans held a late-night vote to try to pass their last-ditch effort to repeal Obamacare — but it all failed when Sen. John McCain bucked the party line and voted against the bill.
The decision by McCain, who was recently diagnosed with brain cancer, came as a shock to many of his colleagues — audible gasps could be heard in the Senate when he voted no.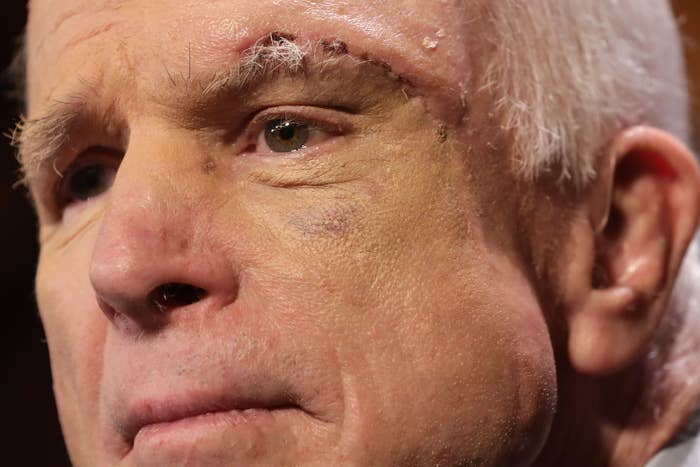 McCain joined two other GOP senators — Lisa Murkowski and Susan Collins, who had consistently objected to the repeal efforts — to vote against the so-called skinny repeal.
In a statement issued after the vote, McCain said he supported replacing Obamacare but objected to the provisions of this particular proposal and the highly partisan manner in which it was being achieved.
The skinny repeal "offered no replacement to actually reform our health care system and deliver affordable, quality health care to our citizens," McCain said.
Here's video of the exact moment McCain strolled into the Senate chamber at 1:29 a.m. and voted no with a thumbs-down.
video-cdn.buzzfeed.com
Just before McCain enters, Murkowski and Collins can be seen watching on, waiting to see if he will join them in opposing the bill.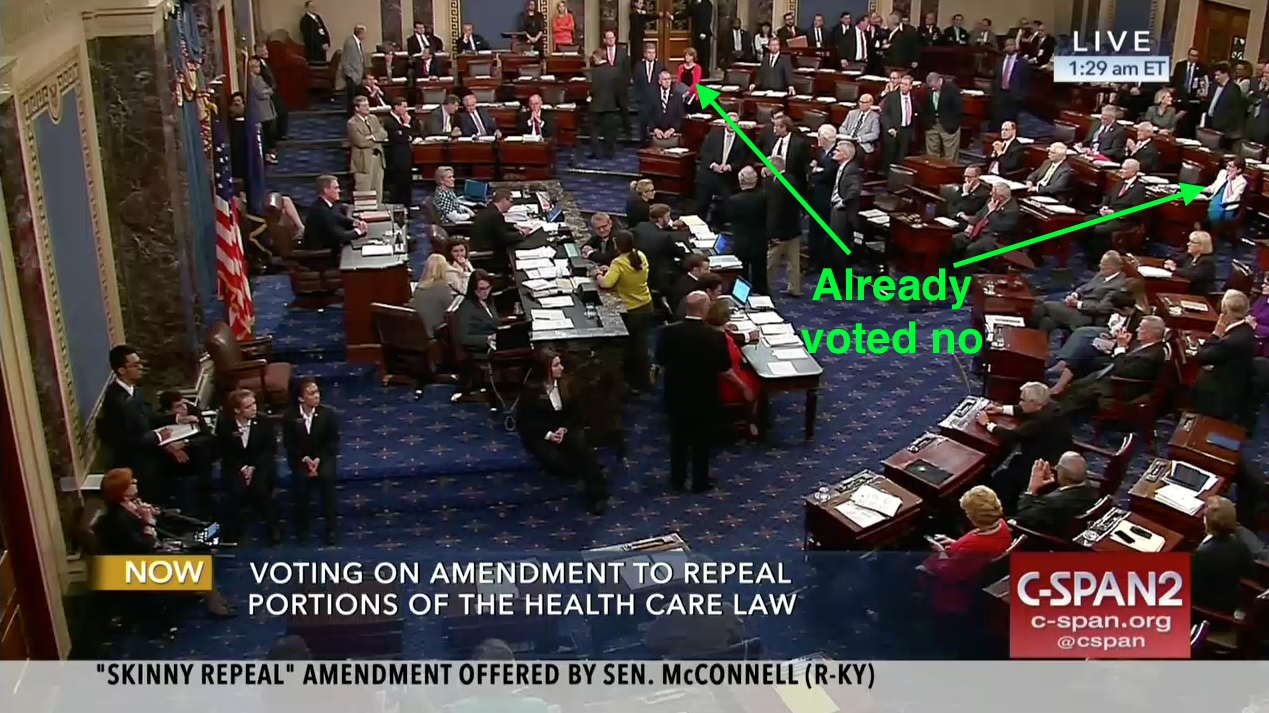 Then the door swings open, McCain enters — and Marco Rubio, chewing gum, turns to the self-described maverick from Arizona.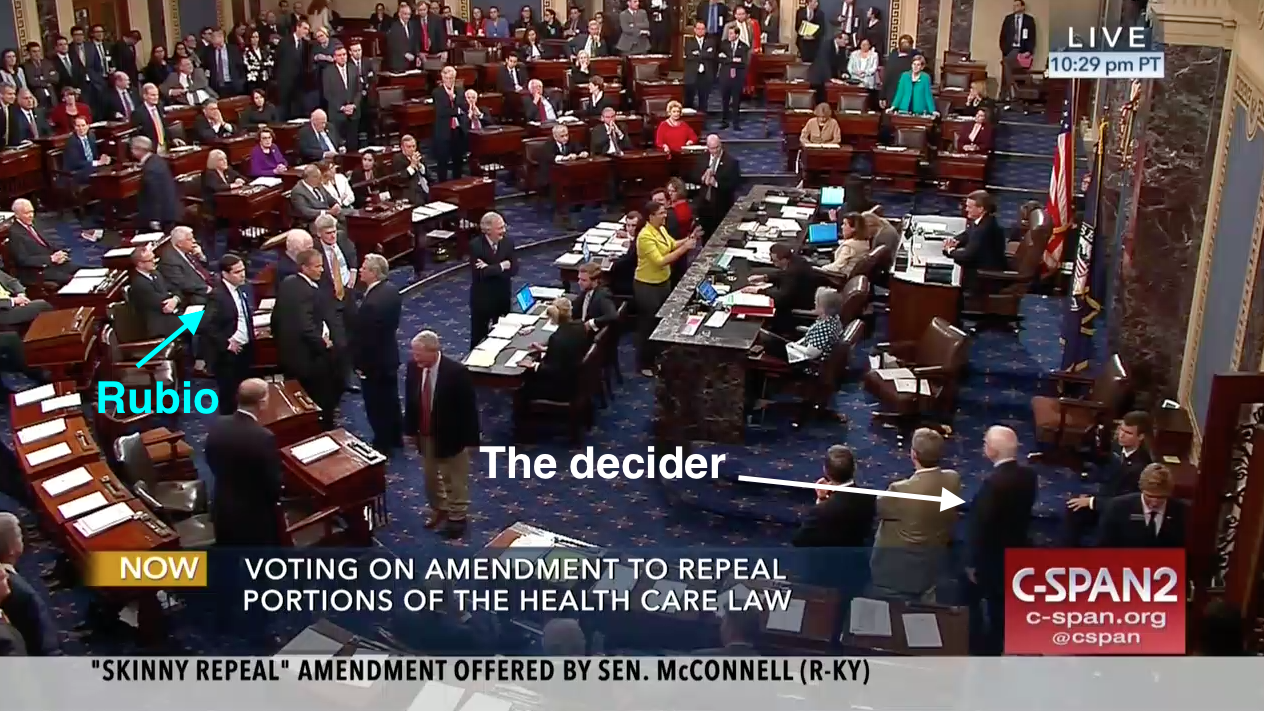 In the back, Amy Klobuchar (in the red jacket) nudges Bob Casey to point out that McCain has arrived and rises to her feet in anticipation.
Elizabeth Warren starts leaning to the side and craning her neck to try to see what McCain is going to do.
McCain extends his arm in a dramatic gesture.
Bernie Sanders taps Jeanne Shaheen to turn around and not miss this moment.
Honestly, it's like a Renaissance painting with all this drama.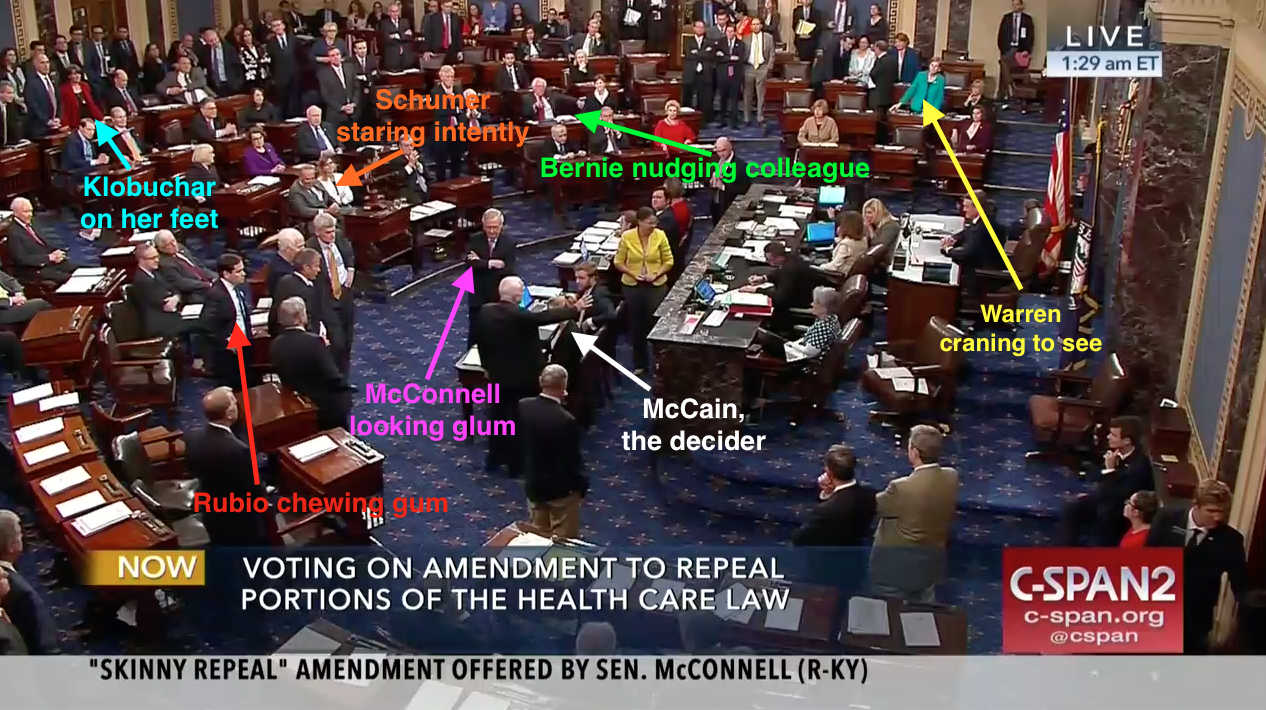 Like Joaquin Phoenix in Gladiator, McCain then makes a thumbs-down gesture, killing the bill. Majority Leader Mitch McConnell watches on grimly with his arms folded, as other GOP senators hang their heads in disappointment.
Before McCain silently returns to his seat, he pauses for half a second in front of McConnell, who doesn't acknowledge him.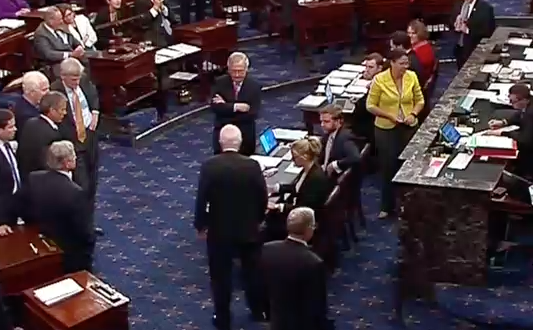 Democrats gasp in shock and relief, with some even beginning to clap until Minority Leader Chuck Schumer gestures frantically, urging them to cut it out.
Here, take another look and soak up some dramatic parliamentary procedure.