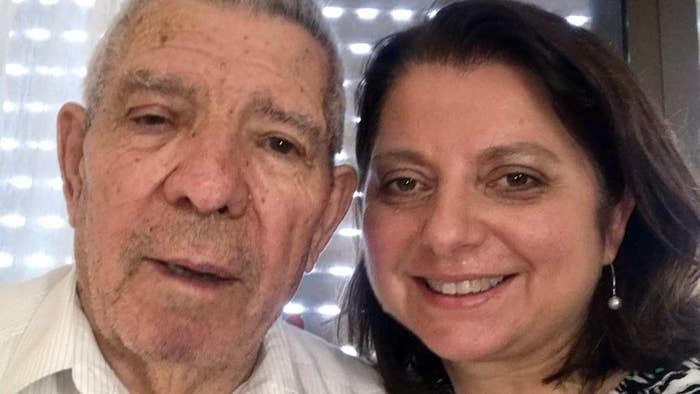 In the last moments she would ever have with her father, Natalia Southern had just 30 minutes to say goodbye.
As she entered his hospital room, she couldn't touch her dad or hold his hand. She couldn't whisper in his ear how much she loved him — she couldn't even come within 6 feet of him.
Her mother and brother were not allowed to be in the room with her as he lay dying. She was alone.
Southern's father, 88-year-old Manuel Nunes, did not have the coronavirus. Neither, as far as she knows, does she.
But Southern had traveled to his hospital in Perth, Western Australia, from Melbourne, where cases of COVID-19 have surged in recent weeks amid a breakdown in the country's quarantine procedures.
The compassionate release exemption she was granted by government officials to leave Melbourne's strict lockdown and travel to her father's bedside as he died from vascular disease complications extended only to that brief goodbye.
When he died less than 10 hours later, she was alone, back in the hotel in downtown Perth that she and other arrivals in the city were being forced to quarantine in for two weeks.
"The greatest fear you have is that you'll never make it in time and that you're not there in the end," she told BuzzFeed News through tears in a phone interview from her hotel room. "Even though I got there for 30 minutes, I would've stayed with him to the end if I could."
Southern's story is illustrative of the heartbreak facing those in Victoria, Australia's second most populous state, as they endure a second lockdown aimed at reducing the spread of the virus. There were 403 new confirmed coronavirus infections and five deaths in Victoria on Thursday, according to state leader Premier Daniel Andrews. That number was only down slightly from Wednesday's record of 484 new cases.
Until recent weeks, Australia had seen relatively few cases of the coronavirus. All incoming passengers from overseas have been forced to quarantine in hotel rooms for 14 days as a precautionary measure, and the federal government shut many businesses and ordered size limits on social gatherings in March as part of an aggressive social distancing campaign.
Over time, life slowly returned to some sense of normalcy. There had even been discussions of opening up a "travel bubble" with New Zealand, where the virus has effectively been eradicated.

But then the second wave arrived.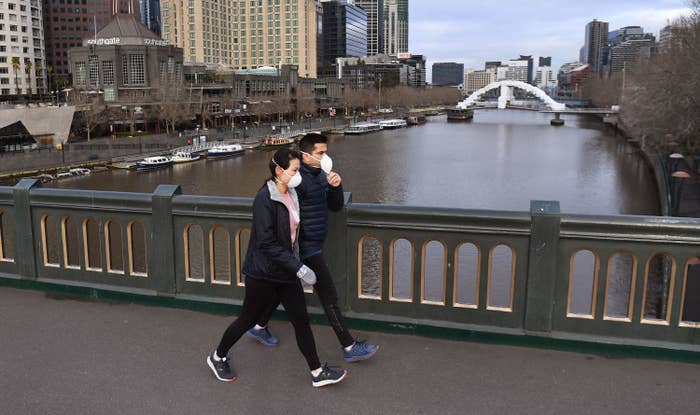 Officials have been holding an inquiry into just how the virus reemerged in such large numbers in Victoria, with evidence suggesting most cases could be linked to the hotel quarantine program, with allegations of poorly trained security staff and even sex among some private security guards and returned travelers.
Mask-wearing is now mandatory in Melbourne where residents are enduring another six-week lockdown that is projected to take a toll of billions of dollars on the Australian economy.
People are allowed out of their homes only for essential reasons and large gatherings are once again banned with police issuing hefty fines for rule-breakers. In one case, 16 guests at a house party were fined a total of $26,000 AUD, roughly $18,000 USD, when authorities discovered the gathering after being alerted to an unusually large KFC order placed after midnight.
Other states have closed their borders with Victoria for the first time in a century.

Southern, who first shared her story with Australia's public broadcaster on Wednesday, told BuzzFeed News she understands why the strict measures are needed. While lockdown has been tough for her sporty children, an 11-year-old son and 14-year-old daughter, she said her family has just been carrying on as best they can.
But she's still shaken by how difficult it was for her to get permission to be with her father, having to navigate a jumbled mess of confusing bureaucracy, mixed responses, and ultimately the strict and sterile farewell she was finally permitted.
"I don't have a problem with them saying you have to wear a mask, you have to stay indoors, you have to self-isolate," she said. "But the system says they will allow for compassion. It means you try to find a way to balance safety with the needs of the individual in that extraordinary circumstance, and that's not what I am seeing.
"I don't know of any circumstance where if your immediate family is expected to die — is that not the most extreme circumstance? What else could there be?"
What hurts most, Southern said, is that she cannot be there to comfort her grieving mother — or receive comfort herself. Instead, she must process her grief alone in a strange and soulless hotel room.
"I wouldn't care about the 14 days in the hotel. I really wouldn't," she said as she broke down crying, "but I don't have anyone, and I know my mom is at home and all I can do is call her.
"Sometimes [when grieving], you just want to sit in silence, but if you were with them that silence with someone can be valuable because that person is there and you can see their face and you can feel their pain — but I don't have even that."
Now, she faces the agonizing decision of whether to try to have her partner and their children try to travel to Perth for a funeral and endure the quarantine themselves.
She's not sure what to do. Still, she's grateful she made it at all to say goodbye to her father.
Manuel Nunes died more than half a century after he first landed in Australia from his native Portugal, seeking a better life. He worked as a carpenter, traveling the country and helping to build towns in some of Australia's most remote areas. He married and fathered a son and then a daughter, who was there, as best she could be, to say goodbye.
"I think he waited for me," she said.