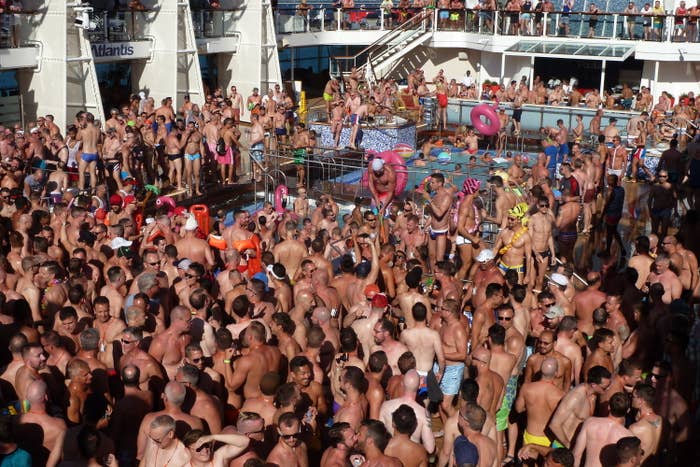 Several thousand gay men left Fort Lauderdale on Saturday on board one of the largest passenger ships ever built for a week of vacationing, partying, and cruising through the Caribbean.
The trip, organized by Atlantis Events on board the Royal Caribbean's Harmony of the Seas ship, promised social mixers, late-night dance parties, and performances from entertainers including Todrick Hall and Billy Porter.
Such trips can be an annual pilgrimage for many gay men who want to unwind with other members of their community in a fun and sexually liberated setting.
But guests on this week's cruise were also advised of an "important" new policy that warned them against posting anything sexually explicit on social media.
The new policy was jointly created by Atlantis Events, which is one of the oldest and largest LGBTQ travel companies in the US, and Royal Caribbean, the second-largest cruise line company in the world, after adult videos filmed by passengers went viral in the past.
"While we want everyone to have fun, there are limits and so we ask that you be respectful of all guests and our cruise partners," reads a section of the handbook sent to guests last month before departure. "Please do not post anything explicitly sexual on social media in a public forum or other online space.
"Any guest who posts or publishes an explicit and publicly visible photo or video will be asked to leave the ship with no refund," the handbook warns.
The policy also says that it applies to social media platforms that may be private or behind a paywall, such as OnlyFans or Just For Fans, if the content could identify Atlantis, its vendor brands, or other guests with or without their permission.
"We take this seriously and have a team of volunteers monitoring most sites," the policy advises.
Rich Campbell, the founder and CEO of Atlantis Events, told BuzzFeed News that the policy was communicated to guests at the request of cruise ship companies. "The cruise lines have asked me to include that and that's not such a strange request," Campbell said. "They don't want their brand featured."
Campbell said the policy was added into the company's pre-cruise materials in the middle of last year "after several sexually explicit public posts were made by our guests with clear identifiers of either Atlantis or our host brands."
But the policy did not appear to have been included in an Atlantis pre-cruise guide that was sent to guests for a cruise in October 2022.
"We've always taken a one-off approach to [such content]. If we see something like that then we contact the person who did it and say, 'Hey, please take that down,' and they usually do," Campbell said. "And the cruise lines asked us to put that out publicly so we did."
A spokesperson for Royal Caribbean International told BuzzFeed News the two companies "together established this policy to protect the safety and privacy of all guests onboard."
The spokesperson did not answer questions about when the policy was agreed to and whether it will be included in guidance for passengers on non-LGBTQ-focused cruises on Royal Caribbean ships.
The new Atlantis policy does appear to be an outlier in the industry. Jim Walker, a maritime lawyer based in Miami with four decades of experience who has a particular focus on the cruise industry, told BuzzFeed News that he had never seen a similar social media policy on a cruise line.
Atlantis competitor Vacaya is also set to take gay and bisexual guests on a Caribbean cruise that leaves on Feb. 12. A Vacaya spokesperson said they could not comment on any discussions they have had with the cruise lines due to contractual reasons. However, they referred BuzzFeed News to the online guidance Vacaya has sent out to guests for their upcoming cruise. This guidance makes no mention of any social media content restrictions but notes cameras are not allowed to be used in certain public areas of the ship where nudity and sex are permitted.
Atlantis has produced gay-focused events for over three decades, including on more than 200 ship charters, according to Campbell. The cruise liners have been "fully supportive" of the company and their guests, he said.
Some of those on board the current Atlantis cruise are models or creators who use the Just For Fans platform, according to the adult blogging company. Just For Fans founder Dominic Ford told BuzzFeed News he was aware that some users had warned each other of the policy, but he said he hadn't heard from anyone about it since the cruise began.
"Every brand has a right to protect its image," Ford said, adding that similar policies were "fairly standard" at major gay events, such as those where a private company might take over a hotel.
"If models are careful and smart about filming, they should be fine," Ford said.
Ford also noted that Just For Fans has sponsored this month's upcoming Vacaya cruise and would be putting up marketing materials around that ship.
Despite the policy, Ford added that he believed Alantis was a "friend" to the adult creator community, not an enemy.
"It's a shame that sex work and pornography is still marginalized and stigmatized. But we need to find ways of working with our friends and allies to make sure everyone's safe spaces are protected, not just ours," Ford said.
Sue Beeby, a spokesperson for OnlyFans, said the company's terms of service prohibit creators from posting content that violates someone else's intellectual property rights. "OnlyFans respects copyright and trademark laws across the world," Beeby said.
In a blog post on his website, Walker, the maritime lawyer, wrote that he found it ironic that the Atlantis terms and conditions grants the company the right to use photos taken by Atlantis of guests on their cruises. "In other word[s], Atlantis Events can use photos or video of guests however it sees fit but guests cannot post photos or videos of what actually happens on the cruise," Walker wrote.
"As a practical matter, it also seems difficult for either Atlantis Events or Royal Caribbean to actually enforce this new social media policy despite Atlantis' claims of a 'team of volunteers monitoring most sites,'" he wrote. (When asked about the "team of volunteers" that Altantis said it had monitoring adult websites, Campbell said he was not aware of that wording in the policy and noted only that his company employs staff to run its social media.)
Walker told BuzzFeed News via email that he believed Atlantis should be more concerned with preventing drug use on board its ships — which have previously been the site of drug busts and at least one death — than with "trying to suppress videos and photos of public sex (which has not harmed or killed anyone)."
Adam Sank, a stand-up comedian who is among the guests on board the current Atlantis cruise, told BuzzFeed News he had made note of the new social media policy while he was reading the guide. Sank said the policy had been the subject of "gossip" among some on board, but he added that he was supportive of the policy because it would help prevent people from unwittingly ending up on social media without their consent.
"I can tell you with authority that there is public fucking happening…and everyone's got a smartphone, so I feel this policy is a wise one," Sank said. "Nobody wants their boss to be scrolling through Twitter and spot a video of them bent over a railing."
Chris, an attorney from Chicago who is currently on his fifth Atlantis cruise, said his friends had discussed the "interesting" new policy before boarding, but he added that he hadn't heard people talking about it on the ship.
"I think it makes some sense though," said Chris, who asked that his last name not be used. "These cruises get a reputation as nothing but a sex boat because the videos of performances go viral and because they can be inflammatory and people see them as the norm.
"These cruises are more than that," Chris said.