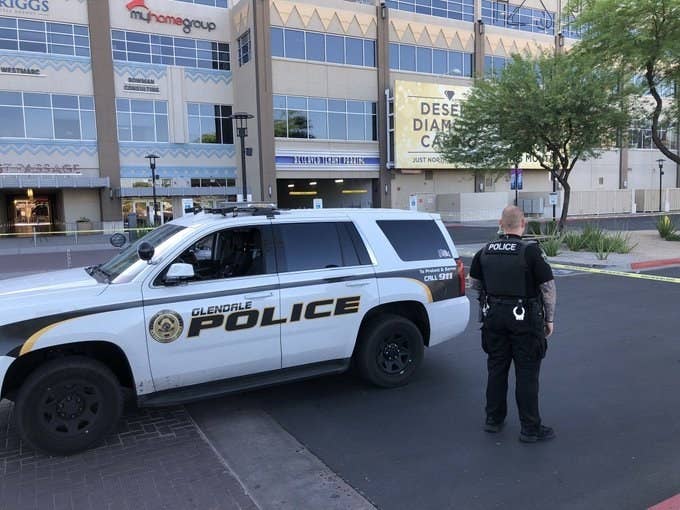 Three people were injured on Wednesday evening in Arizona when a gunman opened fire at Westgate Entertainment District, a popular shopping and restaurant strip in Glendale, west of Phoenix, according to authorities.
The suspected shooter appeared to share his rampage on Snapchat, filming his assault rifle and naming himself.

In a court appearance on Thursday, prosecutors said 20-year-old Armando Hernandez Jr. described himself to authorities as an incel, or involuntary celibate, who wanted to shoot at least 10 people.
In the Snapchat video, seen by BuzzFeed News, the man wearing a camouflaged face mask can be seen aiming and firing his weapon, including at one woman who appeared to be injured and lay on the ground next to a car.
In the exchange, the man can be heard telling the woman he was angry at society as she responded that she had nothing to do with that.
He then aims again as she pleads that she has already been shot by him.

Prosecutors said the suspect also sent live footage of himself carrying out the shooting to a girl he had been interested in.

After shooting some of his victims, he also allegedly asked them, "Do you want fries with that?"
Representatives from Snapchat did not respond to requests for comment on the videos.
Others in the area at the time of the incident also shared footage, some of which showed people running away as gunshots rang out.
In a press conference on Thursday, Sergeant Randy Stewart said a 19-year-old male victim who received life-threatening injuries remains in critical condition. A 16-year-old female victim was hospitalized with non-life-threatening injuries, and a 30-year-old female victim was injured but did not require hospitalization.
Glendale Police Chief Chris Briggs said the shooter was taken into custody within 10 minutes and surrendered without incident.

"Words cannot express the pride I have in all my officers," Briggs said. "They not only did their jobs last night — they did their jobs well. Because of this we were able to not only make the arrest, but assure the community they were safe."
Sgt. Randy Stewart said Hernandez Jr. admitted to police that he was the shooter. "He wanted to gain some respect and he felt he had been bullied in his life," Stewart said.
Prosecutors later added that he was targeting couples, and two of the victims were in a relationship.
The shooter currently faces 16 felony charges.
After his arrest, Hernandez told investigators that he went to Westgate to find targets that were in his general age range to shoot so that he could get respect, according to court documents. He denied wanting to kill any of the victims but said he wanted to injure them with the gun to gain respect.
He said that he had thought of committing such an act in the past and that he let "his dark side" act which caused him to go to Westgate and shoot people.
Hernandez said that he first scoped the area for targets before returning to his car, drinking alcohol, and loading his gun, according to court documents. He then said that he made the Snapchat video and posted it before leaving his car and starting to shoot at people. He also told investigators that he was shooting his gun throughout Westgate to "intimidate people," according to court documents.
Devon Cordova, who said he went to high school with the suspect, saw the suspect's Snapchat video and called 911.
"He was holding his AR-15 rifle and showing it off," Cordova told BuzzFeed News. "At first, I thought it was a normal Snap but then he had a camouflage mask on and I though, that's weird."
He then heard Hernandez say, "I'm going to be the shooter of Westgate 2020."
"When he pulled up to Westgate, I was like, this is serious," Cordova said. "I right away grabbed my mom's phone and called 911."
Cordova said that what he saw on the Snapchat video, "haunts me."
He said the woman who was lying in the parking lot was "scared for her life" and was begging the suspect not to shoot her.
"He had the gun aimed at her head and I was like I don't want to witness something on my Snap of him shooting that girl in the head," Cordova said.

Cordova had posted the video to Twitter but then deleted it. He said he wanted to apologize for posting the video, but added that he wanted to warn people that there was a "dangerous person" at Westgate.
Cordova said that the suspect used to hang out with him and his friends in their high school courtyard. He described Hernandez as someone who was quiet and "to himself."
He did not recall Hernandez talking about women or being an incel. Cordova said that many of his Snapchat videos were about his work in construction and that he often used to shoot his gun in the desert.
Glendale Mayor Jerry P. Weiers offered his "thoughts and our prayers to the victims and their families," and reassured community members "we have a safe city, we have a wonderful city."

"As we begin to emerge from our homes into public spaces, evil acts like this have a very, very fearful and paralyzing effect," Weiers said. "But that's if we let them. And I'm asking all of you, please, don't give in to fear. Don't allow senseless acts like this change your habits."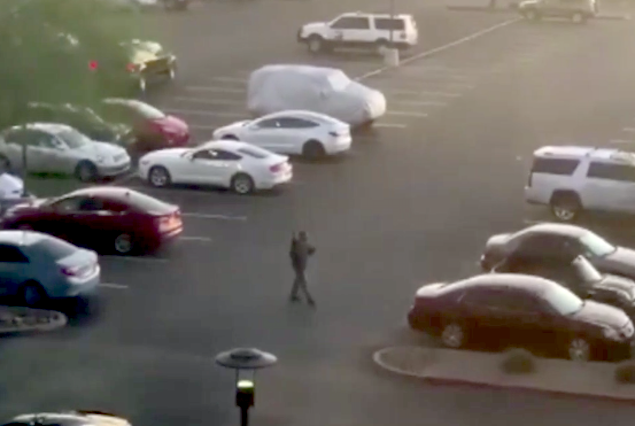 Police Officer Tiffany Ngalula told media on Wednesday night the shooting had ended by the time authorities arrived at the scene.

"Our officers challenged that suspect and were able to safely take that person into custody," she said.

Surveillance footage obtained by local station 12 News showed the suspect wandering around a parking lot right before a police car arrived and he was said to have surrendered.
Prosecutors told a judge his gun had jammed, preventing him from hurting more people.
Police reportedly searched the suspect's home in the middle of the night and seized evidence.
Arizona state Sen. Martín Quezada witnessed the rampage and tweeted shortly after.

"I just witnessed an armed terrorist with an AR-15 shoot up Westgate. There are multiple victims," he wrote. "I saw 2 victims with my own eyes. Not sure how many others I saw the shooter. Being told not to say anything else about details 'til I speak to police. I'm ok. Lots of shaken up people."
The Westgate Entertainment District recently reopened after being closed due to the coronavirus pandemic.