This is Alexa Meade. She's a painter, but unlike most artists, her preferred canvas is the human body itself.
Meade has perfected an unusual technique whereby she paints thick strokes of body paint on people's faces, hair, and clothes, and then photographs them against similar backdrops.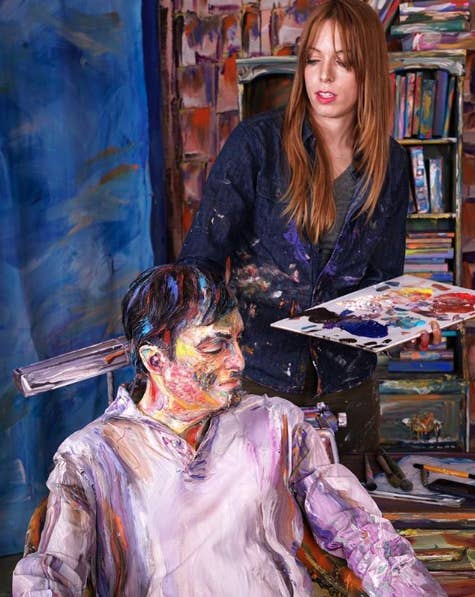 The stunning results can be very trippy indeed, as paintings seem to come to life and trick the eye.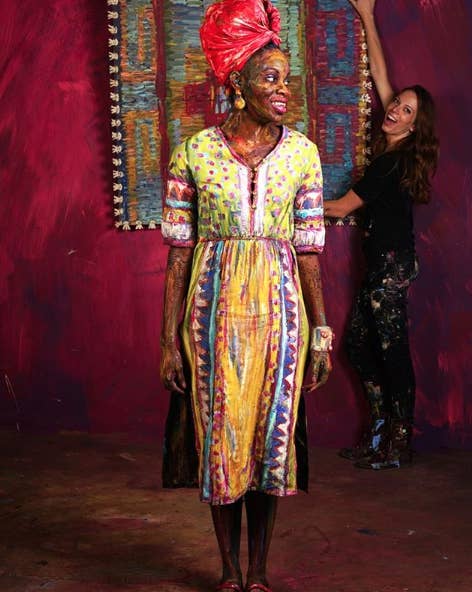 "I don't really have a name [for the technique], which is something that kills me," Meade told BuzzFeed News.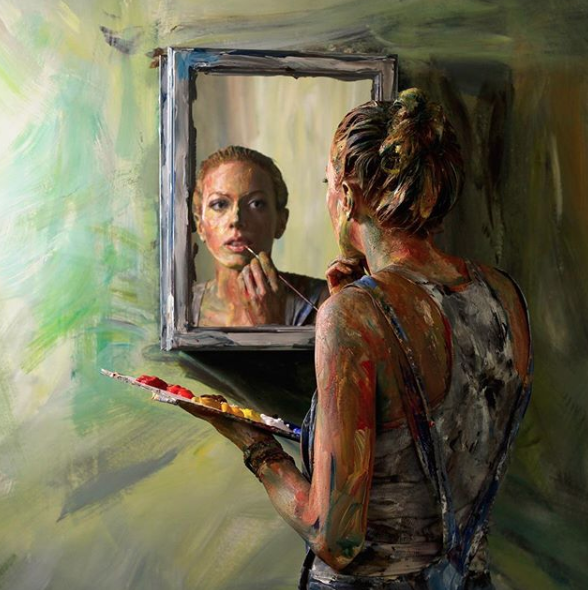 Meade's art has been all over the internet this week after she was recruited by Ariana Grande for some key scenes in the video for her latest single, "God Is a Woman."
The stunning footage shows a paint-swathed Grande seeming to emerge from a pool of blue, purple, and lilac paints.
Meade told BuzzFeed News that Grande's team reached out to her about two weeks before the shoot, leaving her with little time to create such a piece in a large tub.
Luckily, this wasn't her first experience with a liquid background. She'd previously collaborated with the performance artist Sheila Vand in 2012 for a piece shot in a large tub of milk.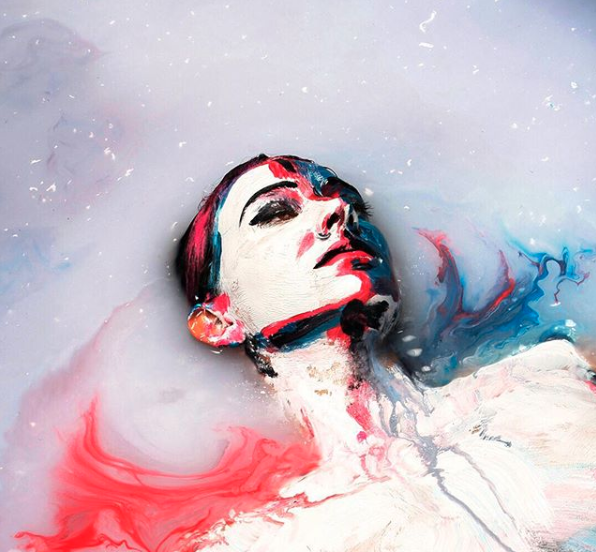 Vand flew to Meade's New York studio before the Grande shoot to help her refine the perfect liquid/paint background.
"There's a lot of considerations," Meade told BuzzFeed News. "Paint is typically more dense than liquid, but it's also water-soluble and normally dissolves and dissipates."
They filled up five or six inflatable pools and began experimenting, eventually settling on a vegan milk alternative.
"The song is about female empowerment, so a big inspiration was Georgia O'Keeffe," said Meade, referring to the famed American painter. "Her flowers were so suggestive, and the idea was to create Ariana in the middle of a giant Georgia O'Keeffe painting."
Meade said the singer was particularly inspired by O'Keeffe's 1923 masterpiece "Grey Lines With Black, Blue and Yellow" (pictured above).
When Meade turned up on set, she thought she would be painting Grande's entire body just as she had done for her prior works, but the singer came up with a different plan.
Meade said it was Grande's idea to only paint some sections of her body, as she thought the blue and purple colors blended well against her olive skin tone.
"It was an incredible stroke of genius and artistic insight, and I need to give credit to Ariana for that one," Meade said.
As such, it took Meade only 40 minutes to paint Grande's body, as opposed to the usual 30 minutes she typically spends on a subject's face alone.
Meade said she was blown away when she finally saw footage of the finished product.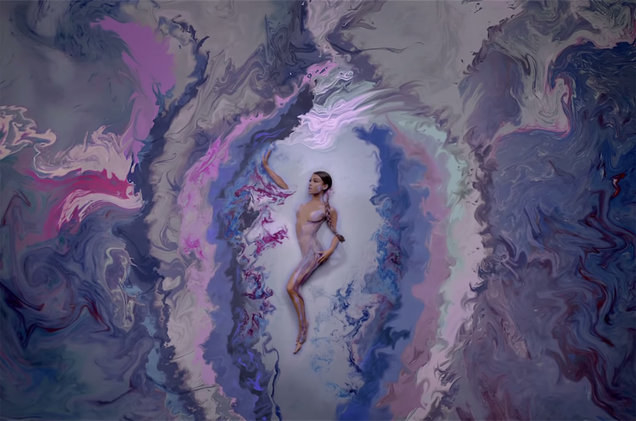 "I spent a lot of my time during the shoot ensuring that the paint in the bath looked good and she wasn't getting paint splashed on her face," Meade said. "I wasn't able to take a step back and see the finished product until later."
"It turned out so epically beautiful."