Protesters on Saturday blocked an Arizona roadway leading to the site of a rally for Donald Trump.
Dozens of demonstrators holding signs and banners blocked Shea Boulevard in Maricopa County on the outskirts of Phoenix. The road leads to the town of Fountain Hills, where Trump was scheduled to speak at a rally, Sheriff's Department officials said.
Maricopa County Sheriff's Deputy Joaquin Enriquez told CNN the protesters were causing a safety hazard on the road, which he described as a "major artery."
Enriquez told BuzzFeed News three people involved in the protests were arrested on suspicion of blocking the roadway. Two vehicles were also towed.
"These arrests were made because they were blocking a public roadway not for protesting," he said.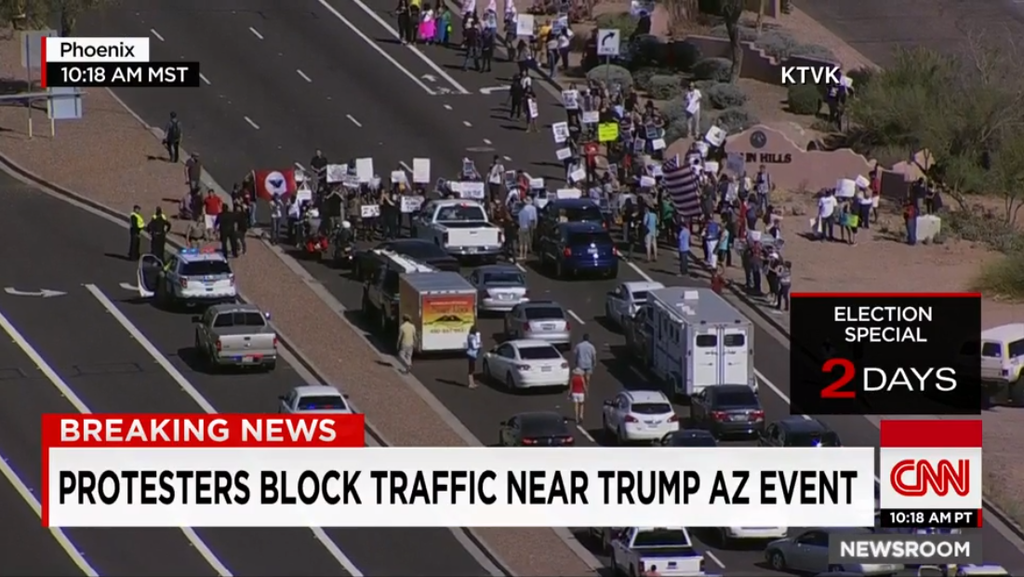 Footage also showed the demonstrators marching down the roadway as a Sheriff's department helicopter flew overhead.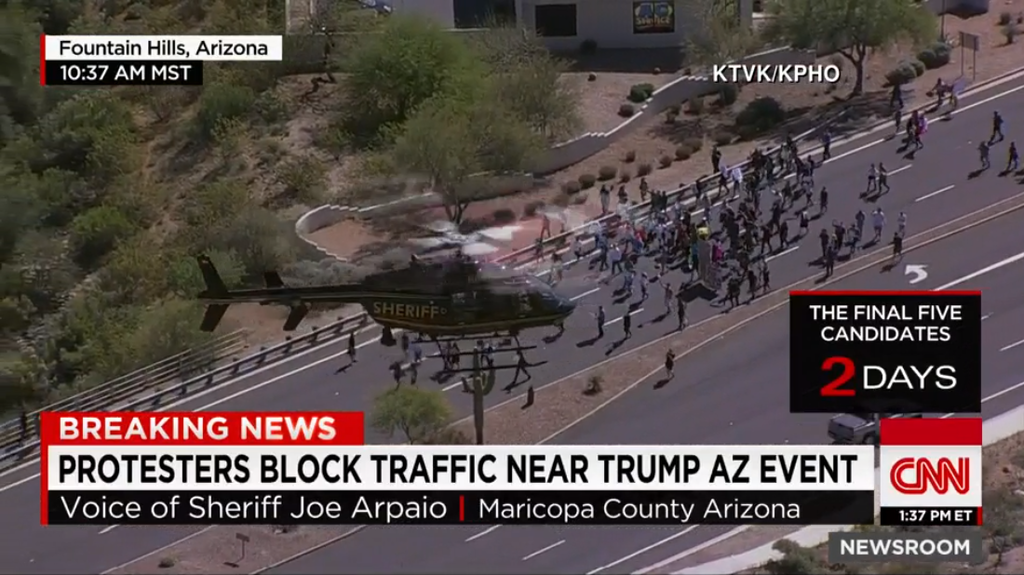 Sheriff Joe Arpaio — a controversial immigration figure, Obama birther, and Trump supporter — also spoke with CNN on his way to introduce the real-estate developer at the rally.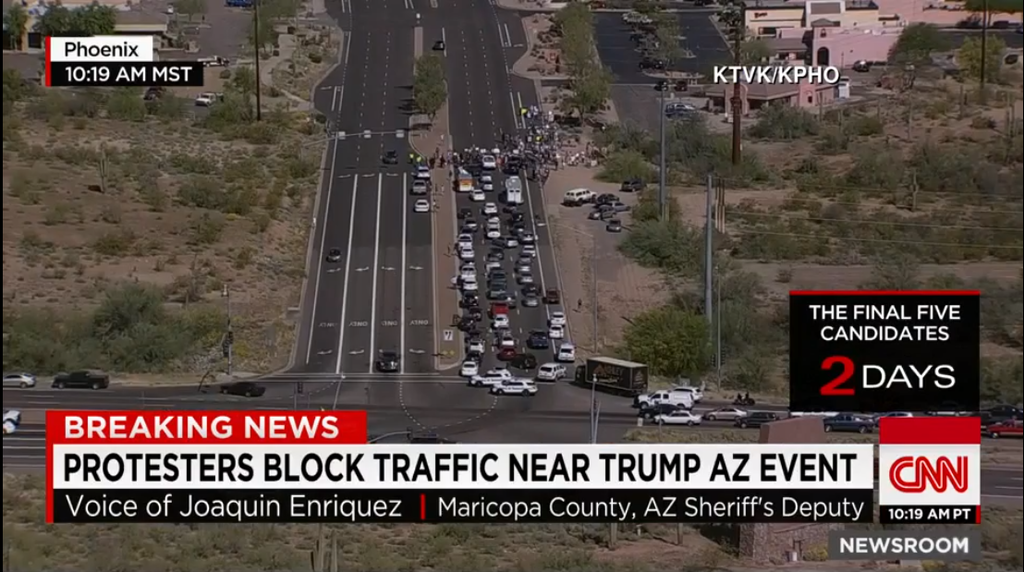 "We've got a large contingent of my deputy sheriffs there," he said. "And we'll take care of business. The main mission is to make sure Donald Trump is secure, protected, and also everyone else in the town."
"We have free speech in this country and Donald Trump has a right to speak out and the people have a right to go in and hear him speak," he said, "and if certain groups don't like it, that's OK, they have freedom of speech, but they're not going to violate the law."
Organizers of the Arizona protest said in a statement the protests were to rally against Trump's violent and anti-immigrant views, and to call attention to how the presidential candidate's statements are leading other lawmakers to propose anti-immigrant laws in Arizona.
"In Arizona, we've heard Trump's hate before and we know where it gets us," said Carlos Garcia, executive director of Puente Arizona, in a statement. "The Trump effect isn't just about a candidate. Trump's ugly rhetoric is being turned into policy."
In New York City, demonstrators gathered in Manhattan's Columbus Circle to protest the Republican candidate, before marching to Trump Tower.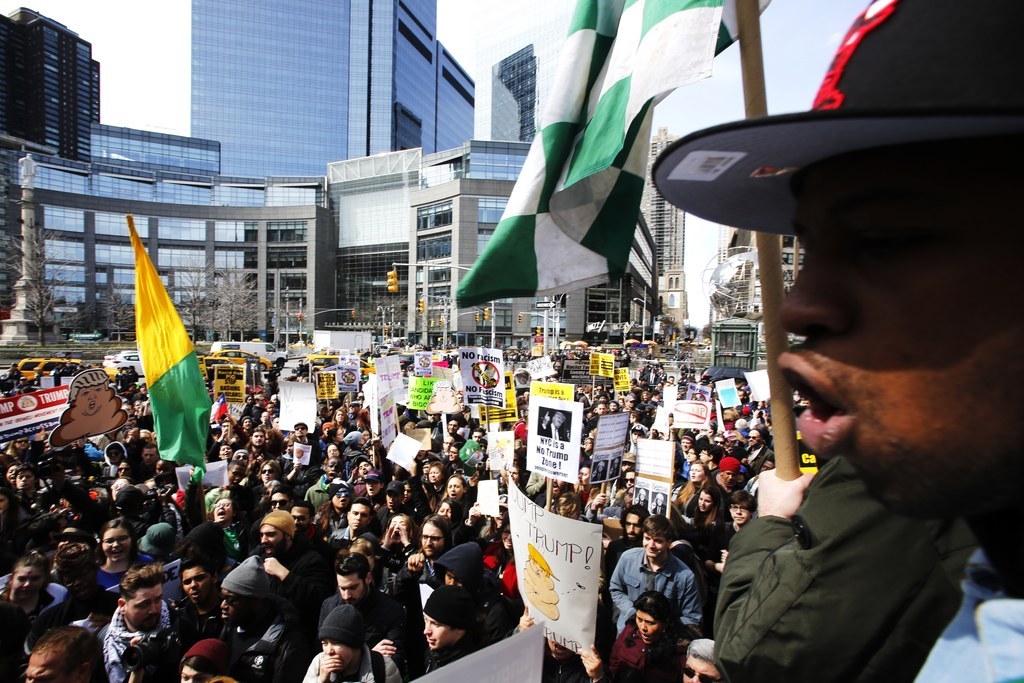 Photos showed police detained at least two people.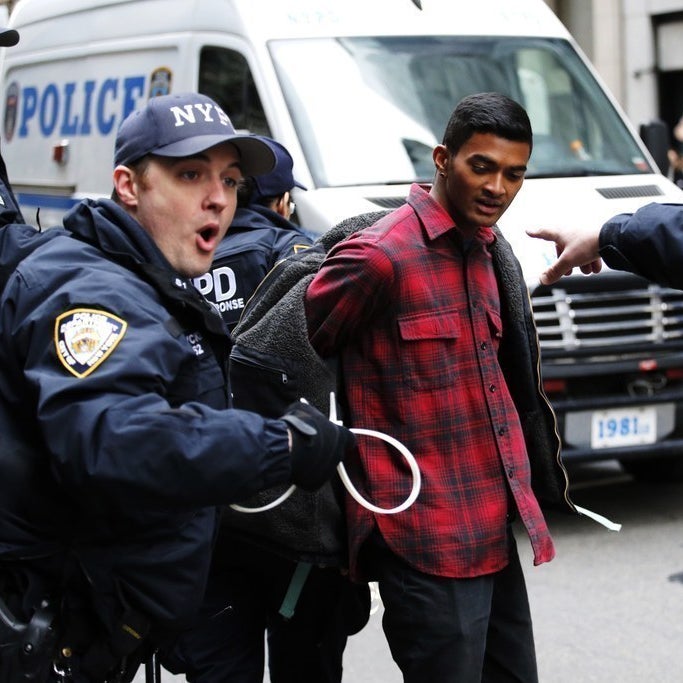 A spokesperson for the NYPD told BuzzFeed News that the department would not release an official number of arrests until the demonstrations ended later Saturday night.