Two people were killed when an Amtrak train partially derailed south of Philadelphia on Sunday morning after striking a backhoe on the tracks, officials said.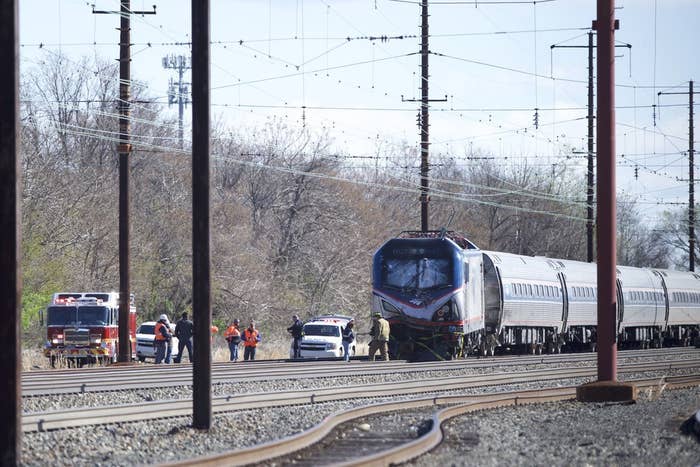 In a statement, Amtrak said the lead engine of Train 89, which had been traveling from New York City to Savannah, Georgia, derailed in the crash.
There were approximately 341 passengers on board and seven crew, Amtrak said.
"Initial reports are that approximately 31 passengers are being transported to area hospitals, none with life-threatening injuries," Amtrak said. "Local emergency responders are on the scene and an investigation is ongoing."
All service along the northeast corridor between New York and Philadelphia was suspended as a result of the incident.
Ruth Miller, a spokeswoman for the Pennsylvania Emergency Management Agency, said the two killed were not train passengers.
"They were not on the train; they were in, on or near the backhoe that was struck," she told BuzzFeed News via email. "I do not have details regarding their identities, employment or why they were there."
"The conductor did inform us that there was a fatality, that there were people working on the track," passenger Stephanie Burroughs told Fox News.
Another passenger, Ari Ne'eman, wrote on Twitter that the backhoe driver was among the dead.
Several passengers on board the train reported a fire breaking out as a result of the crash. Pictures also showed a large hole in the right hand side of the first passenger car.
It was not immediately clear what the backhoe, an excavating vehicle common to construction sites, was doing on the train tracks.
Terry Williams, a spokesperson for the National Transportation Safety Board, told BuzzFeed News the agency had sent a team of investigators to the accident site.
Federal Railroad Administration investigators were also on the scene.
Amtrak has established an emergency hotline for people seeking information on friends or family traveling on Train 89.