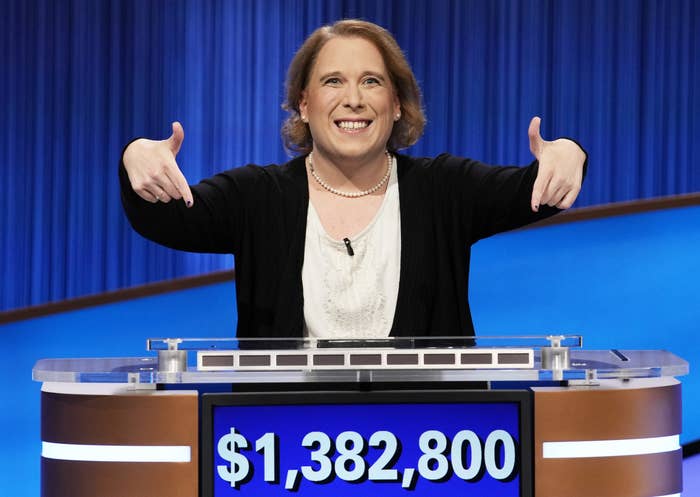 Amy Schneider will probably never forget Bangladesh for the rest of her life.

The nation of more than 164 million people was the answer that finally stumped the Jeopardy champion on Wednesday night's show. (The clue? "The only nation in the world whose name in English ends in an 'H,' it's also one of the 10 most populous.")
After an incredible 40-day streak, Schneider's tenure as returning champion came to an end, defeated in that last category by Rhone Talsma. The Chicago librarian correctly guessed the South Asian country and was able to leapfrog Schneider's tally thanks to an earlier correct "true Daily Double" answer that helped him catch up.
"I was worried about you all day," Schneider told Talsma after the episode, which was originally taped on Nov. 9.
"This doesn't feel real," a shocked Talsma responded.
In an interview with BuzzFeed News on Thursday, Schneider said she and her girlfriend watched Wednesday's episode with friends, toasting champagne for her "wrap party." The last 24 hours had been a whirlwind of media interviews and messages from friends and fans.
"I'm looking forward to having some time to sit down and process everything," Schneider said. "One thing that is nice is I don't have to keep anything a secret anymore. That was a real struggle these last three months."

The 43-year-old Oakland software engineer ultimately left Jeopardy with $1,382,800 in total winnings. She told BuzzFeed News that when she first started playing, the money only felt like a score. But now, in addition to validating how well she played the game, that huge sum of winnings will allow her to do things she'd long dreamed of, like take her family on a European vacation or put a down payment on some property.
"Beyond that, it means that I've got some freedom now," she added. "I'm staying at my current job for the moment — just in case my employer is watching — but I'm looking at what other opportunities are out there. I'm going to see what develops. If I do decide I want to seek a career change of any kind, I've got a little cushion to take that chance."
Schneider's run as champion was second only to Ken Jennings, who won 74 consecutive games in 2004 and is currently serving as a fill-in host on the show, following the death of Alex Trebek.
"Of all the Jeopardy! greats, I've never seen anyone that played the game with the kind of unflappable ease that Amy Schneider always seemed to have," Jennings wrote on Twitter after the episode. "I'm dazzled by her talent, of course, but also by how she was always so authentically and straightforwardly herself as her streak aired. What a champ!"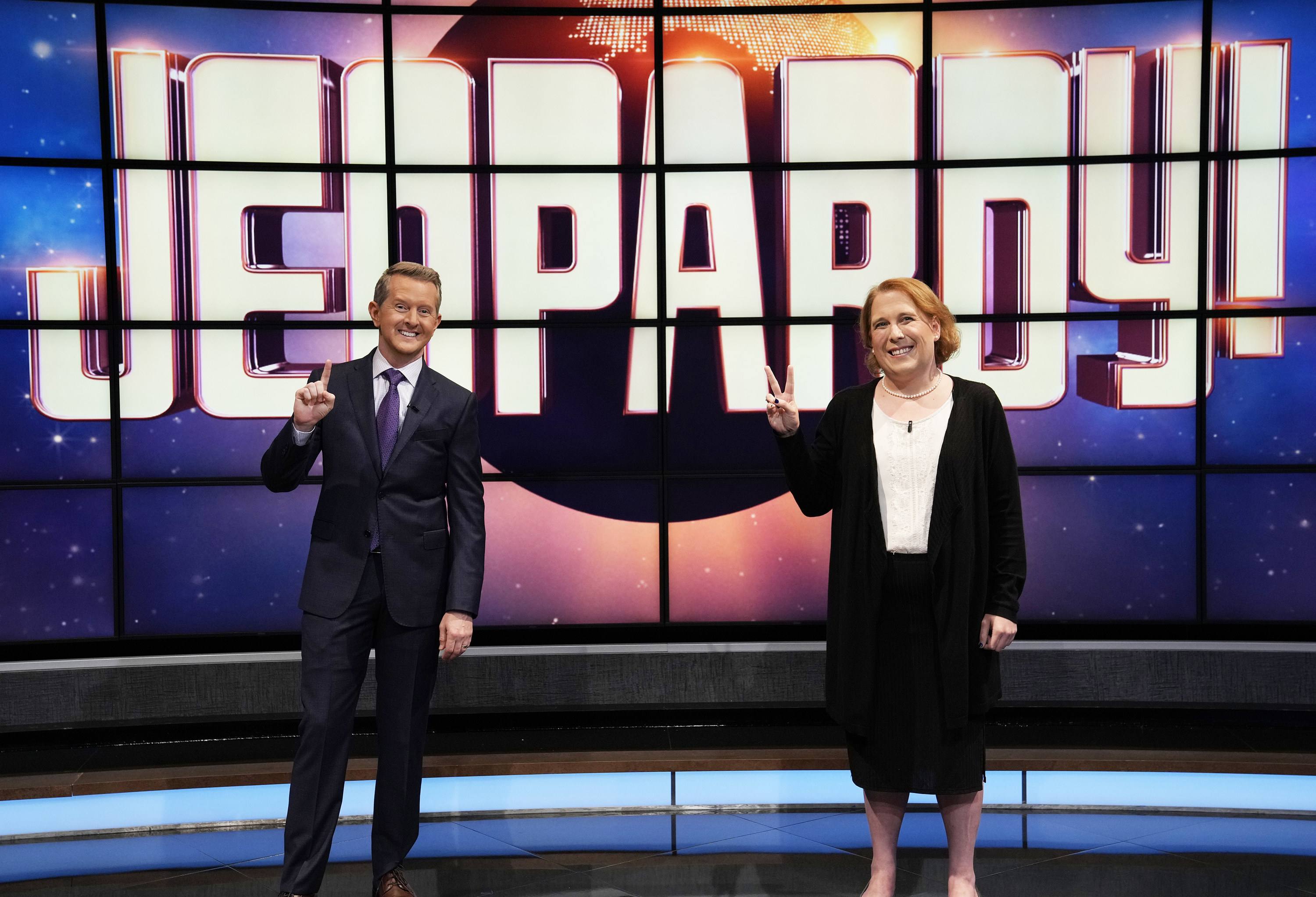 According to statistics provided by the show, Schneider guessed the correct response 95% of the time she hit the buzzer first. (Her Daily Doubles were a touch lower at 87%, while her correct answers in Final Jeopardy, the section of the show that was ultimately her downfall, came in at 68%.)
Often dressed in a set of pearls that became something of a signature, Schneider's game style was confident but straightforward, working her way through categories one a time (especially her favorites of pop culture and sports) in a measured way, rather than jumping all over the board in search of Daily Doubles or starting with the higher-value questions first.
Her jaw-dropping streak, stunningly high final scores, and calm-under-pressure demeanor made her a fan favorite. Some even made fancams — which Schneider told BuzzFeed News she'd seen.
"It's fascinating," she said. "It's certainly not something I expected to experience in my life!"
A fan of Jeopardy since childhood, Schneider first auditioned for the show 15 years ago before finally being selected for the candidate pool in 2020. She admitted to being anxious before her first taping on Sept. 26, believing she could be heading home after just one game.

She said she'd been terrified to appear on air at first. "The thing I told myself was, 'Don't worry. Just be yourself, and people will either like it or they won't, but either way you'll be able to live with it,'" she told BuzzFeed News. "So to have gone out there and been myself and have everybody respond so positively has done wonders for my self-esteem."

While there were isolated bigots online (whom she deftly deflected with a viral tweet posted on New Year's Eve that was dripping with sarcasm), Schneider said she felt proud to have helped the cause of trans media representation. She told the New York Times she purposefully opted not to use a more altered feminine voice while playing, conscious it could slow her down, but also because she wanted to set an example for others.

While her winnings and fame have been nice, Schneider said her biggest reward has come from the celebration of her identity as a transgender woman. "It's a really good feeling," she said. "I've benefited from the work and sacrifice of so many trans people over the years. I'd always had a slight twinge of guilt, I guess, that I wasn't really doing anything for future generations. And now, I can really say without really trying to I've made a little bit of a difference, and that really makes me happy."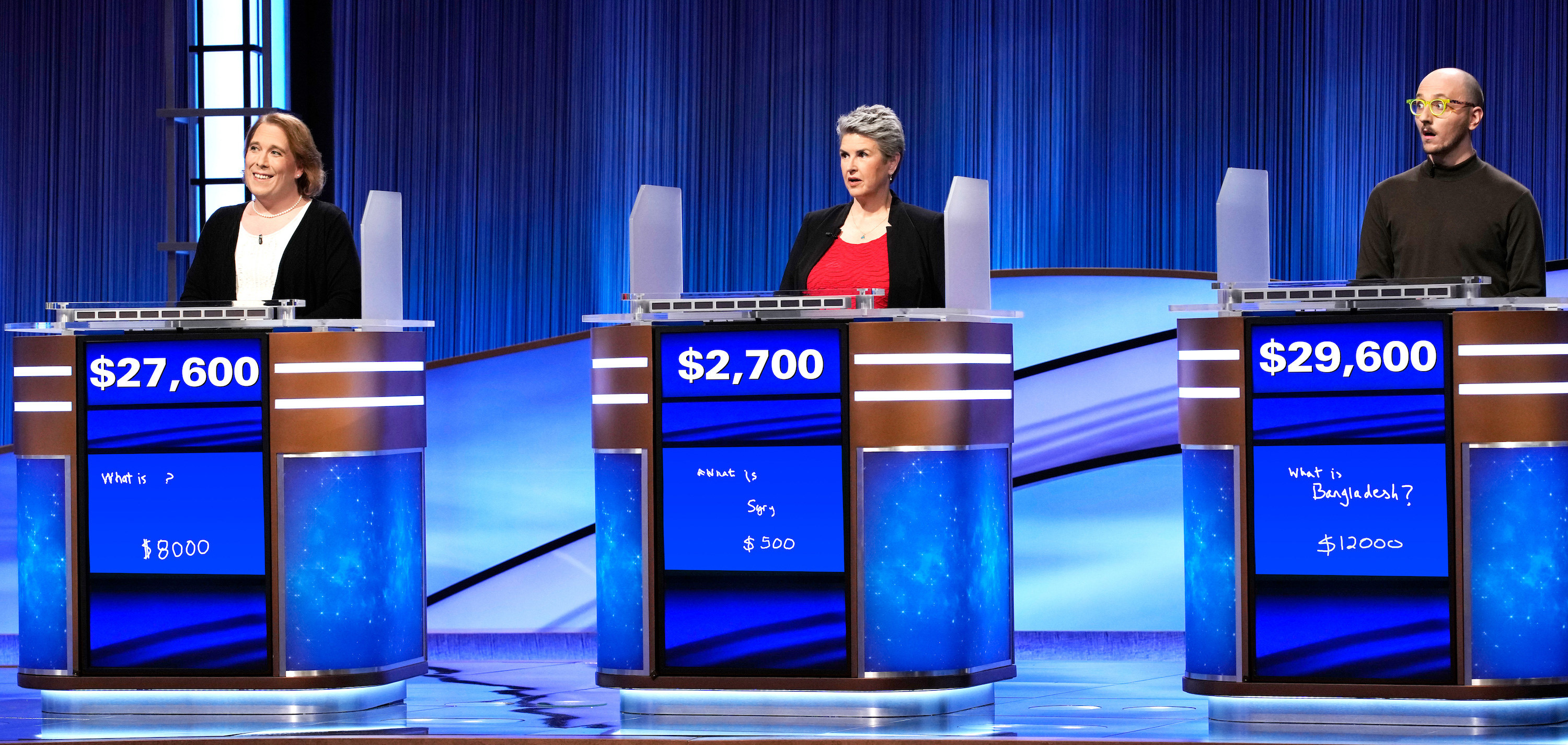 Schneider will return to Jeopardy in the fall for the show's tournament of champions, where she will face off against Matt Amodio, whose 38-game streak earlier this season she surpassed.
Schneider is also set to receive a special award from GLAAD, the LGBTQ media group. Nick Adams, GLAAD's director of transgender representation, said Schneider's run allowed families across the country to dazzle at a highly intelligent person who also happens to be transgender.
"Her visibility has been a bright spot, allowing millions of people to root for her success and start conversations about being transgender at a time when laws and bills proposed in states like Arizona, Iowa, Indiana, Oklahoma, South Dakota, and Amy's native state of Ohio, are targeting transgender Americans for discrimination," Adams said in a statement provided to BuzzFeed News.

Schneider said her success and acceptance by fans has her feeling, perhaps for the first time in her life, that there is nothing wrong with her identity.
"I was really expecting a lot of negativity, rejection, and hostility. Ever since I came out, I've been in this kind of defensive state of mind and always assuming that's what I'm going to be met with wherever I go," she said. "And I was so happily surprised by how not true that was — how little hostility I actually got. Having met with that, it just means that wherever else I go in life I can be a little more confident I can be accepted there."