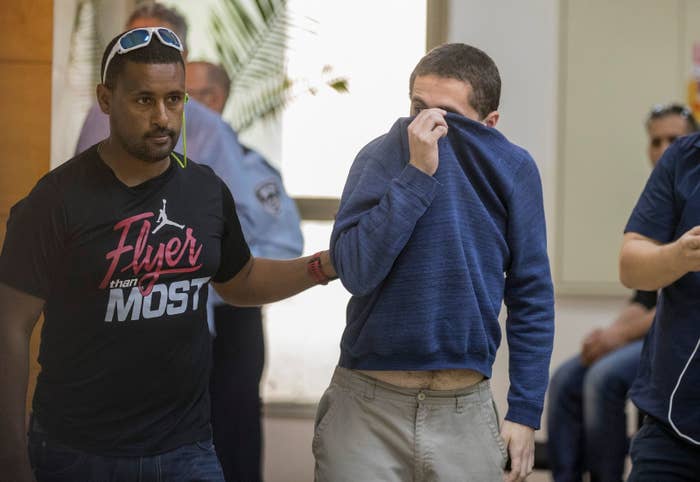 An American Israeli man was sentenced to 10 years in prison by a Tel Aviv court on Thursday after being convicted of making thousands of bomb threats against Jewish centers and other venues in the US and elsewhere.
Michael Ron David Kadar, 20, wasn't named in the Israeli court because his offenses occurred when he was under 18, but he has been previously identified in an indictment in the US.

He was arrested in March 2017 on suspicion of calling in threats to flights, schools, and public and religious buildings in the US, Europe, Australia, and New Zealand.
He used sophisticated online tools to make the calls, often disguising his voice as a woman's. He also advertised his services for payment on the dark web, receiving tens of thousands of dollars' worth of bitcoin.
Kadar was suspected of criminal misdeeds dating as far back as 2015, when a call was made to New York City's JFK airport, prompting the grounding of Delta flights due to false threats that there were explosives around and inside the airport.
By the time of his arrest in March last year, BuzzFeed News tallied more than 100 threats that had been made to Jewish community centers and schools around the US since the start of 2017.
"One can easily imagine the terror, the fear and the horror that gripped the airplane passengers who were forced to make an emergency landing, some of whom were injured while evacuating the plane," Judge Zvi Gurfinkel wrote in a verdict obtained by the New York Times, "and the terrified panic caused when there was a need to evacuate pupils from schools because of fake bomb threats."

Kadar's parents argued he was not legally competent because of a brain tumor that caused autism, the BBC reported, but the judge still declared Kadar "has a high IQ and understands his deeds very well."
In the US, Kadar is accused of making bomb threats and active shooter threats to numerous Jewish Community Centers throughout Florida in early 2017. Nothing was detonated and no one was hurt in connection with any of the threats.
According to the US criminal complaint, between Jan. 4 and March 7, 2017, Kadar made 245 threatening calls to organizations around the US that targeted JCCs, other historic Jewish institutions, and offices of a prominent Jewish group, the Anti-Defamation League.
It was not immediately clear if he will be extradited to the US to face trial once his Israeli prison sentence ends.