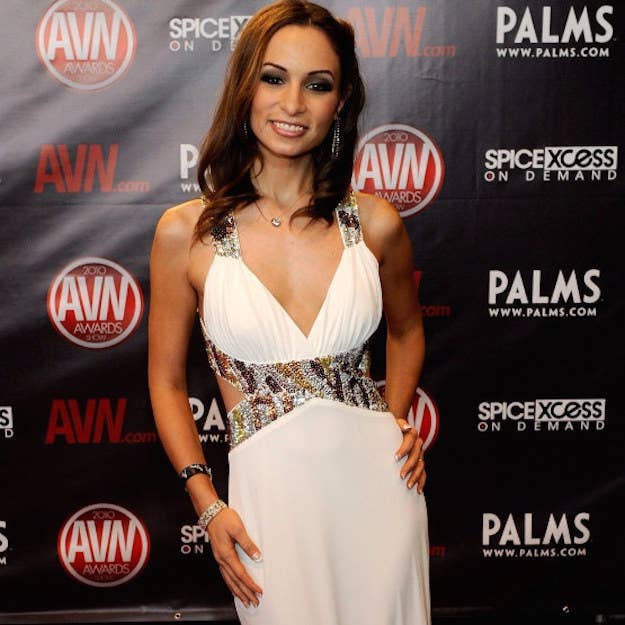 Amber Rayne, one of several porn actors who has accused high-profile performer James Deen of sexual assault, was found dead over the weekend. Rayne, whose real name was Meghan Wren, was 31.
Rayne was pronounced dead at her home in the Sun Valley neighborhood of Los Angeles on Saturday afternoon, a spokesperson for the county medical examiner's office told BuzzFeed News.
An autopsy is scheduled to determine the official cause the death, which the coroner's official said is thought to have been "an accident or possible overdose."
Her death was also confirmed by her friend and fellow adult-video performer Stormy Daniels on Twitter.
"She was a really good friend, and one of the best actresses and performers that I've ever had the pleasure to work with, and I'm just glad that I had the opportunity to work with her and call her a friend," Daniels told AVN, which first reported the news.
A veteran performer who appeared in more than 500 adult films, Rayne attracted national attention last year when she joined a chorus of women accusing Deen of sexual assault and abusive behavior. Deen has vehemently denied all the allegations.
Rayne told The Daily Beast that Deen had punched her in the face during filming for a movie in 2006.
"We were in piledriver, he was fucking me in the ass and I said something like, 'Yeah fuck me like that you son of a bitch,'" Rayne said. "His face twisted and he came down on my face two times — close-fisted. I was punched in the face while he was still in my ass and then he starts going crazy on my butt — extreme, brutally fucking it. He just starts shoving things in to the point where he ripped it and I bled everywhere. There was so much blood I couldn't finish the scene."
After porn performer Stoya, Deen's ex-girlfriend, first accused the actor of rape in November 2015, at least eight other performers, including Rayne, also spoke out against Deen.
Daniels said that she would be taking care of Rayne's horse, whom she often wrote about on Twitter to her more than 185,000 followers.
Other porn actors and production companies paid tribute to Rayne, including Ashley Fires, who has also accused James Deen of assault.