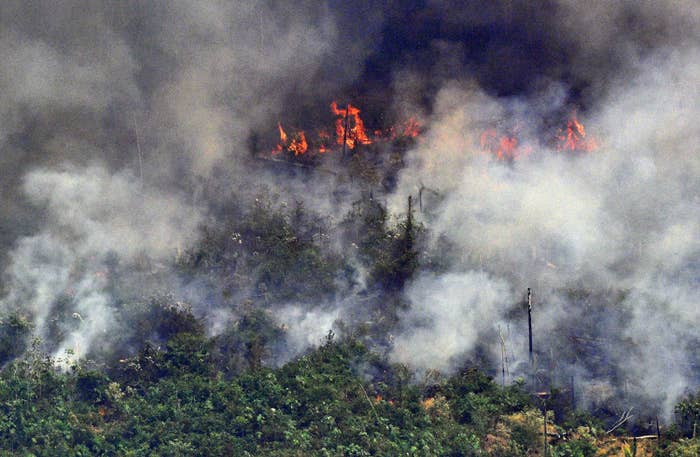 Faced with protests at Brazil's embassies around the world and threats of economic pressure from other nations, its far-right president, Jair Bolsonaro, on Friday pledged to deploy his country's military to battle fires that have ravaged the Amazon rainforest.
In a televised address that was light on specific details, Bolsonaro said soldiers would "survey and combat fire outbreaks" while also working to prevent environmental crimes in the Amazon — a reference to deforestation through illegal logging or land clearing by farmers.

The speech was something of a turnaround for Bolsonaro, who has mostly played down the crisis.
"I have a profound love and respect for the Amazon," he told Brazilians. "Protecting the rainforest is our duty."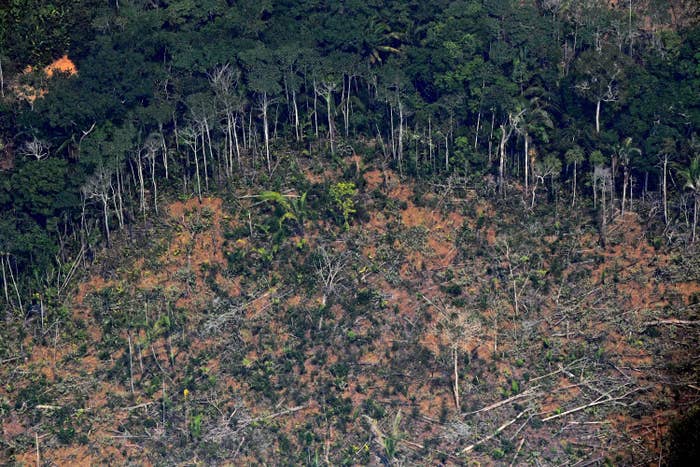 But since his election, Bolsonaro has worked to loosen environmental laws and open up vast swaths of the Amazon to the mining and logging industries. This month, he fired the head of an agency that revealed some 1,330 square miles of forest had been lost since he took office — up 39% over the same period last year.
According to Brazil's National Institute for Space Research, there's also been a record number of nearly 73,000 fires this year, up 80% from last year. This week, smoke from fires even turned day into night in São Paulo. Many of the blazes are believed to have been set by farmers and ranchers trying to clear land, but Bolsonaro, who routinely lashes out at "fake news," has suggested, without evidence, that NGOs may be lighting the fires to embarrass him.
In addition to being a center of unparalleled biodiversity, the Amazon produces 20% of the world's oxygen, something essential to making Earth a habitable place. It also soaks up vast amounts of carbon dioxide, which is essential to fighting climate change. But with the rainforest on fire, it's currently sending huge amounts of the greenhouse gas back into the atmosphere.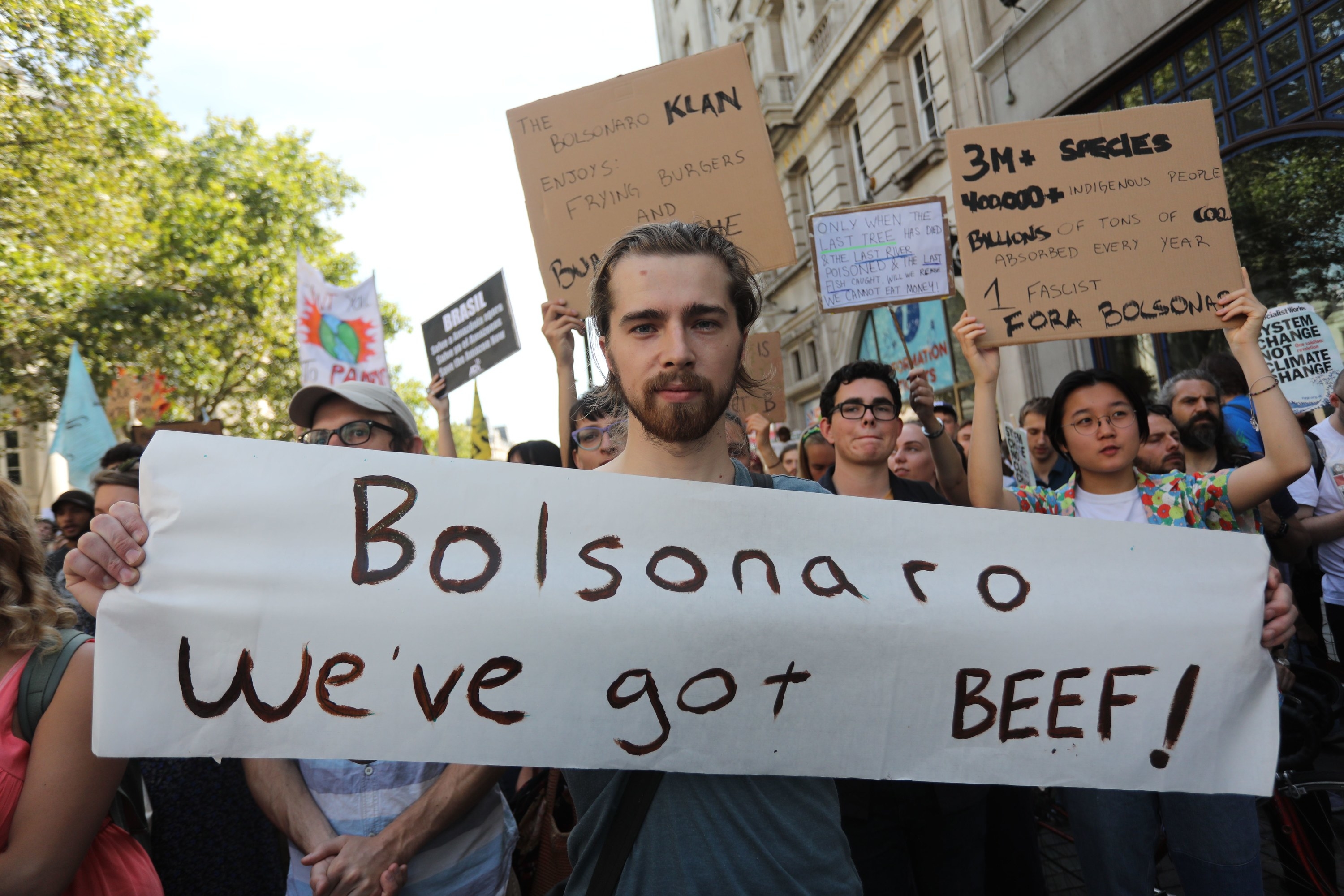 All this has meant the current situation in the Amazon has drawn international shock and outrage. Protesters have demonstrated across Brazil and outside its diplomatic missions around the world. In London, demonstrators threw red paint on the Brazilian Embassy on Friday.
World leaders are also alarmed. French President Emmanuel Macron vowed to discuss the fires at this weekend's G7 conference in his country, calling it an "international crisis." He was supported by the German chancellor and British prime minister. However, Bolsonaro's son, Eduardo, and nominee to be US ambassador, called Macron an "idiot," while the Brazilian president said his French counterpart was being "sensationalist."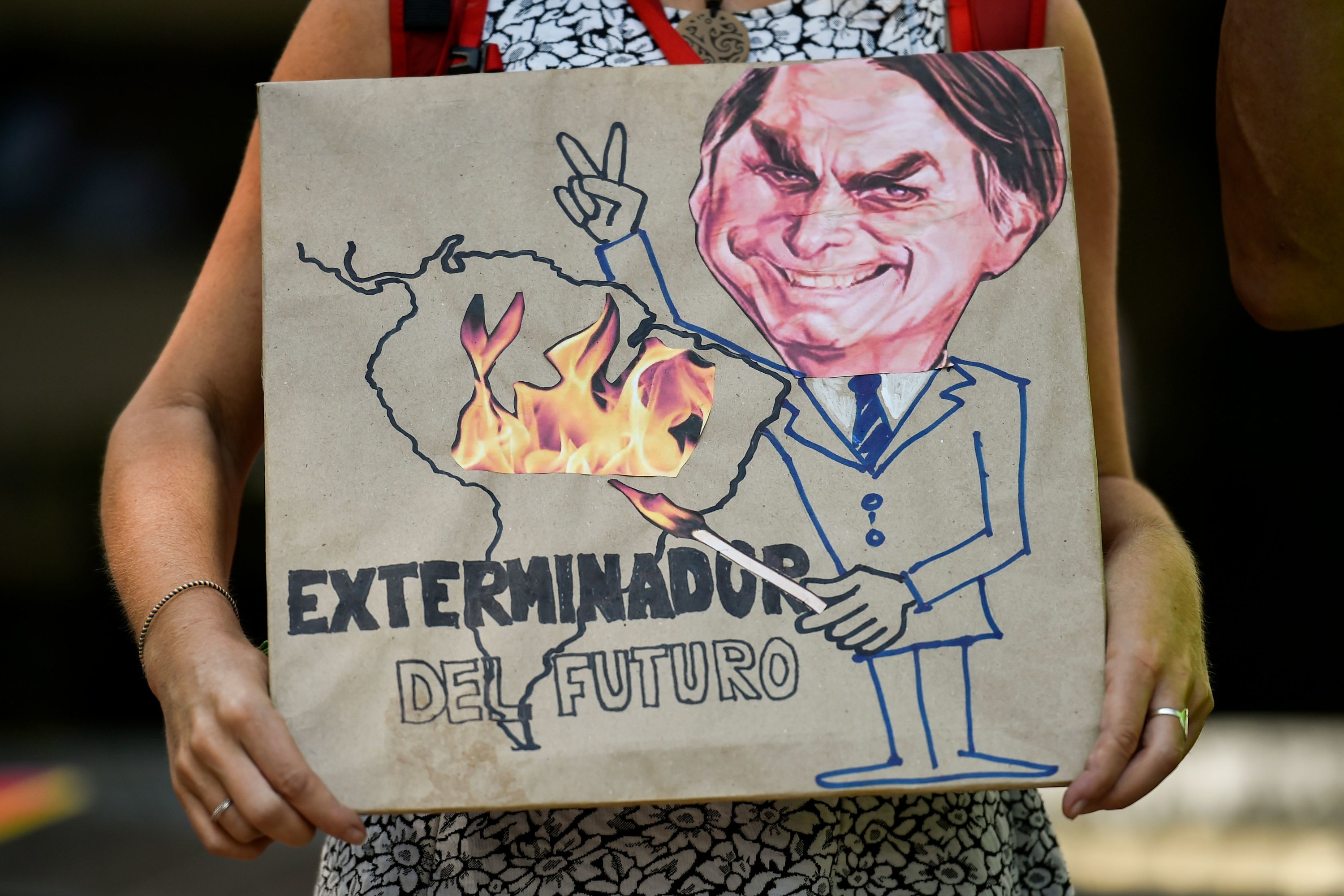 France and Ireland have also warned they'll vote against an EU trade deal with Brazil unless the country lives up to its environmental obligations. In his speech Friday night, Bolsonaro seemed to hit back at these countries. The president said forest fires "exist in the whole world" and "cannot serve as a pretext for possible international sanctions."
Bolsonaro spoke by phone Friday with President Donald Trump, who has not been critical of the Brazilian leader. "I told him if the United States can help with the Amazon Rainforest fires," Trump tweeted, "we stand ready to assist!"