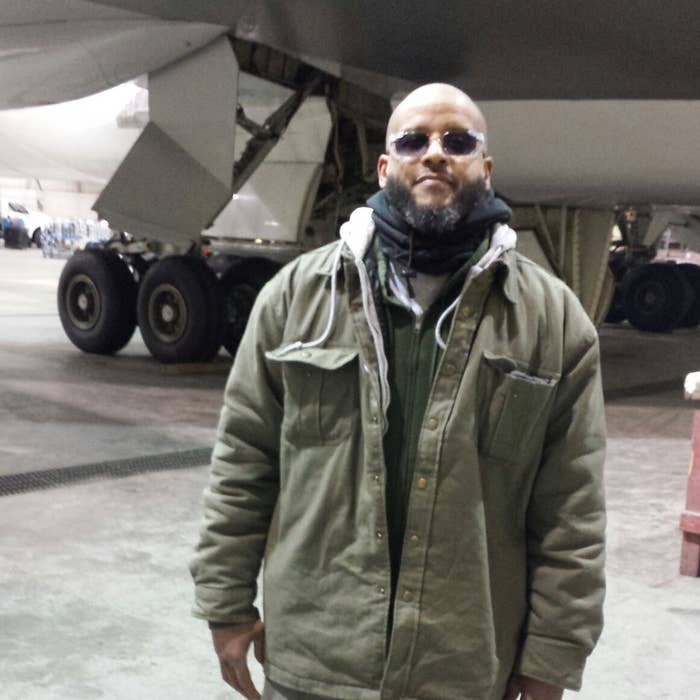 A U.S. Air Force veteran was charged Monday with attempting to travel to Syria and join the terror group ISIS, the Department of Justice said after unsealing an indictment against him.
New Jersey resident Tairod Nathan Webster Pugh, 47, was indicted by a federal grand jury in Brooklyn on Monday for attempting to provide material support to ISIS and obstruction of justice.
"Born and raised in the United States, Pugh allegedly turned his back on his
country and attempted to travel to Syria in order to join a terrorist organization," Loretta Lynch, the U.S. Attorney for the Eastern District of New York, said in a statement. Lynch is President Obama's nominee for U.S. attorney general.
Pugh's lawyer told BuzzFeed News that his client will plead not guilty. He declined to comment further.
Pugh previously served in the Air Force as an avionics instrument system specialist and received training in how to maintain aircrafts and weapons systems, the DOJ said. He then worked as an avionics specialist and airplane mechanic for a number of private companies in the U.S. and Middle East, according to officials.
Shortly after being fired from his job as a Kuwait-based mechanic in December, Pugh allegedly traveled from Egypt to Turkey on Jan. 10 in a bid to cross into Syria, prosecutors said. However, he was blocked from entering Turkey and returned to Egypt, where he was allegedly found with USBs stripped of their plastic casings and an iPod that had been wiped of data.
After being deported to the U.S. on a flight that landed on Jan. 15, a search of his electronic devices allegedly uncovered multiple internet searches for routes into Syria and ISIS propaganda.
Pugh was arrested on Jan. 16 in Asbury Park, New Jersey. A subsequent search of the backpacks he had with him overseas allegedly found compasses, a fatigue jacket, and camping clothes, among other items.
"Pugh, an American citizen and former member of our military, allegedly abandoned his allegiance to the United States and sought to provide material support to ISIL," said Assistant Attorney General for National Security John P. Carlin in a statement. "Identifying and bringing to justice individuals who provide or attempt to provide material support to terrorists is a key priority of the National Security Division."
NYPD Commissioner Bill Bratton said members of his joint terrorism task force assisted federal agents in the investigation. "It is this type of collaboration that results in swift investigative work to stop individuals such as this from making any further contribution to terrorist organizations such as ISIL," he said, using an alternative name for the terror group.
This appears to be Tairod Pugh's LinkedIn page, based on the details released by the Department of Justice.
Pugh's Facebook page contains a long list of anti-Israel photos and posts.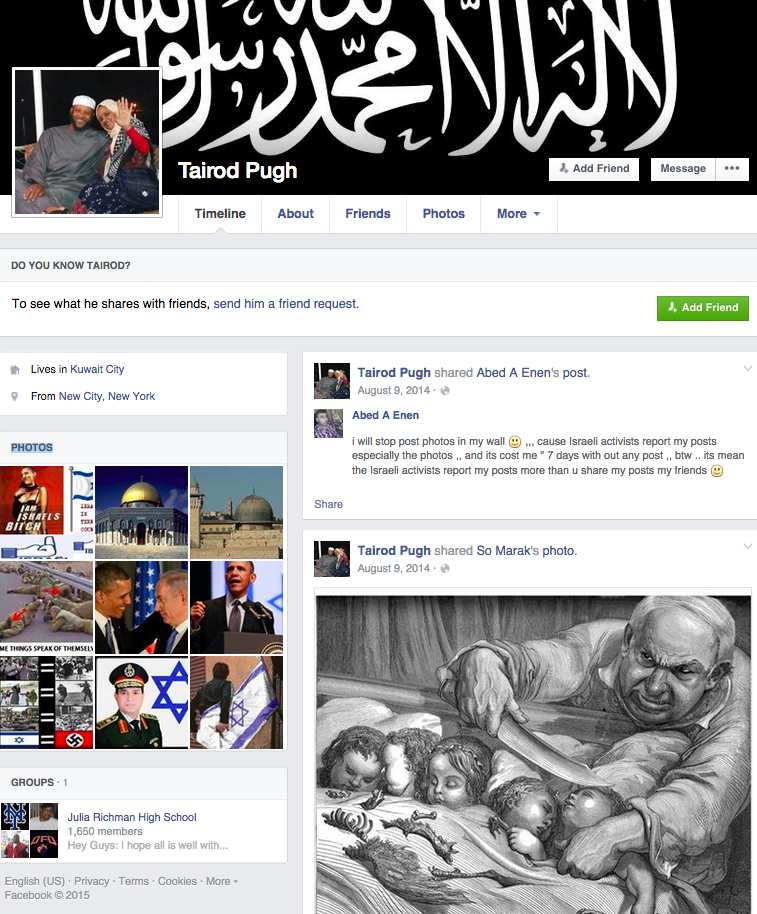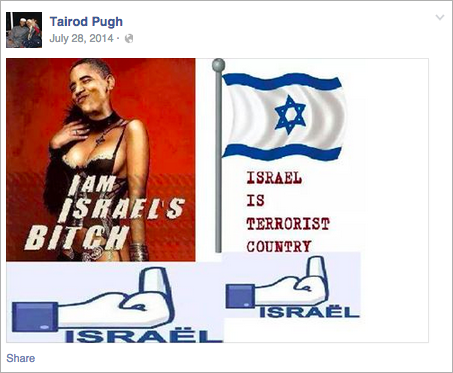 He also shared anti-Semitic images on his page.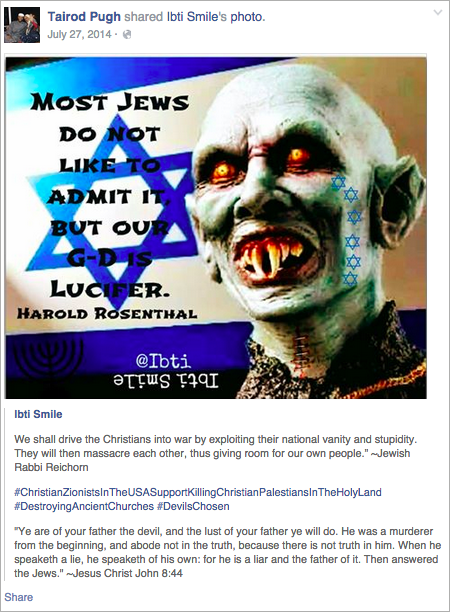 In August 2014, Pugh posted quotes from notorious terrorist leader Anwar al-Awlaki.