Three US Soldiers Died After A Member Of The Afghan Army Reportedly Attacked Them
An Afghan official said the attacker was also killed in the incident.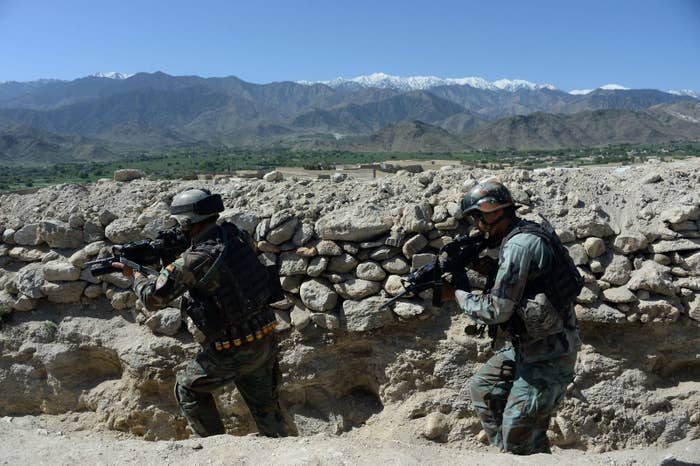 An Afghan soldier reportedly opened fire on US troops in an eastern province of Afghanistan Saturday, killing three and wounding another, officials said.
A spokesman for the governor of Nangarhar province, Attaullah Khogyani, told Al Jazeera that the attack occurred when an Afghan "army commando" opened fire on US troops during a joint operation in Achin. The gunman was then killed in a counterattack, Khogyani said.

The US Defense Department confirmed the deaths of the three US soldiers, but did not provide details about the incident, or the identity of the shooter.
"Three US soldiers were killed in eastern Afghanistan today. One U.S. soldier was wounded and has been evacuated for medical treatment. Next of kin notification is underway," the Pentagon said in a statement. "This incident is under investigation. Additional information will be released as appropriate."
The Taliban claimed responsibility for the deaths. In a statement to the Associated Press, Taliban spokesman Zabihullah Mujahid said that a loyalist had infiltrated the Afghan army "just to attack foreign forces."
The White House press office said President Donald Trump had been briefed on the incident. A spokesperson traveling with Trump in New Jersey Saturday added that "the president is following the emerging situation in Afghanistan."
The attack came just hours after the US military apologized for mistakenly killing two Afghan police officers and wounding three others in southern Helmand province late Friday. The Pentagon said it is investigating the friendly-fire incident. Afghan officials told the BBC the friendly-fire airstrike in southern Helmand province also killed several militants.

Achin, where Saturday's incident occurred, is the same site where US Special Operations troops dropped the military's largest non-nuclear weapon, aptly nicknamed the Mother of All Bombs, or MOAB, on a suspected ISIS tunnel complex, marking the first time American forces had used the weapon.
The incident also comes as the Trump administration considers whether to send more US troops to Afghanistan, including a plan to send additional soldiers to train new members of the Afghan special forces.
Speaking at an event in Milwaukee Saturday, Vice President Mike Pence offered his condolences for the deaths of the three US soldiers.

"On my way here I was informed that US service members were killed and wounded in the attack in Afghanistan," he said. "The president and I have been briefed. The details of this attack will be forthcoming."
"When heroes fall Americans grieve," Pence added. "Our thoughts and prayers are with the families of these American heroes."