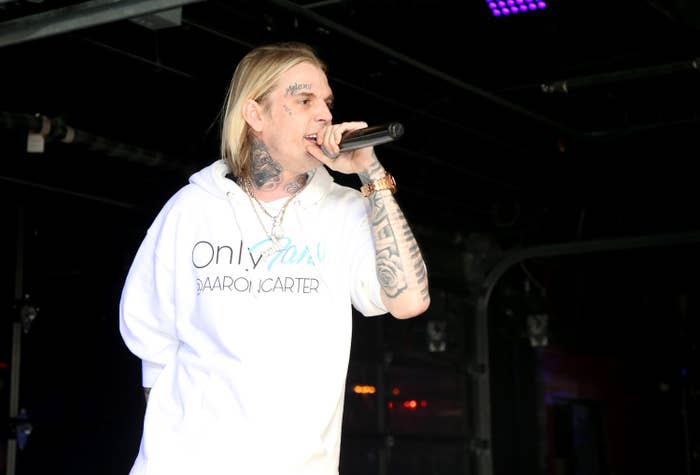 Aaron Carter died in the bathtub of his home near Los Angeles in November after using drugs and huffing aerosol cans, and the people closest to him had been concerned he was misusing substances again and needed treatment, according to newly released documents.
According to a statement from the Los Angeles County Department of Medical Examiner-Coroner on Tuesday, the cause of death for the 34-year-old singer was determined to be drowning due to the effects of Xanax and difluoroethane, which is an aerosol propellant found in spray cans. His death was ruled an accident.
The coroner said the singer's housekeeper found him submerged in the tub on the morning of Nov. 5 at his home in Lancaster, then called 911 and received instructions on how to perform CPR.
When paramedics arrived on the scene, they declared Carter dead at 11:14 a.m.
"Based on the autopsy findings, investigative reports and circumstances, as currently known, Mr. Carter became incapacitated while in the bathtub due to the effects of inhaling compressed gas and taking alprazolam," the autopsy report said. "This resulted in him becoming submerged under water, unable to breath, and ultimately led to his death."
Carter's autopsy was conducted the following day, but the cause of death was not officially certified until April 14 because of the delay in test results.
A star in his childhood thanks in part to the fame of his older brother, Backstreet Boys member Nick Carter, Aaron struggled in his career and personal life as he aged.
Arrested at least twice on drug and DUI charges, he entered rehab several times.
In 2019, he also said he had been diagnosed with schizophrenia, bipolar disorder, and anxiety, and was taking medication to treat the illnesses.
In the days leading up to his death, law enforcement responded to Carter's home multiple times due to concerns he was misusing drugs, according to the autopsy report. About a week prior, his fiancé requested that Los Angeles County sheriff's deputies conduct a welfare check because "she believed he was under the influence while driving his RV." Deputies made contact with him, but he was not arrested for driving under the influence, the report said.
Early in the morning on the day before his death, deputies again responded to his home for another welfare check after receiving a report that Carter had been huffing on Instagram Live. When deputies arrived, Carter was inside his home and "yelled at them to get out from the stairs," so the officials left.
Both Carter's fiancé and his mother told coroner's office investigators that Carter was not suicidal. According to the report, the singer was supposed to check in with his drug counselor the evening prior to his death but missed the phone appointment "without any explanation."
One of them also told investigators that Carter had wanted to enter a rehabilitation program in Florida but wasn't able to leave California until Dec. 11 because of a court date, according to the report. He had relapsed prior to his death, she said.
Following his brother's death, Nick Carter posted a photo to Instagram. "Sometimes we want to blame someone or something for a loss," he wrote in the caption, "but the truth is that addiction and mental illness is the real villain here."