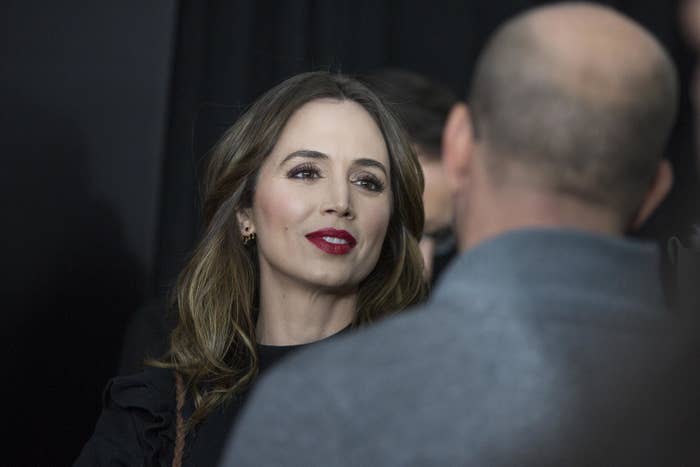 Actor Eliza Duskhu alleged Saturday that she was sexually assaulted as a 12-year-old girl by a leading Hollywood stunt man during production of the action movie True Lies in 1993.
In a lengthy Facebook post, Duskhu described being "groomed" by stunt coordinator Joel Kramer, then 36, and lured to his Miami hotel room with the promise of a swim and her first-ever sushi meal.
"I remember ... how he disappeared in the bathroom and emerged, naked, bearing nothing but a small hand towel held flimsy at his mid-section," she wrote. "I remember how he laid me down on the bed, wrapped me with his gigantic writhing body, and rubbed all over me. He spoke these words: 'You're not going to sleep on me now sweetie, stop pretending you're sleeping,' as he rubbed harder and faster against my catatonic body."
She described making eye contact with a taxi driver in the man's rearview mirror as he drove the pair back to her hotel, and Kramer allegedly grew sexually aroused again while she sat on his lap.
Reached by BuzzFeed News on Saturday, Kramer said he was "appalled" and vehemently denied all of Dushku's claims. He said he had no memory of ever being alone with the actor, who had been cast as the daughter of Arnold Schwarzenegger and Jamie Lee Curtis's characters.

"I'm literally twisted in knots. It's just not true," he said in the phone interview. "If this were all true, don't you think it would've come to light 24 years ago?"
Representatives for Dushku did not immediately return requests for comment on Kramer's denials. But the actor described her decision to go public with her accusations in her Facebook post.
"Why speak out now? I was 12, he was 36. It is incomprehensible," she wrote. "I have struggled with how and when to disclose this, if ever. At the time, I shared what happened to me with my parents, two adult friends and one of my older brothers. No one seemed ready to confront this taboo subject then, nor was I."
James Cameron, who directed True Lies, commended Dushku for speaking up, and said it was "heartbreaking that it happened to her," Variety reported Saturday.
"Eliza is very brave for speaking up," Cameron said while speaking at the Television Critics Association press tour. "I think all the women are that are speaking up and calling for a reckoning now [are brave]."
And in a Sunday op-ed for the Huffington Post, Curtis wrote that "Eliza's story has now awakened us from our denial slumber to a new, horrific reality. The abuse of children." Curtis also wrote Dushku had told her about the incident with Kramer "privately a few years ago. I was shocked and saddened then and still am today."
Curtis's op-ed also addressed Dushku's particularly vulnerable position as a child actor allegedly being preyed upon by a stunt coordinator: "What compounds the difficulty here is that the stunt coordinator in question was literally in charge of our lives, our safety," Curtis wrote. "All of us must take some responsibility that the loose and relaxed camaraderie that we share with our young performers has carried with it a misguided assumption that they are adults in an adult world, capable of making adult choices."
In her Facebook post, Dushku alleged that after she shared her secret during filming with "a tough adult female friend," that woman then confronted Kramer. Dushku claimed she was subsequently injured "by no small coincidence" during a stunt on a plane for the film's final action scene.

Kramer acknowledged that he and Dushku went for sushi and a swim, but he said they were accompanied by other stunt performers, although he said he could not immediately recall who was there.

He denied ever calling the then-preteen "jailbait," as she alleged.
"There's so much falsity and lies to defame my character in here," he said. "I'm disgusted and hurt [that she would say this] after we treated her so well."
Halfway through the interview, he passed the phone over to his wife, Susan Elmore Kramer, who described her husband as being "very respectful of women."
"This is not in his character at all," she said of her husband of nearly 15 years. "It makes no sense that this elaborate fabrication would be lobbed at him."
Kramer added that he would be hiring an attorney, not to sue Dushku but to protect him against her claims.

"Whatever happened," he said, "she's just ruined my life."
In her post, Dushku said that she hoped by sharing her story she would help other victims and prevent future abuse.

"Sharing these words, finally calling my abuser out publicly by name, brings the start of a new calm," she wrote.