Lunch Lady Who Was Fired For Giving Student A Free Meal Is Offered Her Job Back
An Idaho school district has offered Dalene Bowden her school cafeteria job back after she was fired for giving a student who couldn't pay a free lunch.
This is Dalene Bowden, who lives in Pocatello, Idaho.
Up until last week, Bowden worked as a lunch lady at the Irving Middle School cafeteria.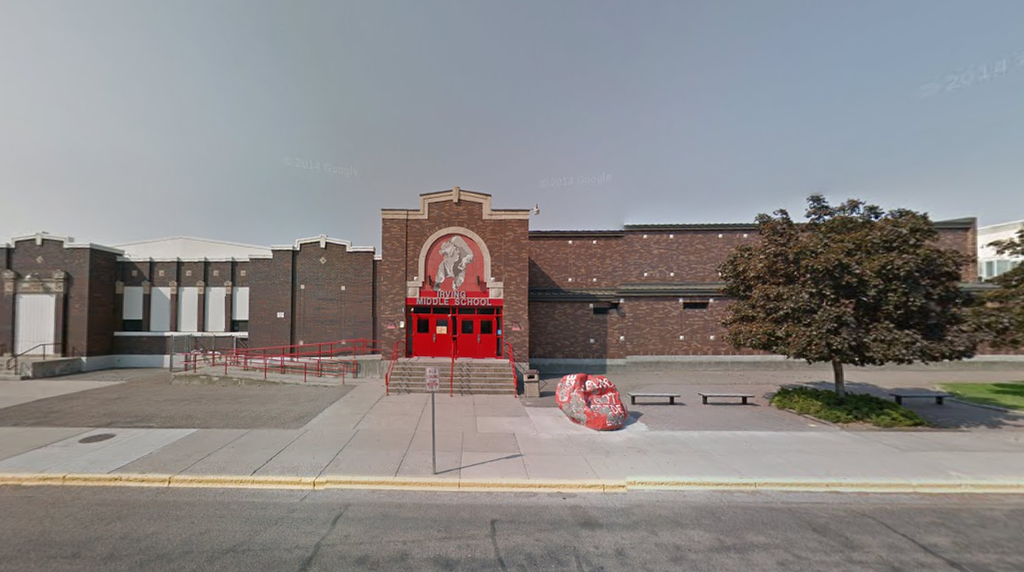 During lunch on Dec. 15, a 12-year-old girl told Bowden she was hungry but didn't have any money to buy food. "So I just handed her the meal and said we'd talk about it but she should move on because I had 150 other kids to serve," she told BuzzFeed News.
But she said her supervisor saw her give the child a free lunch, worth $1.70, and immediately reported her.
She said she offered to pay for the lunch herself, but was placed on leave.
The little girl did not have her lunch taken away from her, though, because she had not yet built up the $11 maximum amount of credit.
A few days later she received the following letter from the local school district informing her she had been fired for "theft/stealing school district...property, and inaccurate, transactions when ordering, receiving, and serving food."
"I broke the rules, but I offered to pay for the meal and I don't think I deserved to lose my job over it," Bowden told the Idaho State Journal.
"I know I screwed up," Bowden told the Idaho Statesman, "but what are you supposed to do when the kid tells you that they're hungry and they don't have any money."
Tens of thousands of people signed an online petition calling on the local school board to rehire Bowden. "My heart hurts so bad that people care so much," she told BuzzFeed News.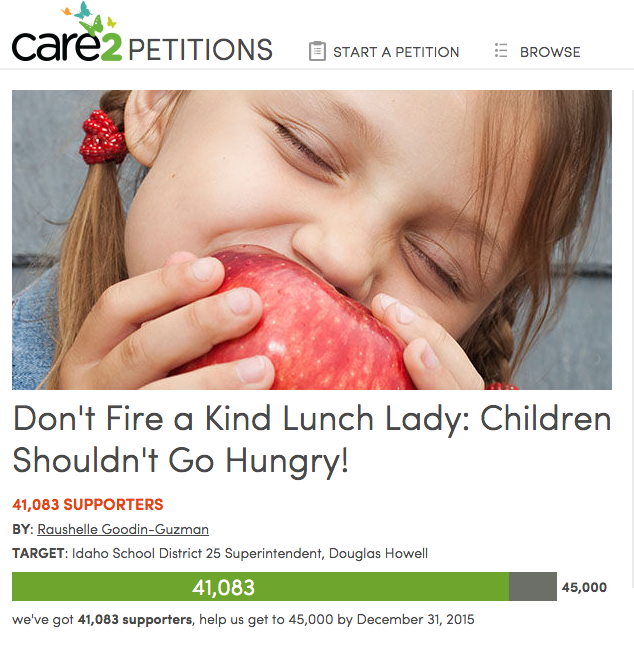 But on Wednesday, the school district announced that it had offered Bowden her job back.
"In the spirit of the holidays, Superintendent Howell advises that the District has been in communication with Ms. Bowden extending an opportunity for her to return to employment with the District," the school district said in a statement according to the Idaho State Journal.
Bowden, however, isn't quite sure she'll take the district up on the offer.
She told the Idaho Statesman that she'll "have to think about it."
"I'm afraid that they would just make my life miserable and then try to set me up, or get rid of me some other way," she said.