The San Diego Gay Men's Chorus have accused their hometown baseball team of homophobia after the choir's attempt to sing the national anthem at Saturday's game was drowned out by a recording of a woman and they were then taunted by sports fans.
Some 100 members of the Gay Men's Chorus had been invited to perform "The Star Spangled Banner" to open the "Out at the Park" event at San Diego's Petco stadium, where the Padres and the Los Angeles Dodgers were due to play.
After taking to the field, however, the men stood silently as a recording of a woman singing the anthem blared on speakers throughout the stadium. The voice was believed to be that of Friday's anthem singer, according to the San Diego Union-Tribune.
"No attempt was made to stop the recording and start over," the Gay Men's Chorus wrote on Facebook on Sunday. "No announcement of apology was made to the singers or their friends and families in the stands.
"No attempt to correct the situation occurred other than to force the 100 men to stand in the spotlight of center field for the song's duration and then be escorted off the field to the heckles of baseball fans shouting homophobic taunts including, 'You sing like a girl.'"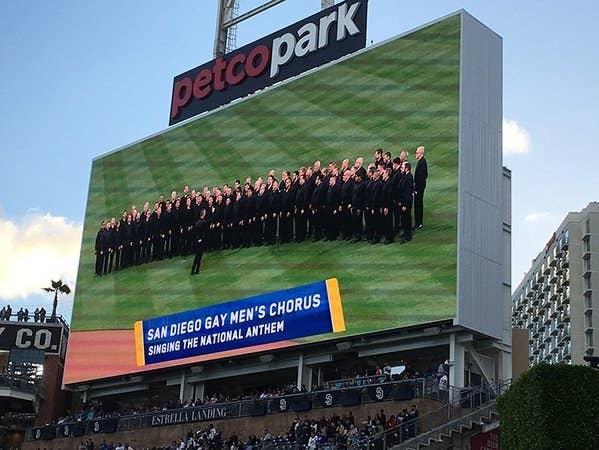 In a short statement issued on Saturday night, the Padres said a "mistake was made in the Petco Park control room that prevented the San Diego Gay Men's Chorus from performing the National Anthem as scheduled."
"We apologize to anyone in the ballpark who this may have offended, and have reached out to the Chorus to express our deep regret for the error," the team said.
However, the choir said they were "very disappointed" with the "dismissively brief two-sentence statement...which did not appropriately address the gravity of the situation, nor pay due to the 100 volunteers who took to the field in celebration and were led off in humiliation."
The choir said the team's president and CEO had made contact to apologize and offer to meet with LGBT leaders.
The singers also demanded the city's attorney's office and human relations commission independently investigate the incident to see if Padres members "engaged in activity in violation of the San Diego Human Rights Ordinance or engaged in any deliberate hate crimes based on sexual orientation."
"What should have been a night of joy and celebration at Petco Park last night instead turned into a nightmare raising serious questions about homophobia within the San Diego Padres organization and its relationship with the LGBT community," the chorus said.