It was late morning on Aug. 29, 2005, and William Morgan's home was rapidly filling with water. Hurricane Katrina, one of the deadliest storms in U.S. history, lashed his New Orleans neighborhood with 100-mile-an-hour gales and torrents of rain, while water poured into the city via shattered levees. Morgan, a veteran in his early seventies who had lost both legs to diabetes, was swept from his wheelchair.
He dove under the deluge and broke through a window to escape, pulling his 1-year-old apricot-colored poodle, Morgan LaFaye, along with him. When they surfaced outside, he pushed the dog onto his roof and held onto a nearby tree for 14 hours, the wind and rain pummeling his body as the flood threatened to sweep him away. Coast Guard rescuers eventually arrived and threw him a rope, but they would not take "Miss Morgan."
"We're not in the dog business," they said. "She was crying, whining, and barking" as the boat sped away, Morgan later told a reporter. "Had I known she couldn't come with me, I would have stayed."
Morgan's story is far from unique. Nearly half the people who stayed behind during Katrina stayed because of their pets. Helicopters and boats would come, but the rescuers largely refused to take cats and dogs. So many owners, unwilling to abandon a family member, refused to go — and many of them died.
Others did leave their pets, convinced they would be able to retrieve them in a few days. But officials kept them out for weeks, leaving the animals to fend for themselves. Dogs waited on rooftops, cats clung to debris in toxic waters, and pets starved to death in barricaded homes.
Even for a nation grappling with the human tragedy of Katrina, the plight of dogs and cats struck a nerve. The public flooded Congress with letters, and in 2006 the legislature — despite being bitterly divided over war, immigration, and seemingly every other issue — passed the Pets Evacuation and Transportation Standards (PETS) Act with near unanimous support.
That law, which impels rescue agencies to save pets as well as people during natural disasters, and the public outcry that inspired it, marked a turning point in our relationship with cats and dogs. No longer would we see them as pets or even companion animals. They had become members of society.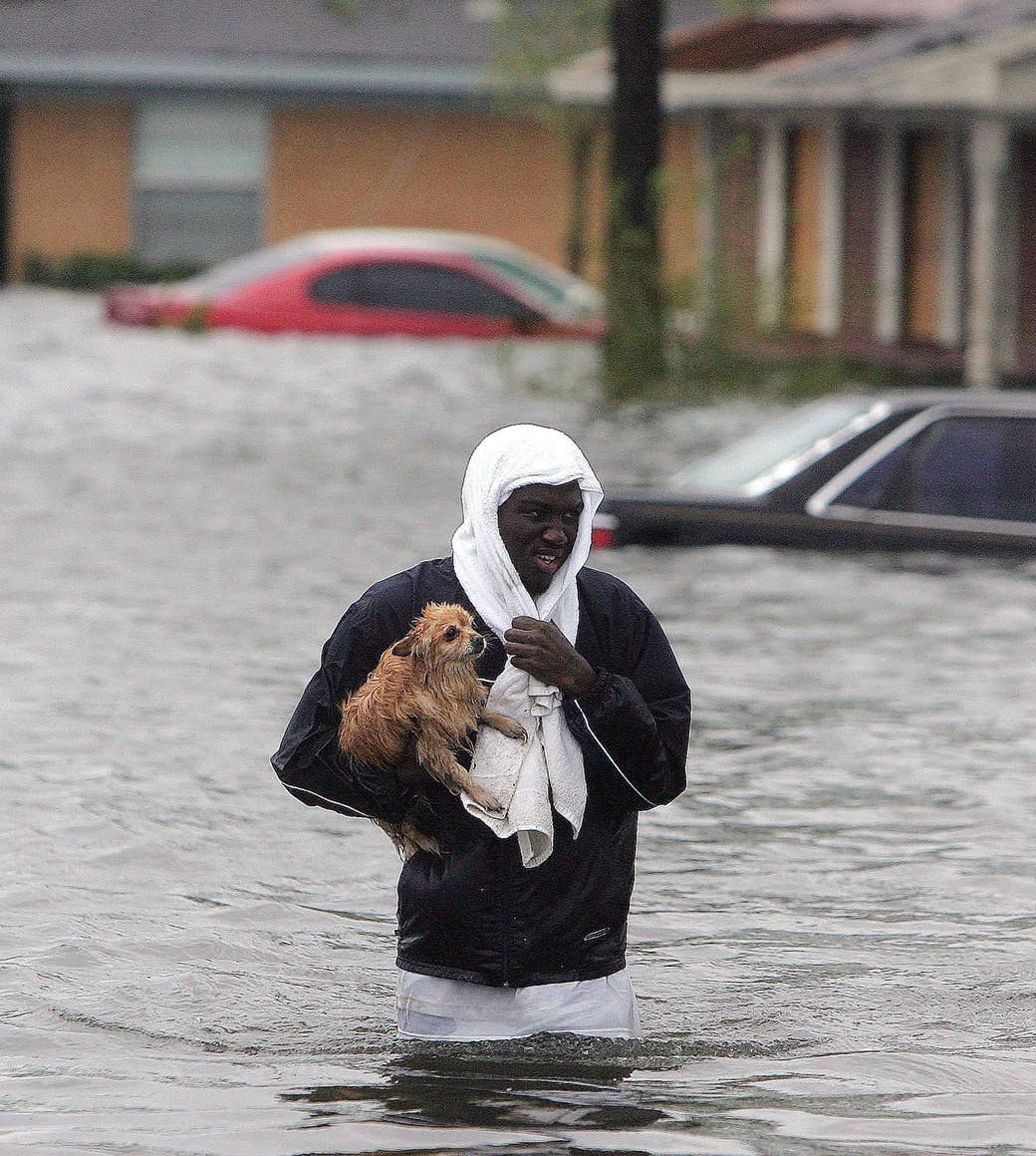 On the same morning William Morgan lost his dog, Hurricane Katrina shattered Charlotte Bass Lilly's home in the Lower Garden District, smashing windows, soaking floors, and collapsing part of her roof. Yet her neighborhood escaped the flooding that had devastated so much of the region, and she was determined to stay put. Then the looters came.
"Guys were strutting up the street strapped with ammo and holding AK-47s," Bass Lilly told me in 2012, when I visited New Orleans to report for my book, Citizen Canine. "It was like the Wild West."
Sixty-two and stocky when I met her, with two thick black ponytails and a gregarious charm that masked a tough-as-nails resolve, it wasn't hard to believe that Bass Lilly chose to face the looters. She grabbed her own guns and prepared for battle. But her husband eventually convinced her to leave. "He was worried I'd kill somebody — and I was worried I'd run out of ammunition."
So the couple gathered up their eight dogs and four cats and hightailed it out of town. By then, the city was in military lockdown, and roadblocks had been set up. Bass Lilly managed to bypass them by convincing police she was a veterinarian evacuating her clinic.
That perception wasn't so far off. Three decades earlier, when she first moved into her home, Bass Lilly had trapped all of the feral cats in her neighborhood and got them neutered. Ever since, she had been working with local animal rescue groups to care for homeless dogs and cats throughout New Orleans. So when Katrina struck, she wasn't about to leave the city's animals behind.
After Bass Lilly and her husband left town, she got word of a temporary animal shelter that had been set up at the Lamar-Dixon Expo Center in Gonzales, Louisiana, about 60 miles northwest of New Orleans. The facility — a venue for livestock shows, horse exhibitions, and rodeos — would become the epicenter of the largest animal rescue operation in U.S. history, with hundreds of volunteers from around the country caring for more than 8,000 cats and dogs salvaged from the storm. But Bass Lilly was only the eighth person on the scene, and pets had just begun to filter in.
"They said all they could give me was a ratty old animal control vehicle," she told me. The truck wasn't much, but it had police lights, which allowed her to get in and out of New Orleans without being hassled. She could now begin the grueling work of saving her decimated city's dogs and cats.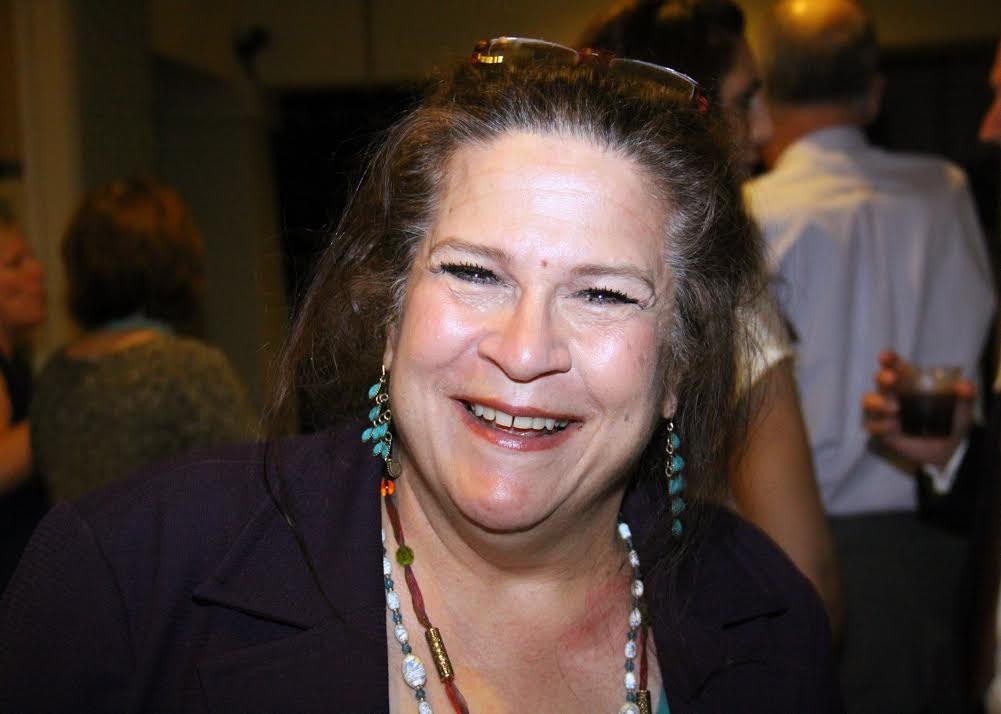 In the days after Hurricane Katrina, New Orleans was a poisonous wasteland. Entire neighborhoods were deserted or submerged, and the water had turned black, a noxious mix of dirt, sewage, and gasoline the media dubbed "toxic gumbo." Bodies rotted on cars, flies clouded the sky, and the intense heat and humidity turned the air into sweat soup.
"On the first day, fish were jumping out of the water," Bass Lilly told me. "After that, nothing was jumping. Even the snakes were dead."
Bass Lilly drove her animal control truck into the neighborhoods that still had passable roads. Power poles and broken trees littered the sidewalks. Houses had fallen like dominoes, spilling their contents onto the streets. "Cars were sitting on their nose," she said. "Some were twisted, like a giant god had taken them and turned them into a pretzel."
She'd drive as far as she could into the wreckage and holler until she heard dogs barking. Then she'd get out and follow the sounds to a house. Dogs clung to front doors, begging to be let inside. Cats peeked out behind splits in blinds. Bass Lilly would break in, climbing through a window or crowbarring plywood off a door, and leash or cage them.
Many pets were locked in bathrooms with tubs full of water — their owners assuming they'd be back to rescue them.
Many pets were hiding in the collapsed parts of houses, or were locked in bathrooms with tubs full of water — their owners assuming they'd be back in a few days to rescue them. Even those who had tried to evacuate with their cats and dogs were turned away by hotels and Red Cross shelters arbitrarily enforcing no-pet policies. All told, about 250,000 animals were left behind.
Every night, Bass Lilly returned to Lamar-Dixon with a fresh load of dogs and cats. The facility had now become a miniature city. Crates full of pets were stacked deep and wide in several open-air barns, veterinarians performed surgeries on foldable exam tables, and volunteers raced from intake to triage centers, feeding animals, cleaning cages, and trying to bathe away the toxic gumbo that stuck to skin and fur.
At night, everyone slept in tents or cars. Every morning at 6:00 a.m., Bass Lilly would gather with a group of other rescuers to receive their assignments for the day. Thousands of owners were calling in, frantically searching for their lost pets. Armed with a list of addresses, Bass Lilly and the others would leave in a caravan at dawn and return at dusk, dropping off hundreds of new animals, sick, emaciated, and covered in muck.
A week after Bass Lilly began rescuing animals, she bought a boat so she could get into the flooded areas of New Orleans. Eighty percent of the city was submerged, with some places more than 20 feet below water. She'd drive onto an expressway and take an exit that descended into the water. Then she'd stop, unhitch the boat, and get in.
Once on the water, she had to steer around traffic lights and power lines. Most of the street signs were sunk or destroyed, so she navigated by landmark — the tower of a Buddhist temple here, a grocery store sign there. Dogs stood on rooftops, whimpering and wagging as she approached. Some cats were in the water, clinging to pieces of houses and other debris. Military choppers buzzed overhead.
By mid-October, Bass Lilly had saved more than 500 cats and dogs. But Lamar-Dixon was winding down. Some of its pets had been reclaimed by their owners, and the rest were shipped or flown to shelters around the country, where they would be held for a few months, then adopted out. Meanwhile, New Orleans had drained, and residents were finally being allowed to come back to their homes.
But the pet crisis was far from over. Thousands of animals were wandering the streets, starving and injured, and thousands more were trapped in houses their owners would never return to.
When Lamar-Dixon closed, Bass Lilly began working with another set of volunteers who had taken over an abandoned nail shop just south of downtown. The group called itself Animal Rescue New Orleans (ARNO), and it was setting up feeding stations throughout the region. Every other block, Bass Lilly and the others put out a tin pan full of kibble and a gallon jug of water with the top scissored off, eventually establishing thousands of stations over more than 200 square miles.
Hundreds of other animal rescuers were also combing the area, saving pets that had begun to turn feral on the streets and breaking into abandoned homes. Dogs, soggy with grime, fed on garbage. Cats were missing eyes and dragging broken limbs. Those that had been trapped indoors had become living skeletons — if they were still alive at all.
Overflowing with dogs and cats, ARNO soon outgrew its nail shop. In early 2006, Bass Lilly, who had taken charge of the group, relocated the operation to a warehouse a few miles west of the city. It wasn't much — a former welding shop in an industrial part of town, packed tight with animal cages and supplies — but it got the job done. There was still work to do, however: Animal rescuers had saved 15,000 pets, yet thousands remained on the streets.
"We couldn't just stop," Bass Lilly said. So ARNO kept saving animals — a mission that continues to this day. "Our shelter is still set up like an emergency triage center," she said. "That's all we know how to do."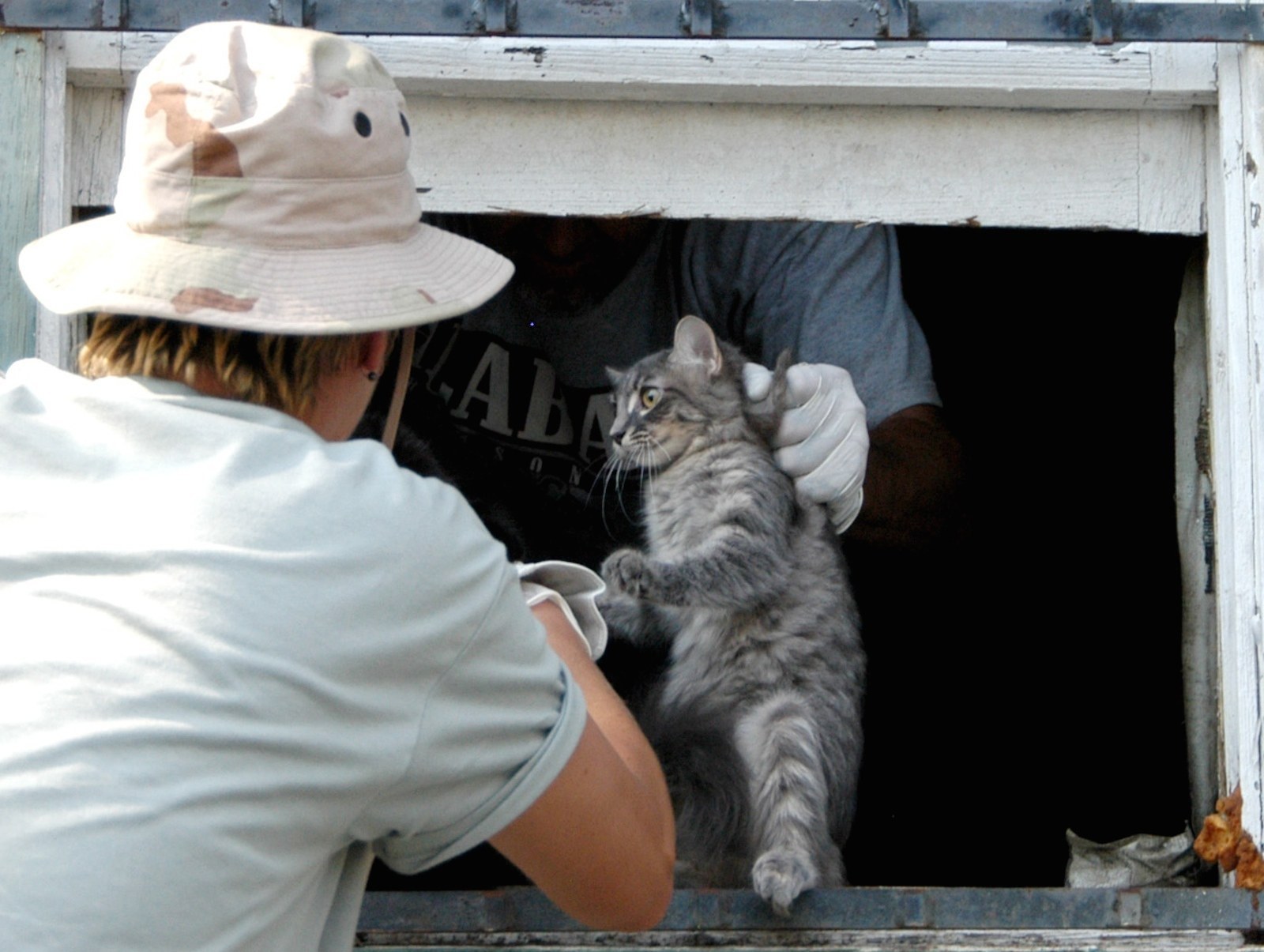 In May of 2006, Bass Lilly drove to Baton Rouge to testify about her experiences in front of the state legislature. Lawmakers led by State Senator Heulette "Clo" Fontenot were considering changes to Louisiana's disaster policies in the wake of Katrina. More than 1,800 people and 150,000 pets had died.

"I felt we were derelict in our duties to the citizens of Louisiana," Fontenot told reporters, "because we didn't make arrangements for pets."
Testifying alongside Bass Lilly was William Morgan, who had lost his poodle, Miss Morgan, in the storm. Unlike many forced to leave their pets behind, however, Morgan was lucky. Emergency responders sent him to a Veterans Affairs hospital in Miami, where a volunteer scoured hundreds of animal rescue sites on the internet for any news of his dog.
Miss Morgan was lucky, too. After the dog spent 12 days alone on her rooftop, volunteers with Best Friends Animal Society, an animal welfare group that saved thousands of pets during the storm, rescued her and placed her in an emergency shelter. A few weeks later, the group arranged a tearful reunion at Morgan's hospital, while Animal Planet cameras rolled.
Bystanders wept as Morgan recounted his ordeal to the legislators. He told them of being sped away in a boat, forced to leave Miss Morgan whimpering on his roof. "Several blocks over, I could still hear her," he said. "It was awful."

A month after that moving testimony, Governor Kathleen Blanco signed the Pet Evacuation Bill into law. The act requires the Governor's Office of Homeland Security and Emergency Preparedness, as well as the governments of the state's parishes, to include pets in their disaster planning. State and local authorities must now make pets part of their emergency-training exercises, and they must educate the public about how to care for pets during natural disasters.
Perhaps most significantly, pets must now be evacuated with people. If evacuation buses cannot accommodate them, officials must provide alternative transportation, such as climate-controlled trucks. And human shelters must now accept pets, or they must set up pet-friendly facilities nearby so that people can keep tabs on their animals. Under one parish's plan, owners and their pets arriving at emergency shelters will be given matching bar-coded wristbands and collars to make sure no animals are lost.
A few months later, the federal government passed its own version of the law: the PETS Act. It was one of the only major bills to have overwhelming bipartisan backing since the 2001 Patriot Act, signed in the wake of the Sept. 11 terrorist attacks.
"Never before in my long congressional career have I received so much support for a piece of legislation."
"Never before in my long congressional career have I received so much support and encouragement for a piece of legislation," said Congressman Tom Lantos, who had introduced the bill in the House of Representatives.
To date, 14 states plus the District of Columbia have passed their own tailored versions of the act, which have been implemented in everything from tornadoes to wildfires.
The legislation signaled a turning point in our relationship with cats and dogs. These were once wild creatures that, over thousands of years, became working animals, then pets, then companions. But something remarkable has occurred over the past couple of decades: Dogs and cats have become family members in our homes, and more like people in the eyes of the law. We spend billions on them, we fight over them in custody cases, and we've passed laws making them the most valued and protected animals in the country.
Even by these measures, however, Hurricane Katrina was a watershed moment in our history with pets. For the first time, the entire country realized just how much we cared for these animals — and just how much we were willing to sacrifice for them. And lawmakers realized that, at least for the purposes of natural disasters, pets should be treated like people. Cats and dogs were no longer just members of our family: They had become fellow citizens.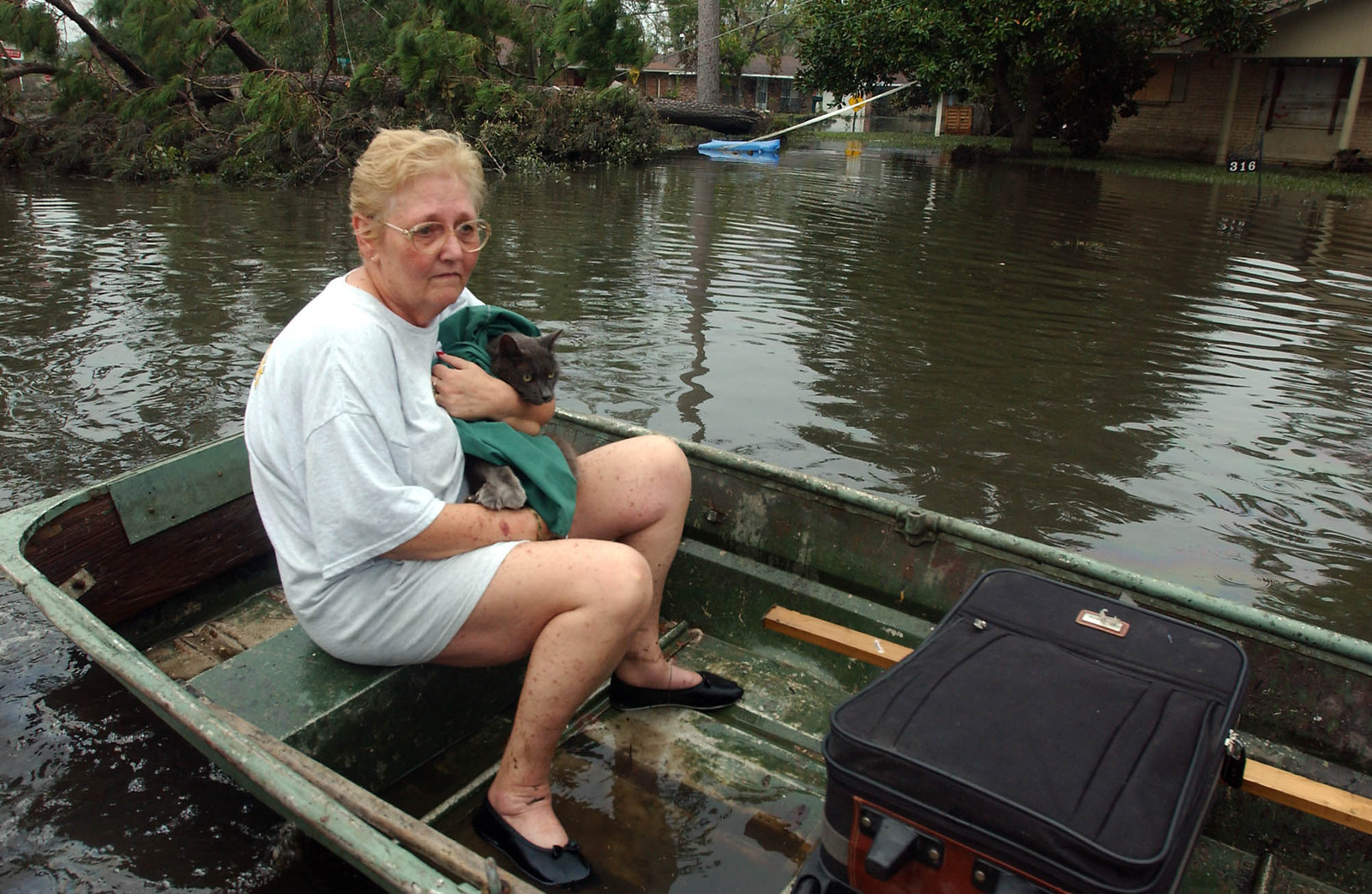 These pets are citizens ARNO continues to care for. The shelter is still in its warehouse, still caring for the orphans of Katrina — and the orphans of those orphans. To date, ARNO has adopted out nearly 8,000 dogs and cats.

Its digs have improved a bit: The dogs no longer spend their days in cramped kennels; there are now two play yards in the back. And the cats have traded overcrowded cages for large enclosures with shelves and toys. ARNO has expanded its mission, too, trapping and neutering stray cats around the city, and rescuing dogs from high-kill shelters across the country.
New Orleans is coming back as well. ARNO's vice president, Ginnie Baumann-Robilotta, who also rescued dogs and cats in the aftermath of the storm and set up many of the city's feeding stations, says that new schools, libraries, and hospitals are being built, and that once-abandoned neighborhoods are filling with new homes and people. "There are hammers and nails everywhere," she says.
Other phoenixes have also risen from the fire. The animal rescue movement is more supercharged than ever, emboldened by a nation that has put new value on the status of dogs and cats.
"The storm kicked up a universe of animal volunteers who went back and became involved in their communities," says Francis Battista, a co-founder of Best Friends Animal Society.
Animal rescue organizations, Battista says, are now better equipped to deal with disasters, whether it be something like Katrina or the day-to-day struggle of trying to prevent pets from being euthanized at overcrowded shelters around the country. "We've seen tremendous growth in the no-kill movement."
Bass Lilly, unfortunately, isn't doing as well. She is battling an aggressive cancer and was not able to speak to me. But I do remember something she told me when I visited ARNO a few years back. Hurricane Katrina, she said, was a defining moment in human history. "There was before Katrina, and after Katrina," she said. "It's a permanent mark in time that will probably exist here forever."
She was referring to the city, but also to our relationship with cats and dogs. "I don't think the world realized what pets mean to people before Katrina," she said. "Now they know there's a human–animal bond that can't be broken."
David Grimm is a deputy news editor at Science. Parts of this story were adapted from his book, Citizen Canine: Our Evolving Relationship With Cats and Dogs, now out in paperback. Follow him on Twitter.