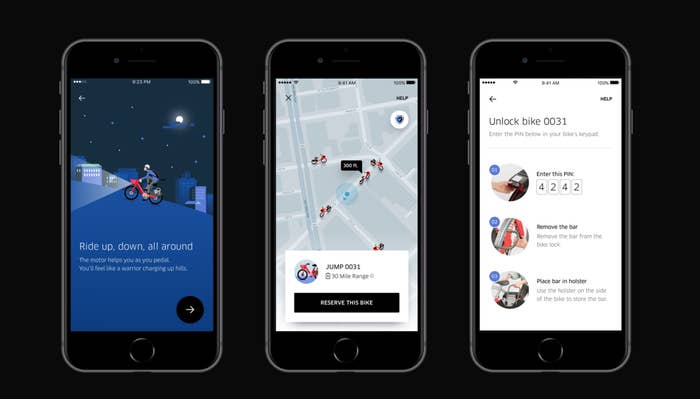 Uber is expanding beyond four wheels and is jumping right into the dockless bike wars.

Uber announced Monday morning it will acquire the electric bike-share company Jump, which currently operates in San Francisco and Washington, DC. A company spokesperson told BuzzFeed News Uber was not disclosing the terms of the deal, though a TechCrunch report put the acquisition in the neighborhood of about $200 million.
Jump reportedly plans to expand to Sacramento and Davis, California, and Providence, Rhode Island. Uber's expertise in pushing into new cities could help Jump expand even more rapidly.
"We're excited to begin our next chapter and to play a significant part in the transition of Uber to a multi-modal platform," Jump CEO Ryan Rzepecki wrote in a post.
Uber had previously struck a deal with Jump in January so that Uber users in San Francisco could identify one of Jump's 250 electric bikes around the city, unlock it with a PIN code, and pedal away for $2 per 30 minutes through the Uber app. "Just tap the 'bike' option in the app's menu located at the top left corner of the home screen," Uber's instructions read.
"We're committed to bringing together multiple modes of transportation within the Uber app — so that you can choose the fastest or most affordable way to get where you're going, whether that's in an Uber, on a bike, on the subway, or more," Uber CEO Dara Khosrowshahi wrote in a blog post announcing the acquisition.
Acquiring Jump gives Uber access to Jump's on-demand e-bike data — and valuable insight into a transportation trend that is popular in Europe and Asia, but has only recently started to gain traction in the US. Uber also gets a peek into the habits and data of Jump's customers.

For Uber, the acquisition presents new regulatory headaches. Despite the environmental benefits of using dockless bikes versus cars, many public officials have been skeptical of abandoned dockless bikes littering their cities. Some US cities including Seattle and DC have even capped the number of dockless bikes that can be used within their borders.

There also are established competitors for Uber to deal with, like New York's Citi Bike program, which saw its 50 millionth ride last year.