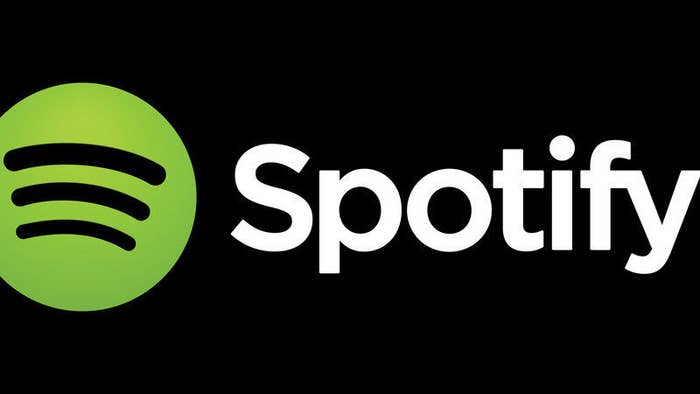 When Meghan, a 26-year-old bookseller in Boston, left her boyfriend after months of emotional abuse, she made every effort to cut him out of her life. She told him not to contact her again. She got the police involved. "His behavior at that point made me afraid that he might try to follow me, or hurt me physically," Meghan said in an interview with BuzzFeed News.
But for the next year and a half, her ex did end up stalking her — persistently and oppressively — on social media. He created fake profiles to tweet at her, posted pictures of places she'd just been to, and harassed her family and friends through texts and on voicemails. At that point, Meghan had blocked him on every platform she could think of, but she had no option to do so on one: Spotify.
Her ex would "follow what I was listening to and send me emails about it, convinced that what I was listening to was proof I wanted to be with him again," she told BuzzFeed News. The messages were often angry. "This was frightening — it revealed the depth of his desperation to monitor my activity as well as his delusions about getting back together."
Since at least 2012, Spotify users like Meghan have been asking the music streaming giant for a block feature for a simple reason: Over the years, harassers and abusers have used the service to stalk and intimidate victims. Commentators say the move to not roll out a blocking feature is particularly hypocritical for Spotify, a company that has reaped the PR benefits of its decision not to promote artists it finds to be out of line with its values.
A company representative told BuzzFeed News that Spotify "does not have any timeline on plans for a block feature." Last week, Spotify posted a status update in its forum saying it was changing the status of the block feature request to "good idea."
"We definitely think this is a strong idea, however it isn't in our current road map," the company said.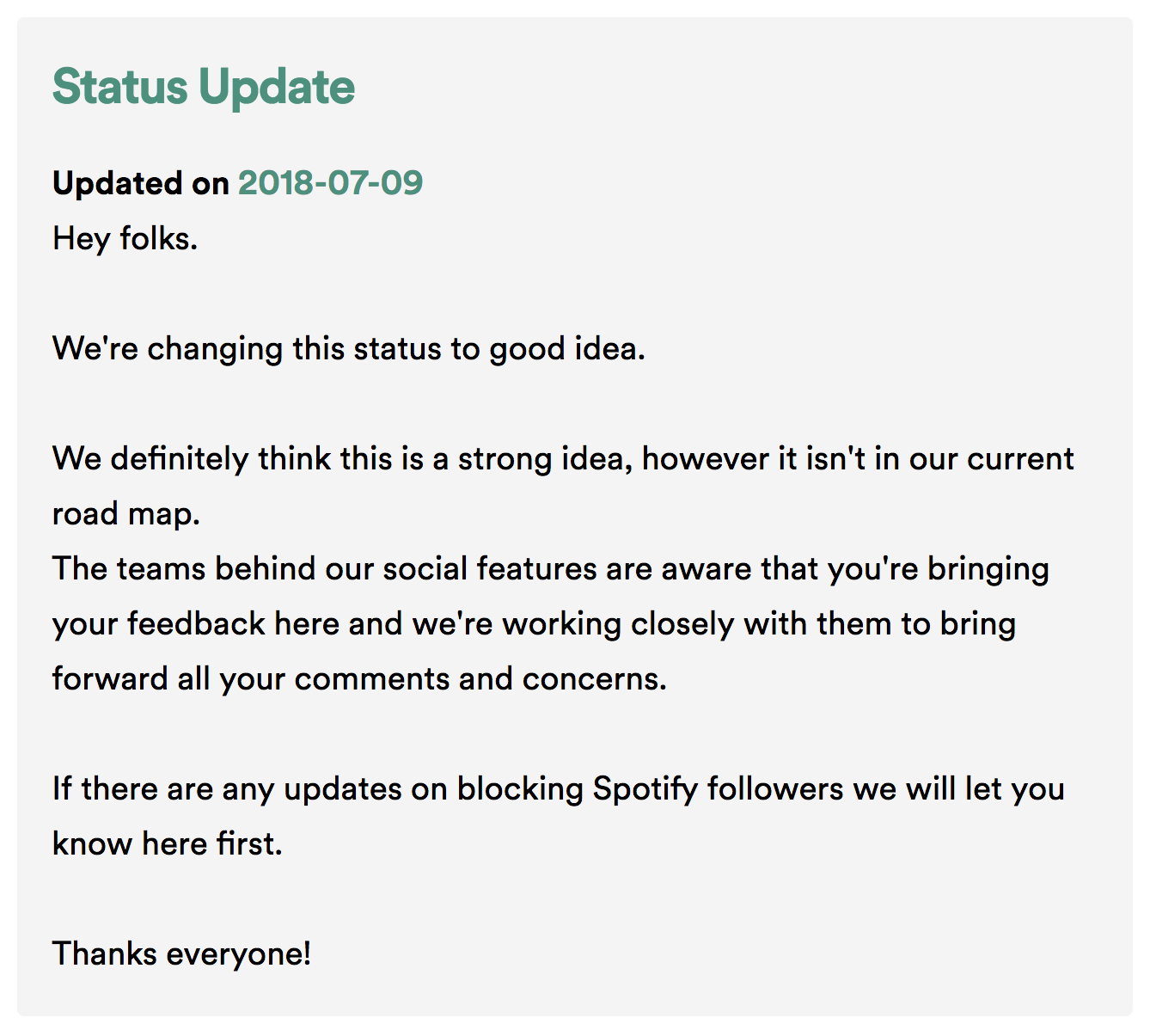 "That this has been going on for years and Spotify has continued to ignore the issue is an embarrassment, especially given the other moral stances they've taken," said Bailey Poland, author of Haters: Harassment, Abuse, and Violence Online. "Spotify's failure to create a blocking function also means that they are siding with and abetting abusers, some of whom may be violating legal orders, and also that they're damaging their user experience and potentially losing users."
On other social networks — from Twitter to Instagram to Facebook — the block function is standard. It's no secret that having any kind of online presence means potentially dealing with harassment or unwelcome attention. Often, the assault can come from multiple fronts. An abuser can find and harass their victims on email, through messaging apps, and just about any social profile of the person that exists online. The block feature, though not a panacea, can help mitigate the problem.
On Spotify, you can follow anyone who has an account and see their public playlists, recently played artists, and who else they follow. Within the program's settings, enabling Spotify's Friend Activity feed also shows you a stream of songs that the people you're following have listened to, and when.
There is no inbox feature, which the music streaming service shut down in early 2017. But a harasser could, say, create a public playlist with a threatening title for their victim to see. And they can watch what someone they're following is listening to, and use that information against them.
"If Myspace could do it in 2008, Spotify can do it a decade later."
Spotify does give people the option to listen to music in a private mode, but this stops users from being able to share music with any of their friends.
"I think platforms owe it to their users to offer at least the bare minimum of safety that blocking can provide," Meghan said. "I'm no software developer, but I cannot imagine it's that difficult. If Myspace could do it in 2008, Spotify can do it a decade later, and it seems lazy and irresponsible not to."
A Change.org petition from three years ago asking Spotify to add a block feature collected nearly 7,000 signatures of support. "I was harassed and stalked online by an acquaintance who was able to monitor me through my social media profiles," the petition reads. "Even if you cut off contact, the ability for a harasser to continue following you is a form of intimidation in itself, as if they are saying, 'You can't stop me from watching you, even here.'"
"Abusers are incredibly creative," said Lindsey Song, a staff attorney at the New York–based nonprofit Sanctuary for Families, which provides aid to domestic violence survivors. "Having someone invade a private space, and continue a pattern of control and power without consent, is a continuation of abuse."
On Spotify's community forums, the request for a block feature has come up repeatedly. One user in the community forum said in 2012 that a guy they dated was still following them and that it "creeped them out," but they couldn't "figure out how to delete or block him." The comments under the user's post show six pages of replies — most of which consisted of people saying the same thing was happening to them, too. In 2013, another user described an ex using their "recently played" list on Spotify as an excuse to get in touch. It "disturbed" the user, they said, that "he's keeping tabs on [them]."
"I suppose my music listening history is rather benign information — but I wouldn't be shocked if he found some way to use it in an inappropriate way to contact me," the user said. "We should have the option to report and/or ban certain followers without completely shutting down sharing."
"Passive stalking is still stalking; being surveilled against one's will in any context creates stress and fear."
In 2016, another poster said that they had secured a domestic violence restraining order issued by a court that should have prevented their abuser from getting in touch with them. But their abuser stalked them on Spotify through the platform's social features nonetheless. The poster noticed that when they followed an artist, their abuser added the artist too; when they removed the artist from their "following" list, the abuser did the same.
"Passive stalking is still stalking; being surveilled against one's will in any context creates stress and fear and leads to self-monitoring or self-silencing behaviors that stop the victim from being able to fully engage in public spaces," Poland told BuzzFeed News.
Multiple Spotify users have appealed to the company publicly on Twitter, including Meghan. Spotify's response to her: "Hey, we're sorry to hear that. Right now it's not possible, but we'll pass the feedback on to the relevant folks."
Somerset, a 20-year-old college student from Brown University, said she had also tried to block her ex on Spotify. "It's an uncomfortable feeling knowing someone can see what kind of mindset you're in because of your music," she told BuzzFeed News.
"Spotify is such a revealing form of social media," she said. "It has a lot of power (to be manipulative) if there is someone abusing or harassing you."
Spotify's lack of action is surprising, considering the controversial policy against musicians' "hateful conduct" that the company enacted in May. As a result, Spotify removed the music of two artists, R. Kelly and XXXTentacion, from its playlists and from recommendation services like Discover Weekly (though it did not remove their music from the platform altogether).
R. Kelly has denied decades of sex abuse allegations. The rapper XXXTentacion, who was fatally shot in early July, had been arrested in 2016 on charges including aggravated battery of a pregnant woman.
Though Spotify partially walked back its stance after blowback from the music industry, it's still used its power as a platform to take a more assertive stance on certain kinds of abusive behavior than many other tech companies, which typically prioritize free speech above all.
"It's interesting that Spotify would be taking such a strong stance in one aspect of its service, recognizing sexual violence against women, and then disengage a piece of its app when it could be actively preventing harassment online," Song told BuzzFeed News. "It's an irony."
Meanwhile, Meghan, the bookseller from Boston, drew the distinction between the behavior she experienced from her ex on Spotify and broader online harassment. "The important difference is when somebody you know from real life — somebody you're afraid of — makes it known that they are still watching, even in the most minute or passive way, it's scary and manipulative and can make you feel trapped in your own life," she said.
"The very insidious nature of choosing the only platforms that don't have a block feature to contact people who have made it clear they don't want to hear from you is exactly why this is a bigger deal than it may seem."