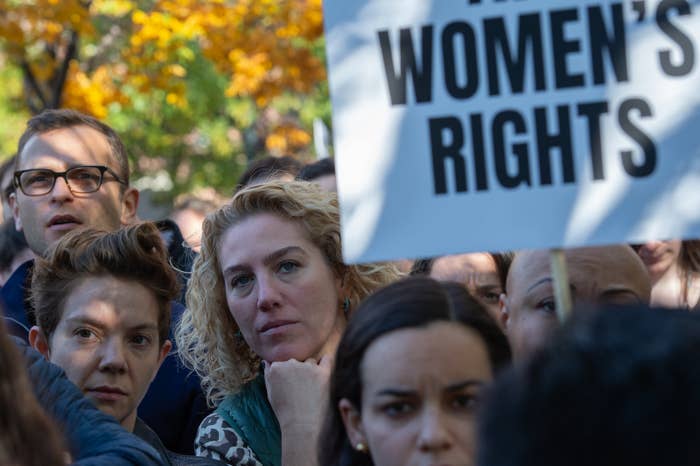 A lawyer for Loretta Lee, the ex-Google software engineer who filed a sexual harassment, gender discrimination, and wrongful termination suit against her former employer earlier this year, told BuzzFeed News that a Google attorney "reneged" on the company's recent announcement to end forced arbitration, saying the policy change would not apply to her ongoing case.
"It's bizarre," Richard Hoyer, Lee's lawyer, told BuzzFeed News. "Google says, 'We will not force employees into arbitration,' and [the] response to me taking them up on that is, 'Oh, we didn't say when.' It was a shock to see Google renege on the announcement that [the company] went through a lot of effort to publicize."
An email reviewed by BuzzFeed News showed that Google lawyer Brian Johnsrud told Hoyer last Friday, "Google announced a prospective policy change that applies going forward to individual sex harassment and sex assault claims. This policy change does not apply retroactively to claims already compelled to arbitration."
Google told BuzzFeed News that there are a small number of cases that were either already settled in arbitration, or compelled into arbitration, where the company's sexual misconduct policy change wouldn't apply. The company added that its policy change applies to anything not in arbitration already, and applies to both former and current employees.
The Lee case was compelled into arbitration in September. But Hoyer, Lee's lawyer, told BuzzFeed News there still would have been time to appeal the court's order compelling arbitration when, on the day of the company's announcement that it would end forced arbitration, he contacted Google's lawyer to say Lee elected not to arbitrate her claims. According to emails reviewed by BuzzFeed News, Google's attorney waited over a week to send a reply stating that the company would still force arbitration for her case; Hoyer said it was the very last day Lee could have appealed.
Many major tech companies have, until recently, preferred to force employees to settle sexual harassment claims in private arbitration, a policy that shields a firm from workers airing their grievances in open court, and also tends to result in lower-cost settlements. In the past, mandated arbitration has silenced women from speaking out about their experiences of harassment. But when thousands of Google employees staged walkouts around the world this month to protest the company's handling of sexual harassment claims against senior executives, Google conceded to a partial end to mandatory arbitration — for individual sexual harassment and sexual assault claims. (The company has said nothing about discrimination, wage and hour disputes, or other claims.)

Loretta Lee's suit is one of the higher profile cases against the technology giant. In her suit, filed in February 2018, she alleges the company's "bro-culture" led to daily harassment, and Google did nothing to intervene. Her lawsuit states that male coworkers spiked her drinks with alcohol; that one male coworker messaged her to ask for a "horizontal hug"; and that at a holiday party, a drunk male coworker slapped her. In another incident, Lee says she found a male coworker hiding under her desk and "believed he may have installed some type of camera or similar device under her desk," according to the lawsuit.

The email exchange between Lee's lawyer and Google's lawyer showed that in October, Lee — through her lawyer — sought to negotiate a monetary settlement with Google. Johnsrud, the Google lawyer, told Hoyer at the time, "I was surprised to receive your voicemail making a settlement demand after Ms. Lee has tried to trash Google in the press and avoid arbitration." Johnsrud went on to say that unless Lee substantially reduced her settlement demand, Google would prefer to proceed with arbitration.
In a blog post in March, Lee criticized the tech industry for a stark and systemic gender imbalance, though she did not mention the details of her suit against Google. "The reason there are so few women in tech," she wrote, "is because it sucks to be a woman in tech."
"[Lee's] claims are, at this point, being forced into arbitration," Hoyer said. "This was really a bait-and-switch announcement by Google for my client and other sex harassment victims."

UPDATE
On Nov. 21, two days after this story was published, Google told BuzzFeed News it will not force arbitration for sexual harassment and assault claims that are not already settled or in arbitration, not just new cases. Claims that are already in arbitration or previously been settled will not be impacted. The policy change applies to sexual harassment and assault only — not other employment matters.
In Lee's "edge case," Google spokesperson Jenn Kaiser said, the company would apply the new policy to the old claim "as a good faith measure." However, Lee's claims about gender discrimination, hostile work environment, retaliation, interference, and wrongful termination will still be handled in arbitration.
Kaiser said Google's arbitration agreements do not prohibit employees from disclosing the allegations they are bringing against the company, including talking to the press, and "there is no requirement that arbitration proceedings be confidential."