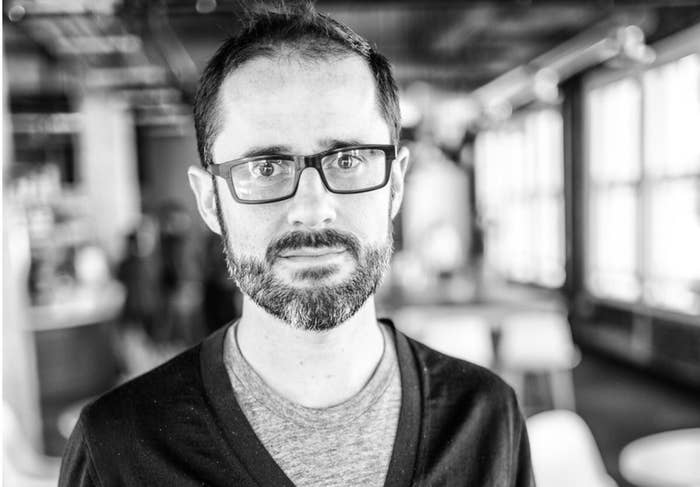 Ev Williams changes his mind. A lot.
Most recently, the CEO of the online publishing platform Medium switched the company to a $5 monthly subscription for premium writing, scrapping its previous strategy of sharing ad revenue with small publishers. Now, anyone who publishes on Medium — not just well-known writers and publishers — will be able to put their content behind a paywall and get paid based on engagement. It's an ambitious scheme, one in which a writer can potentially earn payment proportional to her impact on an audience, while avoiding the web's traditional reliance on advertisers.
But this is far from the first big change — or, to use the term of art, "pivot" — for Medium, which has tried and discarded at least five business models in as many years. Interviews with 17 sources close to Medium paint a picture of a company that has plenty of buzz but no stable strategy, and that has cycled through and in some cases alienated the writers, editors, and publishing executives it purports to put first.
"Ev Williams is trying to brute force his way through the problem of publishing and monetization."
Medium's biggest challenge, according to many of these sources: its capricious founder and CEO. Today's Medium is the product of five years' worth of zigzagging decisions that Williams has made as its leader — which makes its path forward unclear.

"I don't even have to make an argument against it," said one ex-employee, bluntly, of the most recent change. "I just have to wait six months."
Medium disputed this characterization. "Medium has spent the year building a model that helps writers and publishers get compensation for their meaningful work," a company spokesperson wrote to BuzzFeed News in an email. "That strategy has been consistent since the start of the year — and, really, is an extension of Ev's first post on Medium five years ago."
For many tech startups, continued refinement of a business model is all part of the process. But writers and publishers who've dealt with Medium and its unpredictable strategic shifts say they've begun to realize that Bay Area techno-utopian startup culture may be an inherent mismatch with the business of publishing — or, at the very least, that Medium's culture is.
"Ev Williams is trying to brute force his way through the problem of publishing and monetization," said Choire Sicha, cofounder of The Awl network, which migrated a handful of its sites onto Medium during its publisher partner phase in late 2015 and early 2016. "In doing so, he has upended people's lives — he has upended good publications."
"I understand the desire to be agile and to pivot, and to try new things when things aren't working," Sicha continued. "But it's destructive — you can't try people and things on, then discard them. It's not how a media company or a publishing company can work."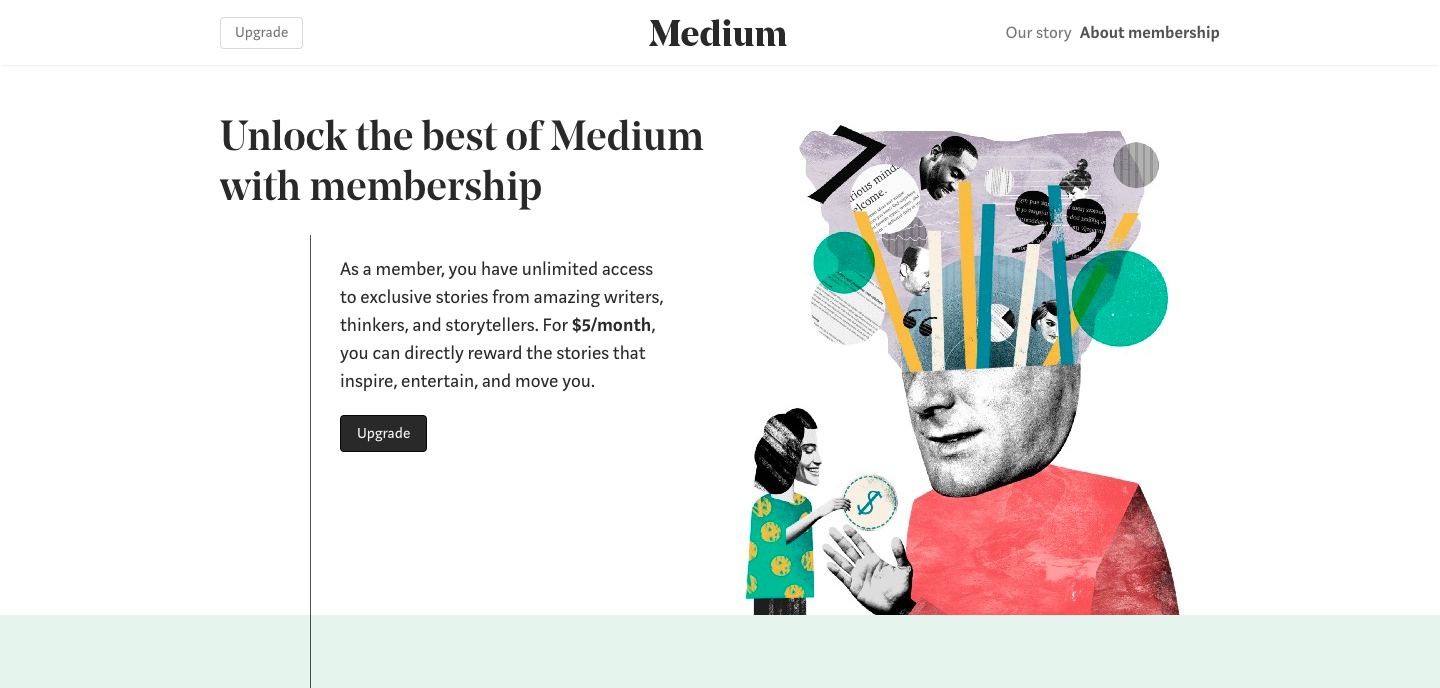 Medium was founded in 2012 as a blogging tool with a cleaner interface, but quickly set itself apart from other content management systems like WordPress by hiring reputable literary agents and legendary editors — including Wired.com's former editor-in-chief Evan Hansen, who was tasked with developing original editorial content for the platform by recruiting "collection editors." As Williams positioned the company from the outset, it would be more involved with the media and publishing worlds than any other content platform that had come before it.

"We ... in order to make sure [Medium is] as good as possible, publish on [the Medium] platform," Williams told journalist Kara Swisher, during an onstage interview at Recode's Code/Media conference in 2015. "So Medium the company is both a publisher and a platform, but our effort is to build the best publishing platform there is."
Within a couple of years, Medium had hired writers and editors to work for the company directly, and was running four publications that functioned like professional online magazines: Matter (its flagship longform publication), Backchannel (a tech-focused publication led by veteran Wired reporter Steven Levy), Cuepoint (focused on music), and The Nib (comics). Pundits started referring to it as a "platisher" — a new kind of hybrid platform-publisher company. The future was bright: By early 2016, Matter had won a National Magazine Award for its reporting, and it seemed like Medium had finally cemented its reputation as a home for some of the best writing and reporting on the web.
Then Medium shifted to branded content partnerships. And then decided it wanted to host boutique online publications. In late 2015 and early 2016, it brought more than a dozen small, separate publishing operations onto the platform, while Medium's in-house publications either quietly wound down or moved away from the platform. A year later, the platform pivoted again, firing a third of its employees — 50 workers in nonengineering roles — and shutting down its New York and DC offices. The publishing partners — beloved sites like The Awl, The Ringer, Pacific Standard, and ThinkProgress — left Medium in a mass exodus.

Now, a few months later, Williams has a new model, one that he maintains is the right one for today's state of affairs in online publishing. The current membership model includes a small team of editors — jobs that had existed at the company until January 2017 when it unceremoniously eliminated them. The only difference now seems to be that the company's new-again editorial staff will be much smaller — and this time, editors won't be attached to particular editorial brand names, but rather work for Medium as a whole. It appears, in other words, that Williams has pivoted so many times he's ended up right back where he started.
A company spokesperson emphasized the difference between editors' roles now and in the platform's previous incarnation. "When Medium had its own in-house publications, the editors acted in the more traditional editorial role — they would assign stories, shape the content for each publication, help control the voice and tone," the spokesperson told BuzzFeed News.
Now, the role of the editor at Medium is more like a creative services function in the vein of a platform like YouTube, the spokesperson said. "[Editors offer] copy editing and feedback for commissioned and higher-end content," the spokesperson wrote. "Writers are in complete control over the content they write, the subjects they take on, and the overall narrative. Medium's position is not to dictate that kind of creative and artistic oversight."
"Our effort is to build the best publishing platform there is."
"What I'm trying to make clear is that it was never the strategy to become publishers ourselves," Williams told BuzzFeed News on a recent morning, sitting on the patio of a Manhattan hotel.
"I don't want to make light of it — [Medium running its own publications] was a serious effort … But it was an experimental part of what we were doing that was meant to teach us, and provide both models and learning."
Models and learning. Williams repeated these words twice during our conversation. "The reason why we're talking about an editorial layer now is because we have a different model," he said. "Our mission and the core thesis has always been that we can build a system where the incentives and feedback loops fuel better and better content."
It all sounds promising enough. But over the past five years, Medium has burned bridges with the very writers, editors, and media executives it now hopes will flock to its re-re-re-re-reimagined platform.

For some of them, the trouble started back when Medium was just trying to gain a foothold in the industry. In 2014, Arikia Millikan, founder of the female tech collective LadyBits, wrote a post called "LadyBits' First and Last Year on Medium." In it, Millikan described how life as a Medium "collection editor" in 2013 meant waking up to various tweaks from production and engineering teams that sent dozens of emails into her inbox and bottlenecked her workflow; traffic tallies that fluctuated wildly because of the choices of Medium's curation team; and unreliable income. "I began to think of Ev Williams like Willy Wonka, and the Collection Editors as the golden ticket 'winners' in his chocolate factory," Millikan wrote. "We couldn't anticipate what was coming next. We just had to make it through one obstacle after the other and stay alive."
"We were promised stability," Millikan told BuzzFeed News this week, "and then the rug was pulled out from under us, with a dismissive explanation only granted as an afterthought."
Bill Rosenblatt, a media technology consultant, suspects each shift Williams implements at Medium is driven by external signals from the changing winds of the wider media and publishing industry. For example, when Medium hired employees for Matter, Backchannel, The Nib, and Cuepoint, venture capitalists were just ramping up their spending on online media upstarts. Medium, it seemed, was chasing a trend.
Former Medium employees recall the trappings of a cushy startup life. The San Francisco office is in an airy industrial warehouse dating back to 1908, with exposed beams, lots of light, a fully stocked bar, and in-house nap nooks, yoga, and meditation rooms. "It was really over the top, kind of like the stuff you see in the [HBO] show Silicon Valley," said one former employee. "I was so suspicious of it. Especially when you get laid off — you see there's money for this, but not for that."
Williams was a soft-spoken, rather aloof boss with a dry sense of humor, sources who used to work at Medium said. "He's a man who, when he speaks, his words have value — because he doesn't dole out a lot of them," said one ex-employee. At Medium, there was a meeting every Friday called "Fam," during which people shared what they were working on with the rest of the company. "Ev led it, and he was like a standup comic sometimes," said the ex-employee. Still, you never wanted to be the one to demand face time with him, the source said. "You didn't want to make him uncomfortable. He was very low-key. You didn't want to be the person who's like, 'Hey, Ev, Ev, I need to talk to you!' He had this attitude of 'Just be cool, and we'll get it all done.'"
Things were good in the early days of the company, sources told BuzzFeed News. Williams gave editors a lot of freedom over their publications, according to one former Medium employee — and from an editorial, creative standpoint, it felt almost too good to be true. "We got very fair, generous budgets, we got to call all our writer friends and figure out a way to work with them," the former employee said. "Interestingly, there was very little talk of ads or revenue. Everyone knew we had to make money, but it wasn't the priority — it was number 12 on the list." Matter in particular had a budget that far outstripped other web publications at the time, the former Medium employee recalled. "But I knew that the sun would eventually have to shine on [the revenue] side of the business," the source said.
According to the source, as the months went by, it became clear how Williams dealt with problems at the company. "The way he works — and I guess the way that a lot of successful Silicon Valley executives work — is that they have a problem they want to solve, and they take smart people, money, and resources, and they throw it at the problem," said the source.
At a 2015 company retreat in Napa Valley, California, Williams showed he apparently thought the current editorial strategy was a problem. During the getaway, two former Medium employees said, Williams called a meeting for just the editorial folks, and said that he wasn't happy with the way things were going. "He wanted to make things more about 'network' connections and responses on Medium," one recalled. "For everyone on the editorial side, it sounded really foreboding to what we were doing there."

"The meeting was the result of Williams basically waking up one day saying he didn't want Medium to be a publisher," added another. After the meeting, Williams penned a blog post outlining his new vision for the company.
(A Medium spokesperson said the company is unable to confirm this anecdote, since it happened so long ago, and given that the employees cited are no longer with Medium. "It's an antiquated notion, though, because the definition of a publisher has changed since 2015," the spokesperson told BuzzFeed News. Medium can be seen as a publisher, a platform, and a network, the spokesperson added: "People have always tried to define us based on outdated buzzwords, while we are focused on building a new, modern model that works.")
At the time of the Napa retreat, the company practiced "holocracy," a management philosophy that in theory avoids a hierarchical management structure by empowering employees to make business decisions. But it didn't always work that way at Medium. Former employees said they often had to work backward, unpacking Williams' vague and shifting mission statements to figure out what, exactly, he wanted them to do. After the company retreat, several sources said, Medium's 25 or so editorial employees entered into a months-long period of awkwardness: They weren't laid off outright, but they got signals that the goals of the company were no longer aligned with their presence. "We had this series of work groups where you tried to figure out what your job and the future of publishing was," one source said. Former employees suspected that Medium was trying to thin out its editorial staff by attrition.
Some people took offers to leave. All of the in-house publications eventually moved away from Medium. Matter was spun off as Matter Studios, then quietly shut down.
(Medium said it no longer practices holocracy. "As we grew and scaled, it became a less intuitive structure for us," a spokesperson wrote in an email. The spokesperson also emphasized that the company parted on good terms with Matter. "We are proud of the work they did," they wrote.)
Williams defended how the changes within the company took place. "Some of those efforts were pared down before we had any change in business model," he told BuzzFeed News. "And I don't think it was ideal for the people working on those teams, because we couldn't set them up for success as much as I'd like." He said Medium started to have conversations with Condé Nast about acquiring Backchannel (which it eventually did), partly so Levy and company could do even more ambitious work. "They wanted to expand, and we were like, 'We're happy to have you as part of Medium at this level — it's not a huge problem for us. But I'd love to see you grow in doing what you want to do, and you're probably better off in an editorial organization to do that.' And that seemed like a win-win."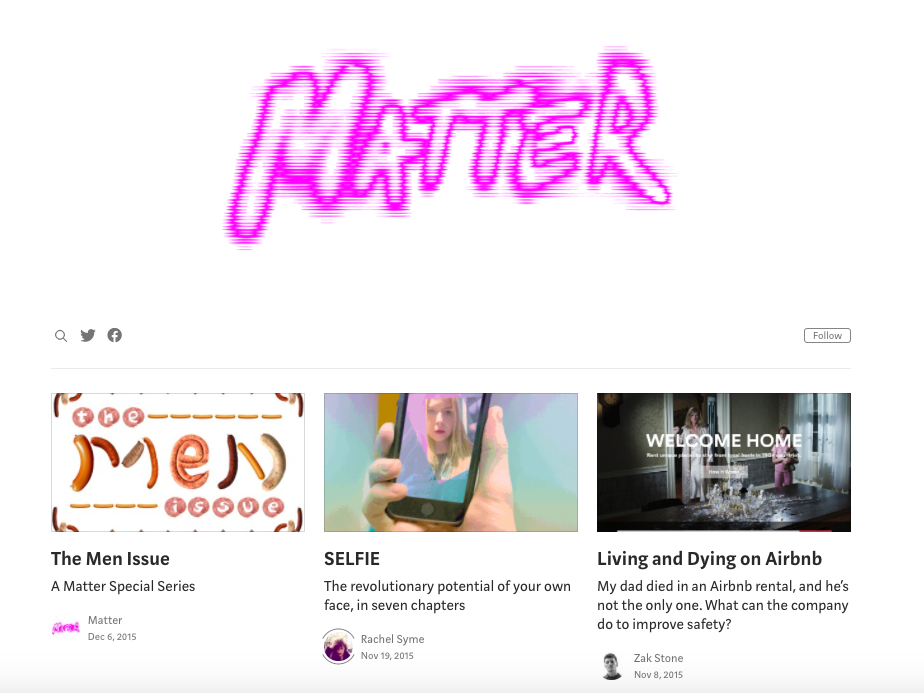 So began the next phase of Medium in late 2015: bringing small publishers onto the platform and sharing advertising revenue with them. Williams conveyed the idea to Wired shortly after the program began: "Medium for Publishers will allow them to focus their energy on creative work, rather than trying to master ever-evolving tricks, viral strategies, and social services involved in reaching their audiences." But by the beginning of 2017, the model was dead. Luckily, many of the publishers BuzzFeed News spoke with didn't rely solely on Medium for revenue, so their businesses weren't heavily affected by the pivot. But the move generated a lot of frustration and confusion.

"I had no problem with Ev throwing in the towel on advertising; I just didn't understand why they went down that road in the first place given that they said they intended to develop new business models for content," said Elizabeth Spiers, formerly an editor at Gawker and the Observer who ran a branding site called There Is Only R on Medium. "I've always thought Ev was very thoughtful about media, and I'm 100% for anyone who wants to experiment with how to make content sustainable as a business … but if you're a publisher and the fate of your business is tied directly to Medium's, and the company blindsides you with a new model and no warning, it doesn't exactly inspire trust."
"If you're a publisher and the fate of your business is tied directly to Medium's, and the company blindsides you with a new model and no warning, it doesn't exactly inspire trust."
Rosenblatt put it more brusquely: "I think there are a lot of [other businesses] — Netflix, Spotify, the New York Times, the Washington Post — that show the world is now 'safe' for subscriptions," he said. "Ev decided ads were driving good content out and bad content in, and he's got a runway, money-wise, so he can afford to experiment." After Medium's last round of funding, investors reportedly valued the company at $600 million.
"If you look at the pattern Medium has exhibited throughout its progression, it seems apparent that Medium views the editorial talent it draws as disposable, using them to seed the network with content people actually might want to read, then discarding them," LadyBits' Millikan said. "​I would not trust Ev. ... Even when I was newly contracted by Medium and hopeful of the potential of this new technological entity, he ignored requests for conversations with me and other collection editors. The man behind the curtain act is worn. He has not proven himself to be the least bit accountable or loyal to his users or his editorial employees." Medium said it cannot directly address the opinions of individuals who contributed to the platform and worked for the company, but that it wishes them well.
Medium still has its supporters. Technologist and entrepreneur Anil Dash, who is an adviser to Medium, is bullish on Williams and the future of the company. "Knowing Ev is going to take a swing at the big idea of subscriptions, and is one of the few people who can do so, is a good thing," Dash told BuzzFeed News. "It's funny that people talk critically about the risk of Medium taking this bet" when all signs point to ad models being worse for writers and for important stories in the long-term, he said. Just look at all the pivots to video happening among media companies, Dash pointed out. Look at how fake news operations collected paychecks from the ad industry. Companies are shifting more resources into models that don't rely on the written word, because web advertising isn't a reliable income stream. But these shifts mean there's a shrinking number of web publications that can afford to do longer, more thoughtful, written stories.
For his part, Sunil Rajaraman, CEO of The Bold Italic, a local San Francisco website that publishes on Medium, said he was pleasantly surprised at the return on investment after he paywalled several old articles. "In 10 days, the payout [for a piece published in August 2016] was $250," he said. "If this keeps up, I'd be absolutely blown away." Others recently expressed satisfaction at the payouts they saw, too.
"My latest article has gotten several thousands of views in over just one week, and it has actually fared better than some of my previous articles without paywall," said Stav Dimitropoulos, a current contributor to Medium's members-only platform who, unlike those who choose to put content behind Medium's paywall, is paid a flat, negotiated rate by the company. "In my opinion, that goes to show Medium's plan to enforce paywall restrictions was well-thought-out." Dimitropoulos said Medium paid her "upfront and fast."

What's more, with a track record of co-creating such successful platforms as Blogger and Twitter, Williams is one of the few in Silicon Valley who fits the "founder myth" model and has the ability to take on media's problems. "Medium wouldn't have seen the light of day if not for Ev Williams being who he is, and having the kind of network he has," said Rosenblatt. "If Joe Schmo had done the exact same thing as him, nothing would have come of it whatsoever. He wouldn't have gotten the time of day from any decent class of investors." In general, Williams' supporters argue, he is in the good and rare position to model ideas that may well end up being a blueprint for a sustainable future of media. Why squander the opportunity if you have it?

But, as Rosenblatt added, even though Medium will likely coast on Williams' reputation in the near future, Williams is also just as likely to experiment with the models he is using to gauge audience engagement, including, most recently, claps, a metric similar to "likes" by which writers get paid. Venture capitalists, CEOs, and embattled startups might pen their next personal announcement (or apology) on the platform for the foreseeable future, Rosenblatt said. But for the regular writer, Medium's unpredictability is still a problem. (Besides, unlike people who write for money, tech CEOs don't exactly have the problem of figuring out where their next paycheck is going to come from, he pointed out.)
"Medium wouldn't have seen the light of day if not for Ev Williams being who he is."
Sicha, meanwhile, questions the whole premise of the model. "I'm into a future where we pay for content with our eyeballs," he said. "But [Medium is] propagating the ultimate meritocracy, the ultimate false meritocracy maybe, and there's something about it that's broken inside." Sure, you can think about 24 hours you spent on the internet, and divide up $10 among all the things you read and consumed, Sicha said. But that doesn't tell you which of those places will still be around in a year. "We know from all sorts of things — NPR, the new Radiohead album — that there's a couple of different types of people who give money, and a lot of the world runs on altruistic people who choose to overpay. I think there's something more to letting media survive than divvying up our actual attention."

Recently, Sicha came across a friend's paywalled Medium article, went in, and hit the clap button very hard — then left and did not come back. "Now, we're all gaming it and robo-voting for pieces," he said. "It's like the whole world is ready for this attention economy now." ●