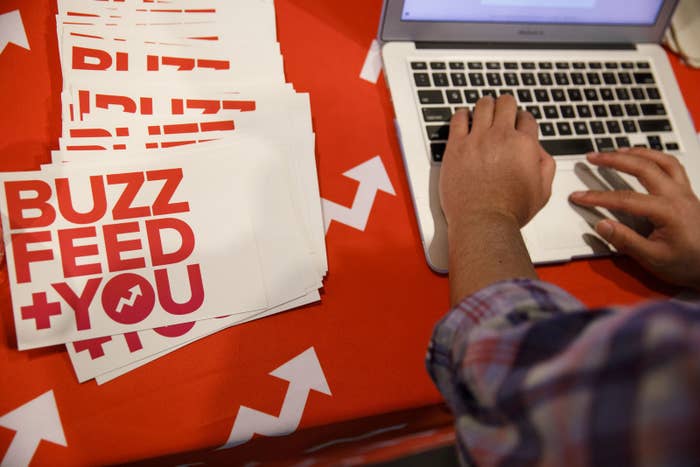 BuzzFeed will end its requirement of mandatory arbitration for sexual harassment and sexual assault claims — a policy that prevents workers from airing their grievances in open court — after BuzzFeed News raised questions about the company's policy as part of a larger investigation into the practice in the tech industry.
The move follows a raft of similar decisions from other technology companies, several of which changed their positions after BuzzFeed News approached them with the question, "Will your company, in all cases, end your policy of requiring employee sexual-harassment claims to be settled in private arbitration?"
Square, Airbnb, and eBay had already ended forced arbitration on sexual harassment claims. The companies followed the lead of tech giants Google and Facebook, which announced earlier this month they would put an end to mandated arbitration.
In the course of reporting on other technology giants, BuzzFeed News learned that BuzzFeed required its own employees to resolve their complaints in arbitration; an arbitration clause has been included in BuzzFeed contracts going back to at least 2013, according to employee contracts reviewed by BuzzFeed News.
"Forced arbitration is not good for employees and, frankly, it not good for democracy," Larry Organ, an employment lawyer who has represented a client suing Tesla, told BuzzFeed News. "It is taking civil rights issues that need to be public [in order] to change law" and resolving them in private.
Forced arbitration policies "can be both standard [in workplaces] and wrong at the same time," said Terri Gerstein, director of the state and local enforcement project at the Harvard Law School Labor and Worklife Program.
On Tuesday, BuzzFeed told this reporter it will follow the trend set by other tech firms. While a BuzzFeed spokesperson says the company has not previously forced private arbitration, Lenke Taylor, BuzzFeed's chief people officer, said in a statement that the company "now recognize[s] that the policy is inconsistent with our belief that employees should be able to air and resolve concerns about sexual harassment in whatever way they choose." Effective Tuesday, according to Taylor's statement, BuzzFeed would end its policy requiring forced private arbitration for claims of sexual harassment.
No new claim will be subject to forced arbitration, a company spokesperson added, even if the alleged misconduct happened while older policies were in effect, and even if employees had previously signed contracts containing mandatory arbitration clauses during their onboarding process.
Like other tech giants, however, BuzzFeed has conceded to only a partial end to mandatory arbitration — just for sexual harassment claims. Similar to Google and Facebook, the company has said nothing about discrimination, wage and hour disputes, or other claims. A spokesperson told BuzzFeed News that the company wanted to make the policy change on sexual harassment claims because the issues around sexual harassment are timely. But the decision to broaden the policy change to include all kinds of claims is still under review by the company.
In 2016, according to documents filed in Los Angeles Superior Court, an ex-BuzzFeed employee sued the company for disability discrimination and BuzzFeed's failure to accommodate the former employee's injuries. BuzzFeed did not force the complaint into arbitration, likely because the language of the 2013 arbitration clause was problematic to enforce, three workplace lawyers told BuzzFeed News. Later, BuzzFeed settled the case with the complainant.
But by 2017, the language of the company's arbitration clause in its employee contract had been broadened so that forced arbitration could be enforced — while also banning class action lawsuits, much to the company's advantage, according to Ramsey Hanafi, an attorney at employment law firm Quintana Hanafi who reviewed BuzzFeed's employee contracts.
"The proliferation of forced arbitration is one part — but not the entirety — of how employers are increasingly using employment contracts to deprive workers of rights," said Harvard Law's Gerstein.
Despite the cascade of announcements by tech companies this week, they continue to implement policies that, above all, are designed to keep the most crucial protections for the company in place. Google's policy change for example, does not apply retroactively to sexual misconduct cases that have already progressed past a certain point.
Richard Hoyer, a workplace lawyer defending an ex-Google engineer with such a case, told BuzzFeed News, "It was a shock to see Google renege on the announcement that the company went through a lot of effort to publicize."
Read the email sent to BuzzFeed employees below:

Dear BuzzFeeders,




You may have read recently about walkouts at Google by employees protesting how the company handled allegations of sexual misconduct against senior executives. As a result of these bold actions, Google announced that it would no longer force employees to resolve harassment claims in private arbitration. (In practice, this means employees can now make their claims public in court, rather than be forced to settle them in private.) Since then, Facebook, Airbnb, eBay and others announced that they were taking similar actions.




Until today, BuzzFeed had a similar policy and while BuzzFeed has never forced private arbitration, we now recognize that the policy is inconsistent with our belief that employees should be able to air and resolve concerns about sexual harassment in whatever way they choose. Effective today, we have decided to end the policy requiring forced private arbitration for claims of sexual harassment.




As workers, victims, and advocates continue to speak out about injustices in our society and the workplace, we will continue to look inward to see how we can better embody the values we aspire to: transparency, respect, and fairness. As we've said time and again, we investigate and take allegations of inappropriate conduct extremely seriously, and we are committed to ensuring that BuzzFeed is a place where everyone is treated respectfully by his or her peers.




Best,
Lenke